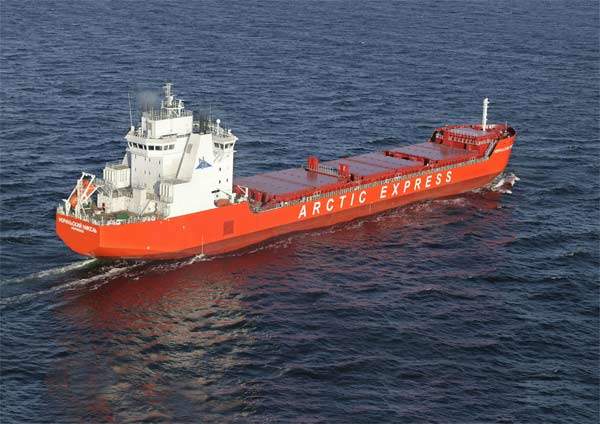 Norilskiy Nickel travels bow-first in the water.
The ship uses an azipod thruster.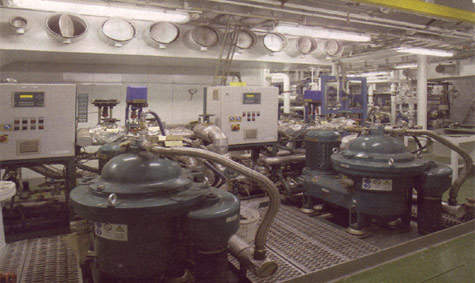 The engine room of the ship.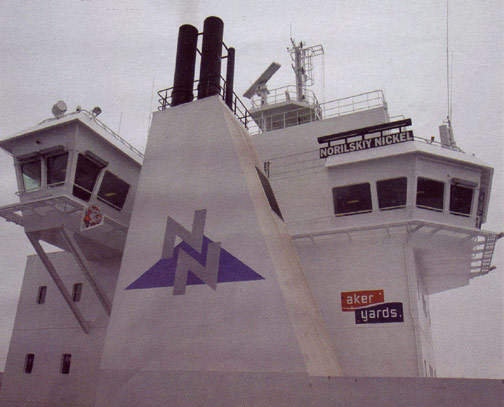 The Norilskiy Nickel has two bridges, depending on the direction of travel.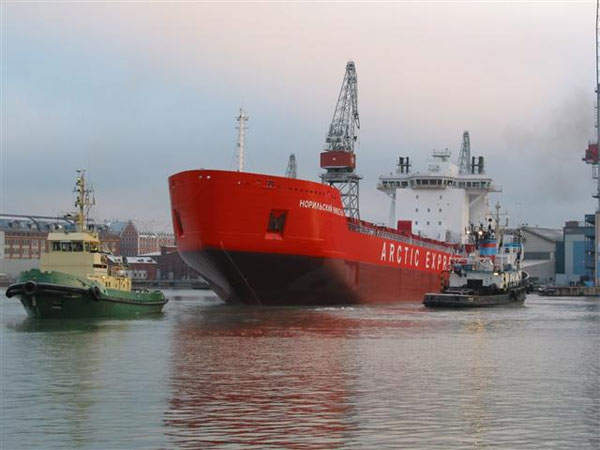 The Norilskiy Nickel in port.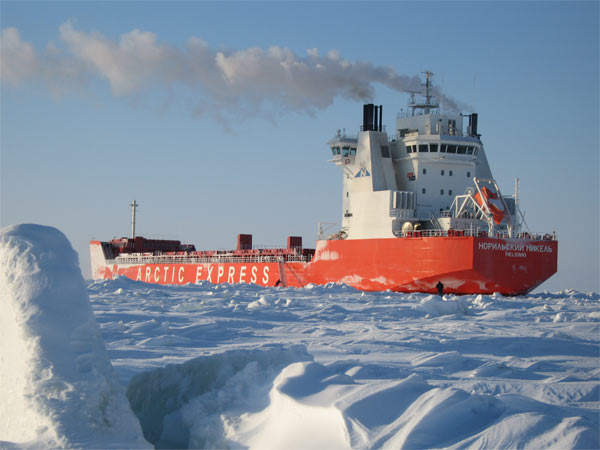 The ship moves stern-first through ice.
Aker Yards has signed a contract with the large Russian mining company Norilsk Nickel, for delivery of four container/cargo ships for arctic operations, with an option for a fifth. This order, awarded to Aker Yards, has a value of approximately €320m for four vessels and follows Norilsk Nickel's recent deployment of the first vessel of this type – the MS Norilskiy Nickel. The newly contracted vessels are scheduled for delivery by Aker Yards' German shipyards from the third quarter of
2008 through to the first quarter of 2009.
The MS Norilskiy Nickel was delivered to the Russian Open Joint Stock Company (OJSC) in mid-2006 and follows successful ice trials in the Kara Sea area in March 2006. The new arctic container vessel will be used to transport metallurgical products from Dudinka on the river Yenisey in Siberia, to Murmansk in northern Russia.
"The Norilskiy Nickel has been designed to traverse ice-covered seas without assistance from an icebreaker. "
DESIGN
The Norilskiy Nickel is a specialised container/cargo vessel concept which has been designed to traverse ice-covered seas without assistance from an icebreaker. This is enabled by means of a novel double-acting hull form and propulsion system. When crossing waters in heavy ice conditions, the vessel moves stern-first to break its way through ice 1.5m thick (with a 20cm snow layer).
When returning to light ice conditions or open waters, however, the vessel turns 180 degrees and sails traditionally, bow-first. This double-acting vessel design therefore significantly improves operational efficiency.
The ship is 169m in length and 23.1m wide. It has a draught of 9m for winter deployment under heavy ice conditions, and has a deadweight of 14,500dwt. In summer, the draught is 10m and 18,000dwt. The gross tonnage is 16,486t.
The Norilskiy Nickel has a total cargo capacity of 648, 20ft TEU containers. This breaks down to 259 on the deck and 389 in the holds. Containers with non-standard dimensions and other cargo can also be transported. The heavy nickel is transported in containers 4ft high rather than the more usual 8ft.
There are three main cargo holds – two 25.6m by 18.1m and one 19.2m by 18.1m – and a small forward cargo hold for hazardous cargo. The main and 'tween deck cargo hatch covers are from MacGreggor. The mooring winches were supplied by SEC Groningen.
There are 18 crew cabins, a pilot cabin and three double-berth passenger cabins, allowing a maximum of 25 persons on board. The amenities include a sauna, gym and a seawater swimming pool.
The main power is based on three Wartsila 12V32 engines with a maximum continuous rating of 6000kW at 750rpm. These are each connected to an ABB 8314KVA alternator.
PROPULSION
Propulsion is by means of a single 13MW Azipod unit with a propeller diameter of 5.6m. This gives it a maximum speed of 16.1 knots in open water or a service speed of 15.5 knots. The electric motor has a double winding.
"The vessel has a sophisticated online information system for determining ice cover along the ship's course."
The switchboard, propulsion transformers, high voltage transformers and the remote control systems were supplied by ABB. Volvo supplied a 750kVA harbour generator as well as the 414kVA emergency generator.
The navigation and ship's handling equipment face forward and astern. The vessel has a sophisticated online information system for determining ice cover along the ship's course. Kelvin Hughes supplied the online navigation equipment. The machinery control and monitoring system was supplied by L-3 communications.
The 25-man free-fall lifeboat is supplied by Hatecke, as was the rescue boat.
The Norilskiy Nickel is registered by the RMRS (Russian Maritime Register of Shipping) with the notation Ice class LU7 Stern: LU6 Bow.