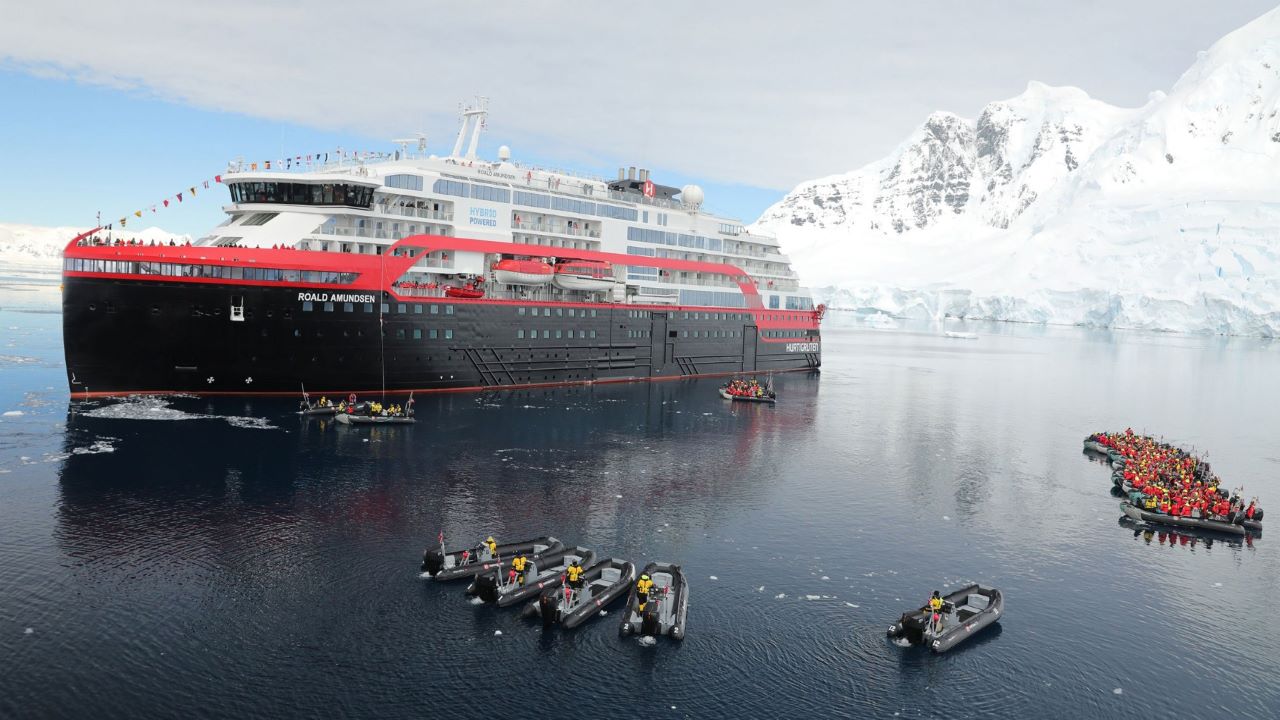 The naming ceremony of the MS Roald Amundsen cruise ship was held in November 2019. Credit: Hurtigruten.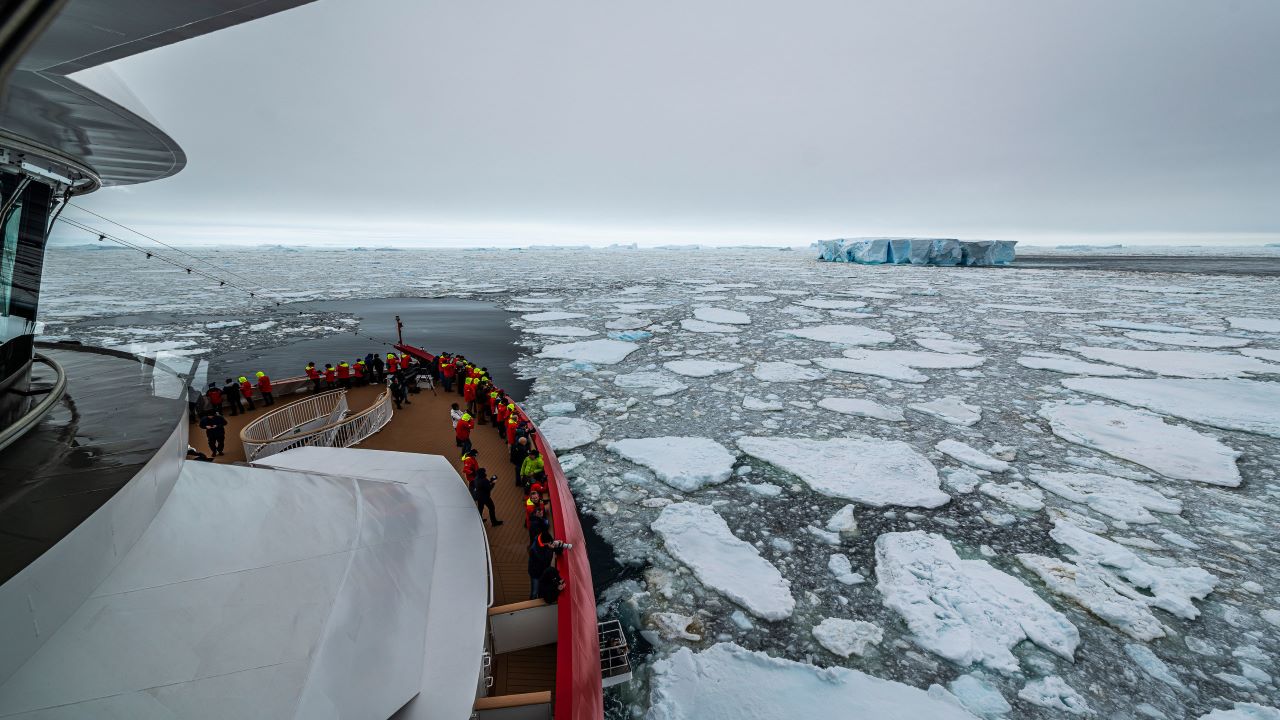 The ship carried its passengers to 70 Degrees South in the Antarctic region in February 2020. Credit: Hurtigruten.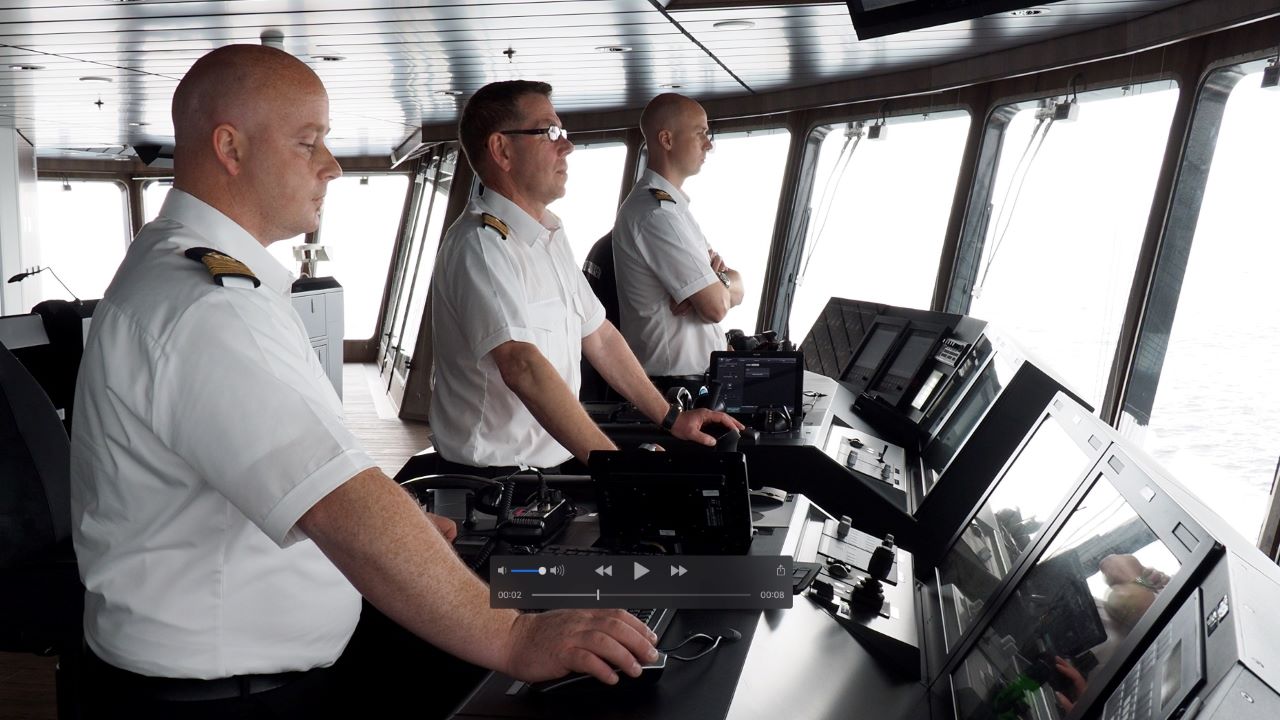 MS Roald Amundsen is the world's first hybrid-electric powered expedition cruise ship. Credit: Hurtigruten.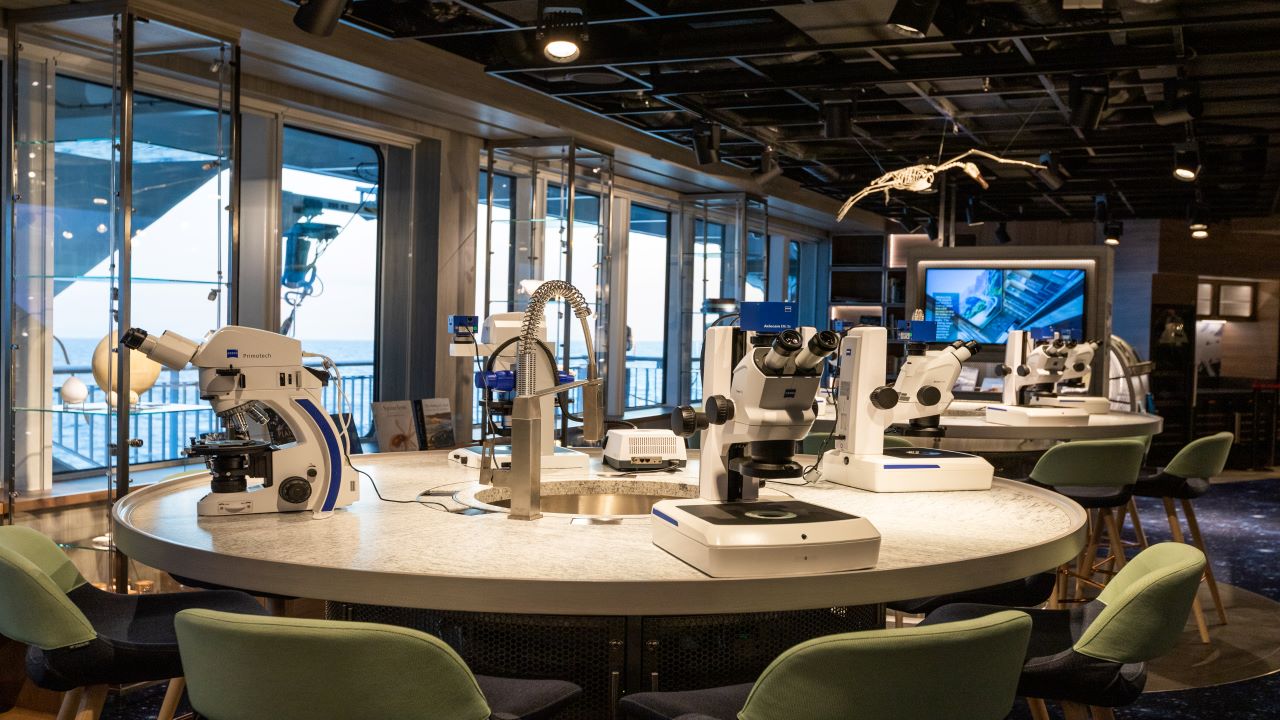 The ship also features a science centre along with a photo centre and compass service centre. Credit: Hurtigruten.
MS Roald Amundsen is the first of two new explorer cruise ships built by Kleven Maritime for Norwegian explorer cruise line Hurtigruten.
In April 2016, Hurtigruten signed a letter of intent (LoI) with Kleven shipyard for the construction of two new expedition ships. The LoI includes an option for the delivery of two more explorer ships. It was converted into a firm contract in July 2016.
Rolls-Royce received a £25m ($33m) contract from Kleven shipyard in July 2016 to provide vessel design and equipment for two new polar cruise vessels, with an option for two more vessels.
The ship has been purposefully designed to operate off the Norwegian coast and for expedition voyages in polar waters.
MS Roald Amundsen was delivered in July 2019, while the second vessel in the class, MS Fridtjof Nansen, was delivered in December 2019.
In February 2020, Roald Amundsen has become the first to travel the furthest south of any company ship in the expedition cruise line's 127 years of business. The ship carried its passengers to 70 Degrees South in the Antarctic region.
MS Roald Amundsen cruise ship design
The innovative ship design integrates an ice-strengthened hull and a wave piercing bow design. It is  equipped with the Rolls-Royce Unified Bridge incorporating an entirely redesigned consoles, levers and software interfaces offering safe and efficient working conditions.
The new polar cruise ship also integrates a DP0 dynamic positioning system, Aquarius 100 stabilisers and an ACON integrated automation system. It has a length of 140m, width of 23m, height of 29m and a draught of 5.3m, and accommodates 530 passengers.
The on-board hybrid power solution in combination with the hull structure and efficient electric power systems reduces the fuel burn by approximately 20% and CO2 discharges by 20%, which is equivalent to more than 3,000 metric tonnes of CO2 a year.
Accommodation on board MS Roald Amundsen
The staterooms on board the vessel are divided into three major categories, namely Expedition suites, Arctic Superior class cabins, and Polar Outside cabins. The Expedition suites are further classified into XL suites with/without balconies, Large suite with balcony, and suite with balcony.
The Expedition suites accommodate up to four passengers and are furnished with flexible sleeping arrangements, sofas, sitting areas and TV, an amenity kit, bathrobe and espresso maker.
The Arctic Superior class cabins are available in two categories, including high-deck cabins with balcony, and larger cabins without balcony. The rooms feature a comfortable, spacious accommodation layout housing flexible sleeping arrangements, sofa beds, TV, an amenity kit, kettle, tea and coffee. Each cabin can accommodate two to four passengers.
Dining and entertainment on board MS Roald Amundsen
Deck 6 of the MS Roald Amundsen houses T. Aune main dining area, which will offer breakfast, lunch and dinner for guests. The Fredheim restaurant is also located on the same deck.
The ship also features a shop, photo centre, library, internet facility, science centre, lecture halls, pharmacy, hospital, compass service centre, as well as outdoor walking and explorer decks.
Propulsion
The MS Roald Amundsen explorer cruise ship is the first hybrid electric-expedition cruise ship powered by an innovative hybrid solution including four Bergen B33:45 engines and batteries. The engines are equipped with a selective catalytic reduction (SCR) system to meet the IMO Tier III nitrogen-oxide (NOx) emission limits.
The fully electric propulsion integrates two Azipull azimuth thrusters driven by permanent magnet (PM) motor and two tunnel thrusters. The PM motor delivers high efficiency across different speeds and minimises the space needed in the thruster room.
Itineraries of MS Roald Amundsen
MS Roald Amundsen embarked on its maiden season which included cruises along the Northwegian coast, and to Svalbard and Greenland. The ship made history by traversing the Northwest Passage.
The cruise ship sails to the Chilean Fjords, the Falkland Islands and Antarctica on an 18-day itinerary. The ship will also sail on a sries of voyages to Antarctica and Alaska regions.