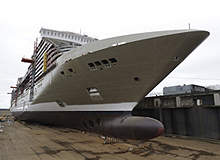 MSC Splendida, owned by MSC Cruises, is the company's most innovative cruise ship. Built at an investment of $550m, it was the second largest cruise ship ever ordered by a European cruise owner.
The vessel was based on a Fantasia-class cruise ship and is capable of accommodating 3,274 passengers and 1,332 crew.
On its maiden voyage in July 2009 Splendida cruised the Mediterranean.
The ship, ordered in June 2005 and delivered in July 2009, was built by STX Europe at the St Nazaire shipyard in France.
The ship was finished in just 27 months from the date of the first steel cutting.
Designed by De Jorio Design International, the ship is a floating Mediterranean resort. Its floating out ceremony was conducted on 20 July 2008 at the St Nazaire shipyard.
MSC Splendida construction
"MSC Splendida was finished in just 27 months from the date of the first steel cutting."
The 33,330m-long ship is known for its technological innovations, guest comfort and environmental protection. The vessel has a gross tonnage of 138,000t, a beam of 37.98m. height is 66.81m and its draft is 8.29m.
Out of the total surface area of 450,000m², 270,000m² is used for public areas. MSC Splendida was constructed with 1,637 cabins and 18 decks (13 used for passengers). The ship has 25 lifts: 15 for public use and one lift reserved for the MSC Yacht Club.
The ship's hull has been coated with the new fluoro-polymer 'foul release' paint.
MSC Splendida has a theatre capable of providing entertainment for 1,650 people. Its well-being centre, AUREA SPA, is housed in an area of 1,615m².
The ship has four restaurants, two buffet areas, 12 hydro massage pools and four pools. There is a 400m² Children's and Teenager's Area.
The ship, furnished with sophisticated technology, has been equipped with advanced water treatment (AWT) system for recycling and treating wastewater. All staterooms and public rooms use an energy savings system, which supervises electricity consumption automatically. The system, capable of switching off unused systems, helps to reduce fuel consumption and harmful gas emissions.
Splendida accommodation
Out of a total of 1,637 cabins, 82% are outside while 1,256 cabins have private balconies.
"Splendida is known for its technological innovations, guest comfort and environmental protection."
The Yacht Club comprises 99 spacious suites with a 24 hour butler service. Yacht Club suites include 64 Standard Deluxe YC1 Suites, 22 Family Deluxe YC2 Suites, three Executive YC2 suites and ten Royal YC3 Suites.
Common features include mini-bars, free laundry and a dry cleaning facility, interactive television, WiFi and free WiFi-enabled notebook computers.
The Yacht Club's large and open recreation area is furnished with a concierge desk, a sitting area and a small library. The bedroom comes with a king-size bed that can be converted into two single beds.
The ship's other cabins are suites with balcony, outside cabins with balcony and outside cabins. Amenities provided include a double bed (convertible into two single beds), a spacious wardrobe, air conditioning, interactive television, telephone, internet connection, a minibar and a bathtub-fitted bathroom.
Dining, fitness and entertainment facilities
MSC Splendida provides six dining options, including Italian and Chinese cuisines, prepared by top-class chefs and served in European style. The ship's L'Olivo, an a la carte speciality restaurant, provides food from all countries located in the Mediterranean region. The buffet options are Tex Mex, Bora Bora and Pago Pago.
The Purple Jazz Bar, decorated with beautiful lighting and purple shades, serves beer, wine, spirits and snacks. The ship's indoor bars include the Sports bar, a wine bar, piano bar, cigar bar and an aperitif bar.
"The Strand Theater performs shows twice every evening during the dinner seatings."
For fitness and health, the ship provides a gym, located behind the MSC Aurea Spa, with equipment including treadmills, Nordic machines and individual aerobic machines. The spa area consists of three Thalassotherapy cabins and 15 massage rooms, with a Balinese treatment facility.
The ship is also equipped with interactive Formula 1 race simulators. The Strand Theater performs shows twice every evening during early and late dinner seatings. Deck tennis, basketball, water slides, hot tubs, daytime aerobics and an outdoor movie screen form the outdoor entertainment activities.
Propulsion
The ship is operated by two 20MW main motors, capable of generating combined power of 40,000kW. For smooth manoeuvrability, the ship uses two high performance propellers run by electric motors.