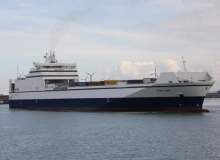 MV Bore Song is the second of two Ro-Ro (roll-on / roll-off) vessels built by German shipyard Flensburger Schiffbau-Gesellschaft for the Finnish shipping company Bore. The first vessel, MV Bore Sea, was delivered in May 2011, while MV Bore Song was delivered in July 2011.
Bore Song entered service in September 2011 under a time charter contract with the British ferry operator P&O Ferries. The vessel operates the Teesport, UK, to Zeebrugge, Belgium, route.
"Bore Song is fitted with a four-stroke medium speed Wartsila 12V46F-CR diesel engine."
Total cost of the two vessels was more than €100m. Financing for both vessels was supplied and structured by KfW IPEX-Bank, a subsidiary of the German government-owned development bank KfW.
The loan has been provided for a period of 12 years and covers around 80% of the order value.
SAJ Instrument was hired to monitor the ship dynamics.
Design and features of MV Bore Song
Bore Song is a freight-only vessel which was designed for environment friendly and economic services. The vessel's design is based on a new RoFlex concept that features hoistable and fixed car decks with a powerful main engine.
When the hoistable car decks are not in use, the resultant free height can be utilised for the shipments of cargoes in double stacked containers.
In addition, the space below the car decks can be utilised to ship conventional ro-ro cargo. The vessel can also accommodate SECU (Stora Enso Cargo Unit) boxes, which are used to carry bulk cargo such as paper.
The vessel has overall operating flexibility, better operational behaviour and more cargo area. It is designed to have high service speed with low fuel consumption.
The hydro-dynamically optimised hull shape, together with the common rail engine, allows the vessel to save fuel and cut down exhaust gas emissions.
Optimised rudder and propeller shapes help in saving 5-10% of fuel at low speeds. Ice Class 1A certification allows her to carry out year-round operations in the North and Baltic Seas.
In compliance with new international ballast water treatment regulations, the vessel is installed with a ballast water treatment (BWT) system. BWT, installed first by the German shipyard, uses mechanical filters and ultraviolet light to treat ballast water.
The gross tonnage of the vessel is 25,586t, net tonnage is 7,675t and deadweight is 13,625t. Overall length of the vessel is 195.40m, moulded breadth is 26.20m and maximum draft is 7.40m.
The tanks have a capacity to carry 4,600m³ of ballast water, 130m³ fresh water, 1,200m³ heavy fuel oil and 140m³ diesel oil. The Heeling tank's capacity is 1,460m³.
The vessel can accommodate 12 drivers.
Cargo capacity and containers
The ship has 2,863m lane metres. The vessel's maximum draft of 7.40m allows for double-stacking the containers. The car decks, with a total space of 4,375m2, are divided into three levels.
The first level and the second levels, have a load capacity of 250kg/m² each. The third, platform deck, has load carrying capacity of 180kg/m².
MV Bore Song propulsion and power
Bore Song is fitted with a four-stroke medium speed Wartsila 12V46F-CR diesel engine. The engine is capable of producing 12,000kW at 600rpm.
"The first vessel, MV Bore Sea, was delivered in May 2011."
Two sets of auxiliary diesel engines, two diesel-driven generator sets and a 3,750kVA shaft generator are also part of the vessel. There is a 410kVA diesel driven EM generator set.
Steering equipment includes an electric hydraulic steering gear and a twist flow rudder. For manoeuvring, the vessel is fitted with a 1,800kW bow thruster and a 900kW stern thruster.