Gelbray Express and her sister vessel Girolando Express were christened together in February 2014. Image courtesy of Vroon.
The livestock carriers were built at Cosco Guangdong Shipyard in China. Image courtesy of Vroon.
Dutch company Vroon placed an order for six livestock carriers in 2011. Image courtesy of Vroon.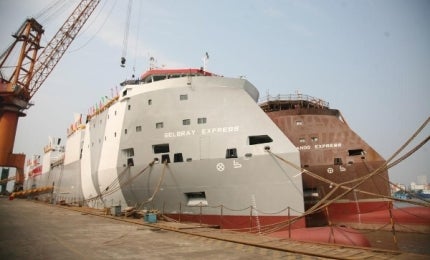 MV Gelbray Express is the third livestock carrier built by Cosco Guangdong Shipyard, based in China, for its Netherlands customer Vroon Offshore Services, who placed a contract in 2011 to build six livestock vessels at an estimated cost of $28.25m each. The first two vessels, Galloway Express and Ganado Express, were launched in April 2013 and May 2013 respectively.
"The livestock carrier is designed to carry a variety of animals, such as cattle, sheep, horses, pigs and goats, on a medium-term charter to Landmark Global Exports."
The third vessel, Gelbray Express, was delivered to its owner in February 2014 after a naming ceremony held in the same month at the Chinese Shipyard. Livestock Express, a subsidiary of Vroon Offshore Services, will operate the vessel. The livestock carrier is designed to carry a variety of animals, such as cattle, sheep, horses, pigs and goats, on a medium-term charter to Landmark Global Exports. Dens Ocean provides commercial management of the livestock fleet.
The fourth livestock vessel has been christened Girolando Express and is scheduled to be delivered in May 2014, and the remaining two vessels are scheduled for delivery in the second half of 2015.
Gelbray Express design and specifications
Gelbray Express is designed by Groot Ship Design company and carries the Singapore flag. It has an overall length of 134.8m and moulded beam of 19.6m, while the length between perpendiculars is 125.25m and depth to main deck is 14.8m. The vessel has a maximum draught of 6.8m and deadweight of 5,224.8t at maximum draught.
Gross tonnage capacity of the vessel is 10,421t and the net tonnage capacity is 3,126t.
The vessel received Bureau Veritas class notations including I Hull Mach, Livestock Carrier, Unrestricted Navigation, COMF-NOISE 2, COMF-VIB 2, Aut-UMS (SS), MON-Shaft, green passport, OWS-5 ppm, CLEANSHIP 7+ and INWATERSURVEY.
Features of the livestock carrier
MV Gelbray Express and her sister ships are fitted with animal-welfare facilities related to ventilation, watering and feeding, which exceed Australian Maritime Safety Authority's (AMSA) regulations. The vessel's bow is designed to provide fuel efficiency while travelling at high speeds without affecting the comfort of the livestock cargo onboard. It is also outfitted to ensure maximum comfort to the crew and cargo, meeting stringent international rules and regulations for the transportation of animals.
---
---
Island Navigator is an offshore service vessel owned by Norwegian offshore service provider Island Offshore.
---
The vessel has a total of five decks with a total net pen area of approximately 4,500m², which includes approximately 4,000 head of cattle at 350kg/head. Deck space of about 495m² is available to store a maximum of 1,200m³ of fodder.
The Gelbray Express livestock carrier has storage tanks onboard with capacity to hold 802.75 tonnes (MT) of heavy fuel oil (HFO), 150MT of marine diesel oil (MDO) and 180MT of marine gas oil (MGO) / fuel oil. The vessel can also store up to 2,646m³ of fresh water onboard.
Additional facilities include two fresh water generators with a capacity of 100m³/day each. Two deck cranes with a carrying capacity of three tonnes and a maximum outreach of 24m are also available aboard.
Engine details for the vessel
MV Gelbray Express is powered by seven Wärtsilä X35 engines generating power of 6,090kW. It also has one emergency generator rated at 400kW and three auxiliary engines rated at 1,100kW each. One shaft generator of 1,050kW output is fitted to increase the flexibility of the propulsion system for peak loads.
The live stock carrier is equipped with a 750kW bow thruster fitted for easy manoeuvring. The vessel sails at a maximum speed of 18k and a service speed of approximately 16.75k.