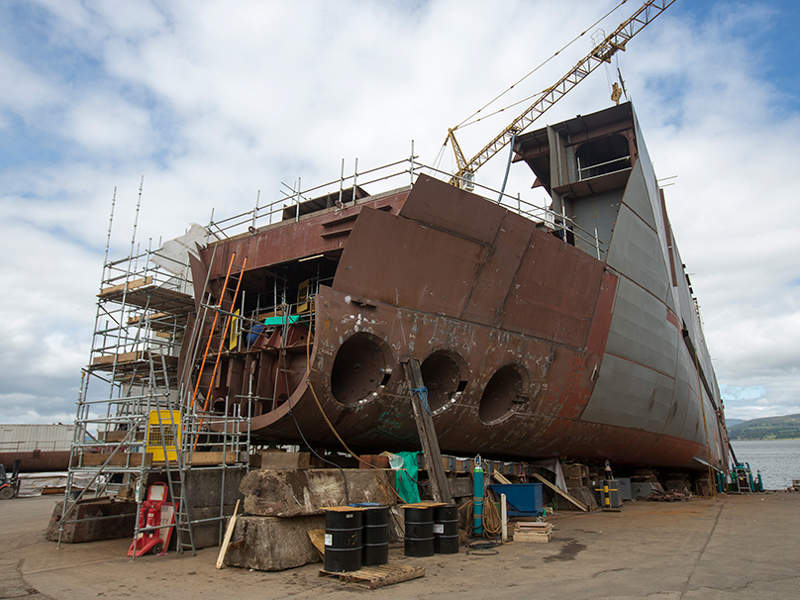 MV Glen Sannox is the first of two dual-fuel ferries being built by FMEL for CMAL. Credit: Caledonian Maritime Assets Limited.
Each 102m dual-fuel ferry incorporates a 147m³ fuel tank. Credit: Caledonian Maritime Assets Limited.
Construction of the dual-fuel ferries began in February 2016. Credit: Clyde Blowers Capital IM LLP.
Scottish shipbuilding company Ferguson Marine Engineering (FMEL) is building two large, dual-fuel, roll-on roll-off (RoRo) passenger ferries for Caledonian Maritime Assets (CMAL) at its shipyard in Port Glasgow, Scotland.
The dual-fuel ships will be the first of their kind in the UK and are to be operated by Scottish ferry operator Caledonian MacBrayne (CalMac Ferries) on the Clyde and Hebrides Ferry Services network to a large number of ports along the west coast of Scotland.
The ferries are intended to replace the existing vessel, MV Hebrides, and their construction began in February 2016.
The first vessel (hull no 801) was named 'MV Glen Sannox' in June 2017 and its launch is scheduled for November 2017.
Both ferries are slated to undergo berthing trials, crew training and sea trials before entering service.
MV Glen Sannox will operate all-year-round on the Ardrossan-Arran route upon commissioning in May 2018.
The second ferry (hull no 802) will be deployed on the 'Uig Triangle' route.
The vessels will have a lifespan of more than 30 years and will enable CalMac Ferries to provide safe and efficient ferry services to Scotland's various Highlands and island communities, while reducing harmful carbon, nitrous oxide and sulphur emissions.
Design and features of MV Glen Sannox-class ferries
Both of the dual-fuel cruise ferries are designed in accordance with the EURO B certification.
The ships' hull is made from steel and their superstructure is built from aluminium.
Each vessel features an overall length of 102.4m, while the length between perpendiculars is 97.8m.
"The dual-fuel ships will be the first of their kind in the UK and are to be operated by Scottish ferry operator Caledonian MacBrayne (CalMac Ferries)."
The ships have a moulded beam of 17.5m and an operational draught of 3.4m.
The depth to main deck is 5.95m, while the depth to the passenger deck is 12.2m.
MV Glen Sannox's main deck is 25% larger than that of MV Hebrides and can accommodate 127 cars or 16 heavy goods vehicles (HGVs), or both.
Its passenger deck can accommodate up to 1,000 people.
The ferry's deadweight corresponding to the operational draught is 900t, while the maximum deadweight at 3.4m draught is 1,180t.
Both the ferries incorporate scientific acoustics solutions, K-Bridge navigation, an electronic chart display system, echo sounder and radios, as well as navigation and communications systems.
The vessels' control and management will be enabled by Kongsberg automation and control systems.
Propulsion and performance of the 102m dual-fuel ferries
Each ferry's propulsion system includes two dual-fuel, four-stroke, six-cylinder, turbocharged Wärtsilä 34DF main engines rated at 3,000kW each, as well as two dual-fuel, six-cylinder, turbocharged Wärtsilä 20DF auxiliary engines rated at 920kW each.
The engines offer a service speed of 16.5k and are capable of operating on both liquefied natural gas (LNG) and low-sulphur marine gas oil (MGO).
Additionally, the ferries will be equipped with horizontally offset gearboxes, tunnel thrusters, shaft lines, controllable pitch propellers (CPP), Wärtsilä Energopac rudders, Wärtsilä LNGPac fuel gas handling systems and a twin screw dual-fuel mechanical propulsion driveline.
Three bow thrusters will also be fitted to allow for high manoeuvrability in difficult weather conditions.
The vessels are expected to carry a 147m³ pressurised fuel tank made of double-skinned stainless steel, which will feature perlite insulation.
Contractors involved with CMAL's dual-fuel ferry project
FMEL secured a contract worth £97m ($150m) to design, build, test, launch and deliver the two dual-fuel passenger ferries in October 2015.
Wärtsilä was selected by FMEL in December 2015 to supply integrated propulsion systems, fuel tanks and engineering and site support services for the dual-fuel ferries.
Kongsberg Maritime won a deal to provide engineering, procurement and constructions services for the ferries in August 2016.
The basic design of the ships was provided by naval architect Houlder.