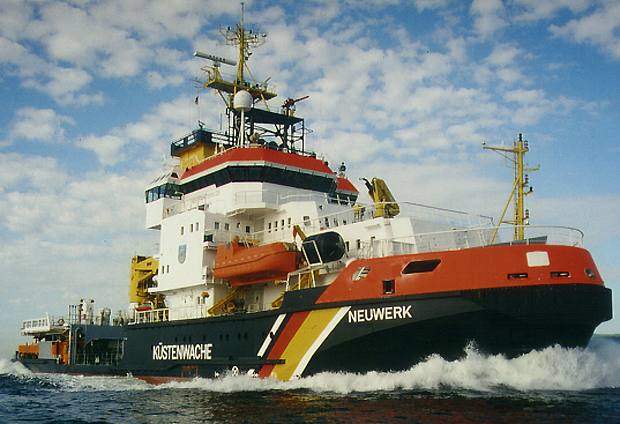 Neuwerk, the marine pollution control vessel.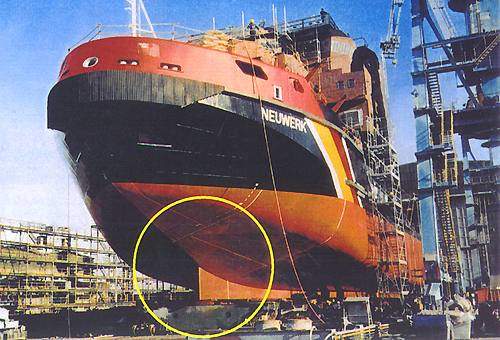 Neuwerk is capable of breaking a plane ice sheet (0.5m) at a speed of 6 knots.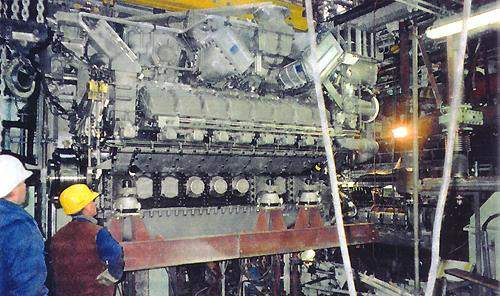 Installing one of the three main engines. MTU 16V 595TC 50 (3,000kW).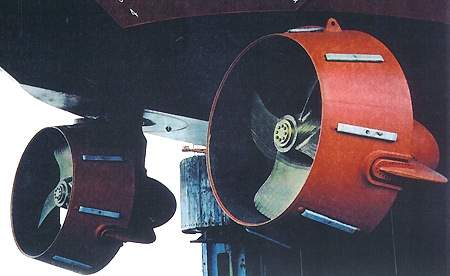 Stern view showing the rudder propellers.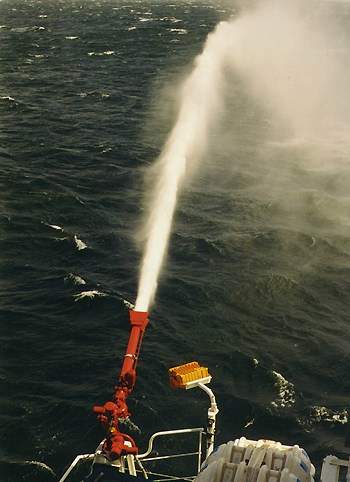 Firefighting equipment includes two water cannons with a range of 120m.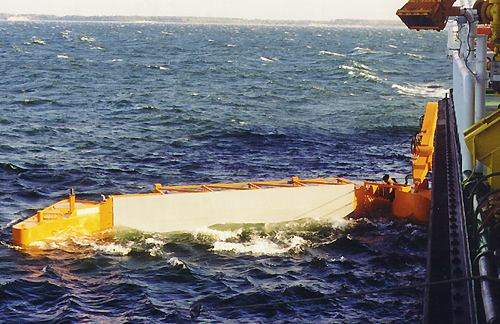 Equipment for recovering floating pollutants include a skimmer system, separation units and stainless steel tanks.
The Neuwerk marine pollution control vessel is used for buoy tender operations, shipping police support tasks, icebreaking, firefighting and emergency towing operations. The vessel was built by Volkswerft Stralsund GmbH of Germany.
DESIGN
The hull has an overall length of 78.91m, a moulded breadth of 18m and maximum draught of 5.9m. The hull is reinforced for compliance with ice class E3. Its stem tails off beneath the vessel into a box-shaped keel, which improves the icebreaking action and helps to keep the ship on course. The ship is constructed as a one-compartment vessel with seven watertight subdivisions, separated by vertical bulkheads. The horizontal structure consists of four in-hull decks and four superstructure decks.
Complying with the requirements of ice class E3, the ship is capable of breaking a plane ice sheet (0.5m) at a speed of 6 knots. A wedge-shaped clearing keel, which broadens out into a bar keel, enhances the icebreaking performance. In particular, it helps clear broken ice floes away from the propellers during the icebreaking operation. Ice-related sternway problems have been addressed by a special aftship design. Two appendaged keel elements above the rudder provide an effective means of clearing away the ice floes.
The ship is equipped with two independent systems to recover floating pollutants (oil and similar substances) and separate them from water. They include a skimmer system, separation units and the stainless steel tanks. The pollutants recovered from the water surface are separated in two 320m³/h gravity separation units. Having passed through the fully automatic separation plants, the pollutants are kept in the cargo tanks. There are five cargo tanks on board with a total capacity of 1,000m³.
Located at the rear of the buoy deck is the NMF main working crane designed for handling buoys and salvaging containers. It has two lifting devices, each with a heave compensator and a 220kN/25m telescopic jib. An Atlas OSS-11 Z retractable sonar device is installed at the base of the foreship to search for underwater objects and survey them.
PROPULSION
The Neuwerk is propelled by diesel-electric drive. The vessel contains three MTU 16V 595TC 50 (3,000kW) and one MTU 12V 396TC 54 (960kW) at 1,500rpm. The two Schottel nozzle-type rudder propellers each have an input rating of 2,900kW to meet the requirements of ice class E3. To improve manoeuvrability and thrust, a pump-jet with a rating of 2,600kW is installed in the foreship. The ship can thus boast a total bollard pull of more than 1,100kN. The electric power is generated by four main diesel-generator units working in parallel, and consists of three identical diesel units and one smaller one. The 690V three-phase busbar system (power plant principle) supplies both the ship's network and the drive systems with electric power.
AUTOMATION AND CONTROL
The main navigation systems installed consist of magnetic and gyro compass systems, two X and S band high-resolution radar units (ARPA), VHF radio direction finder, radio navigation units: DGPS and LORAN C and log systems, such as Doppler speed log and EM log. In addition, the ECDIS electronic sea chart is integrated in the radar system
The Neuwerk is equipped with radio communication systems comprising of a satellite communication unit, operational and aircraft control systems and a BOS unit with GMDSS radio system for areas A1, A2 and A3. Besides the sonar unit, the hydroacoustic equipment on-board also includes a navigational echo-sounder and a shallow-water echo-sounder.