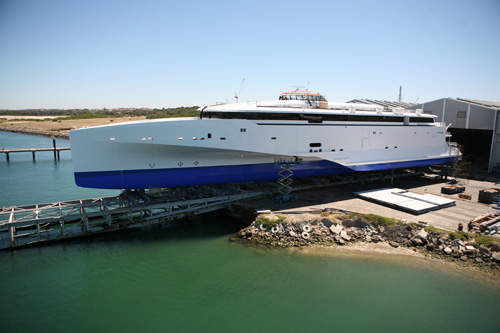 The trimaran was launched in December 2009.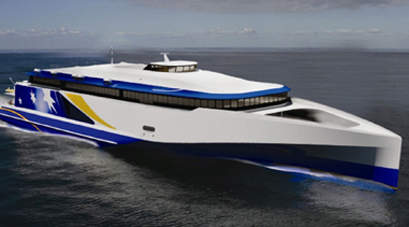 The ferry will be completed in February 2010.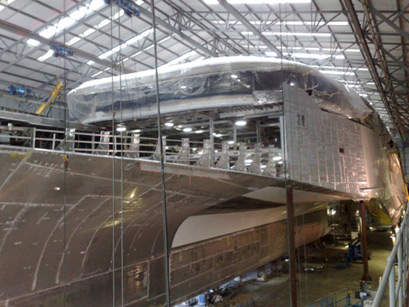 The ferry is being constructed at Austal's Western Australian facility.
Austal is a leading manufacturer of passenger catamarans and high-performance aluminium vessels. In December 2009 the company launched its next-generation, high-speed trimaran vehicle/passenger ferry.
The 102m ferry is currently under construction at Austal's Western Australian shipyard and is scheduled to be completed in February 2010.
The 700t ferry has a waterline length of 101.4m, a moulded beam of 26.8m, a moulded hull depth of 7.6m and a hull draft of 4.2m. It can cruise at a maximum speed of 39kt, at a range of 630 nautical miles.
Design
The trimaran platform is developed by using patented trimaran technology to improve performance, sea-keeping capability, fuel efficiency, payload capacity and passenger comfort. The vessel provides less transverse and vertical accelerations in comparison with other catamarans and mono-hull vessels due to its long and trim main hull. The design also incorporates an additional aft which causes minor vertical motions.
The trimaran is fitted with outfits and interiors suitable for cruise operations or international voyages. The vessel utilises less power compared with similar high-speed ferries operating at related speeds.
It is suitable for all weather conditions, delivers high speeds in waves and operates in higher wave heights. It is also fitted with three underwater wings at the apexes which provide control over the motion of the vessel. Roll accelerations and motion sickness are reduced due to its lower metacentric height. The waves created behind the vessel are also significantly reduced to cut down the impact on the environment.
Accommodation
The ferry can accommodate up to 1,165 passengers. The seating layout can be customised according to the operator's requirements. The ferry offers a variety of onboard passenger facilities including two bar venues, a food preparation and service counter and a boutique gift shop.
"The trimaran platform is developed by using patented trimaran technology to improve performance."
Amenities include wheelchair-accessible toilets, a high-speed elevator and four independent passenger entry points.
The mezzanine deck is a combination of fixed and hoistable decks which allow the carriage up to 132 cars with a clear deck height of 2m. The clear height on the main deck is under 4.3m and 2.3m when it is lifted and lowered. The vehicle deck has space to accommodate 245 cars or 145 cars. The stern is reinforced to allow the fitting of a stern ramp for future requirements.
Propulsion
The trimaran ferry is equipped with three MTU 20V 8000 series diesel engines which deliver 9,100kW each with 1,200rpm. The three class-leading engines provide the highest power-to-weight ratio in their power range. The propulsion system consists of three Wartsila LJX 1300 waterjets.
The patented three-engine configuration, combined with the hydrodynamic hull form, improves fuel efficiency across a variety of operating environments. It also saves weight compared with conventional four-engine layout. The trimaran ferry is classified as Germanischer Lloyd 100 A5, HSC – B OC3 High Speed Passenger / Ro-Ro Type, MC, AUT.