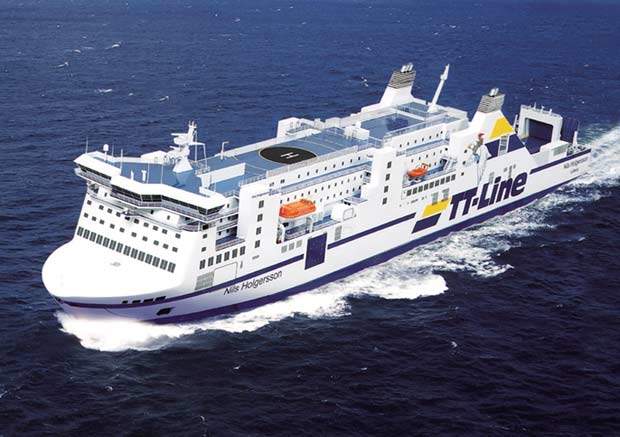 The Nils Holgersson in operation.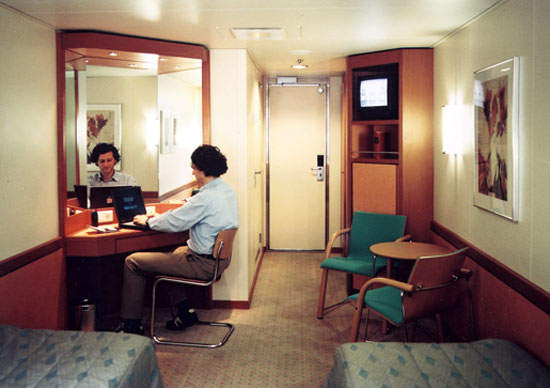 One of the cabins on the ferry.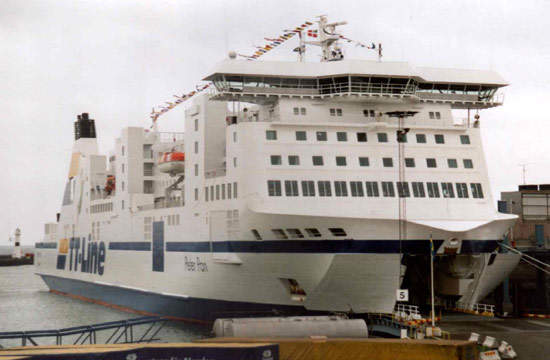 The Peter Pan, sister ship to the Nils Holgersson.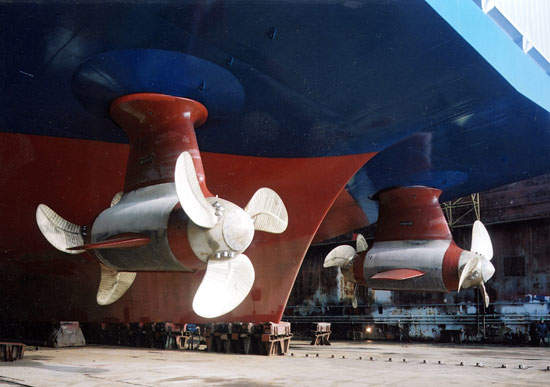 The podded propulsion system on the ferry.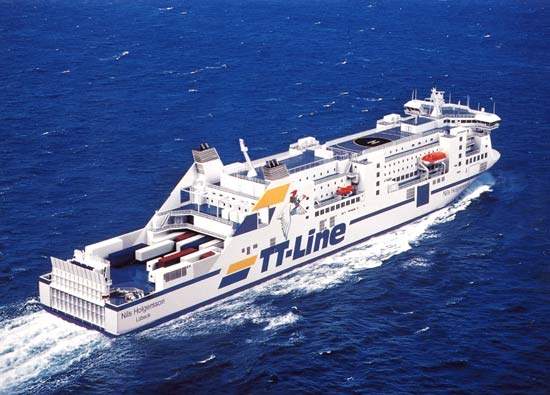 Stern of the Nils Holgersson.
The Nils Holgersson was built by the German-based shipbuilder SSW Fahr-und Spezialschiffbau for the operators Travlemunde-Trelleborg (TT-Linie). It is the sister ship to the Peter Pan. Deltamarin/SSW/HSI were responsible for the design.
The Nils Holgersson has an overall length of 190.75m and measures 175m between perpendiculars. It has a moulded breadth of 29.5m and the depth to Deck 3 is 9.3m. Its gross tonnage is 36,648gt and it has a design deadweight of 7,200dwt. It has a design draught of 6.2m and a scantling draught of 6.3m.
PASSENGERS AND VEHICLES
The ferry can accommodate a total of 744 passengers, up to 640 of which can be housed in the 220 cabins in a range of styles. These are located on Decks 7, 8 and 9. Amongst the other facilities are conference rooms, a restaurant, lounge bar and cinema. There is also a shop, casino and fitness centre. These amenities are served by a ship's company of ten officers and 46 crew. There are 56 single rooms available for the ship's complement.
The Nils Holgersson can garage vehicles on three vehicle decks. This gives the ship a total lane length of 2,613m. There is sufficient height access to carry 171 trucks/trailers.
The vehicles and passengers enter the ferry from the stern at two levels. Vehicles can pass up the ramp to the main vehicle garage (Deck 5). Inside, there is a tiltable ramp that links Decks 5 and 3. This forms a watertight seal when deck 5 is closed off. There are also side ramp doors, port and starboard, located in the forward part of the ferry. Alternatively, the vehicles can pass over the main ramp and doors to the main roll-on roll-off deck (Deck 3). At the bow of Deck 3, the door closes around a three-section ramp. The inner section forms a watertight enclosure at the bulkhead.
The fixed aft ramp and forward hoistable ramp have side-hinge covers.
ENGINES AND POWER
The Nils Holgersson has five main engines: two MaK8M43 engines which have an output of 7,200kW each when turning at 500rpm; two MaK 7M43 engines which have an output of 6,300kW each when turning at 500rpm; and a single MaK 6M32 engine which gives an output of 2,880kW at 600rpm.
There are also five alternators: two Siemens 1DK4839-6BE06-L alternators which produce 6,980kV of power; a pair of Siemens 1DK4838-6BE06-L alternators which produce 6,106kV of power; and a Siemens1DK4138-6BE05-L which can produce 2,760kV of power.
AZIMUTHING PROPULSION SYSTEM
A key feature of the Nils Holgersson is that it is the first of its type to employ a Siemens-Schottel fully azimuthing propulsion system (SSSP). The ferry has two of these SSP10 pods. Each pod has two three-blade fixed pitch propellers which are 4.5m in diameter. Manufactured from nickel-aluminium-bronze, the output of each pod is 11,000kW, which gives the ferry a service speed of 22 knots.
VESSEL STABILITY AND THRUSTERS
To assist stability, the vessel has approximately 2,644m³ of water ballast. The ferry's tanks can also store 946m³ of marine diesel oil and up to 70m³ of marine gas oil. There is also an interim air-activated heel control unit with a 709m³ tank.
The onboard roll stabilisation equipment includes two Blohm & Voss S700 fins, approx. 12.5m² in area. Manoeuvring on the Nils Holgersson is assisted by a pair of Brunvoll bow thrusters. These controllable pitch thrusters have an output of 2,400kW when turning at 249rpm. It is moored by means of eight Brohl Electric mooring winces and a pair of mooring winches/windlasses.
The Nils Holgmson is classified by Germanischer Lloyd under the notation +100A5 E2 Passenger/Ro-Ro Ship, iW, RSD, SOLAS 11-2, REG 54, NAV-O. +MC E2, AUT, RP.