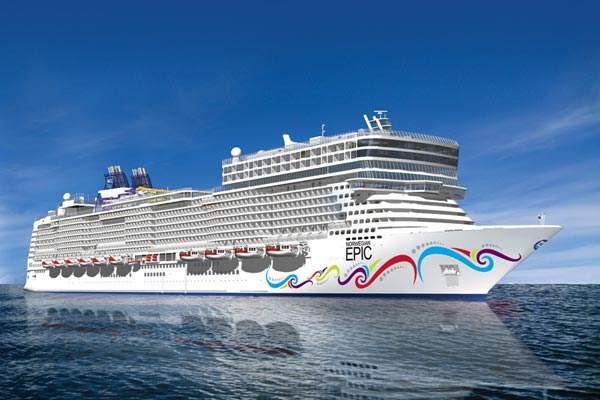 The Norwegian Epic is Norwegian Cruise Line's most innovative ship to date.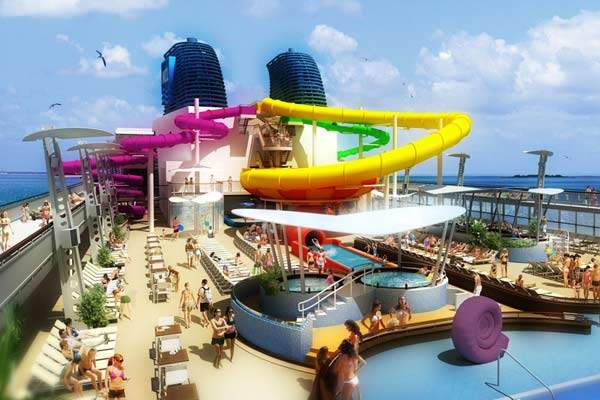 The Epic's Aqua park includes three multi-storey water slides.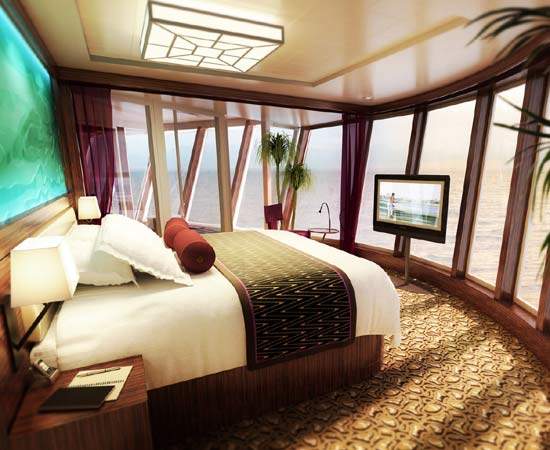 A Deluxe suite room aboard the Norwegian Epic cruise ship.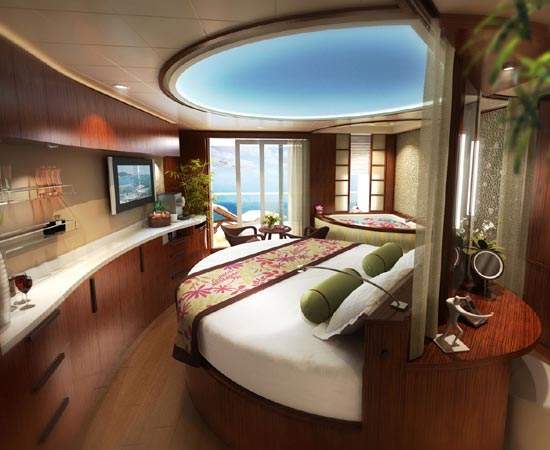 A luxurious spa suite on the Norwegian Epic.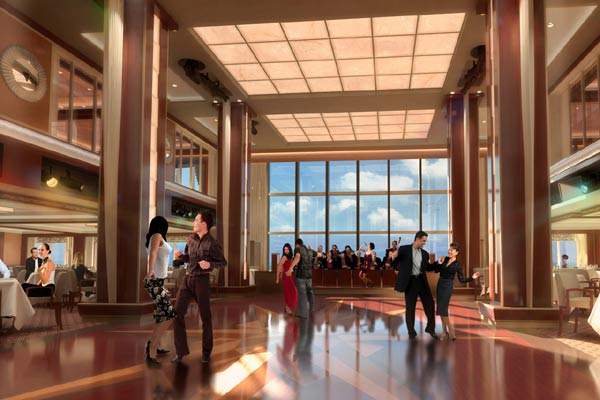 The Manhattan room in one of the two main dining venues of the Norwegian Epic.
Norwegian Cruise Line's (NCL) Norwegian Epic is the cruise line's biggest and most innovative ship to date. The 4,200-passenger ship features a wide range of amenities, entertainment venues and dining options.
The construction of the ship reached a major milestone on 4 June 2009 with the fitting of its two huge funnels. This marked the final stages of the ship's construction. The cruise ship was delivered in June 2010.
Design
The ship carries NCL's New Wave design concept, which features staterooms with curved architecture and open living spaces, along with innovative bathrooms and balconies. Entertainment options include the world's first Ice Bar at sea.
Accommodation
The Epic features the biggest ship-within-a-ship suite complex at sea, comprising 60 suites and villas on two private decks. Guests staying in these suites have access to the courtyard villa complex, which contains a private pool, two whirlpools, saunas, sun deck, fitness facility, private indoor/outdoor dining, bar and a concierge lounge.
"The Epic features the biggest ship-within-a-ship suite complex at sea."
The villas also include eight deluxe staterooms featuring a living room with dining area, bedrooms, a luxurious bathroom and a private balcony. Guests are given a special platinum key card to access the villa courtyard and private lounge.
Decks 11 and 12 contain 128 studios equipped with adjustable lighting that mirrors the different stages of the day. Guests also have access to a shared social space called the Living Room that features a bar, room service, two large TV screens and a concierge to book dinner reservations and shore excursions.
Decks 13 and 14 contain 146 family deluxe balcony and 225 family balcony staterooms along with 98 deluxe balcony staterooms. In addition, 851 balcony staterooms are located on Decks 8 to 14.
The ship has 560 New Wave Inside staterooms located on Decks 8 through 14 that feature contemporary décor, a bathroom with a separate shower and a modern vanity top.
Deck 14 also houses eight spa suites, 21 deluxe balcony spa staterooms and ten spa balcony staterooms.
Facilities
The ship has an Aqua Park with three multi-story water slides, two main pools, five hot tubs, a wading pool and a kid's pool featuring water sprays and a slide. The park also has the Epic Plunge, a thrilling drop through a 200ft-long tube.
The Entourage lounge provides entertainment for teenagers. During the day, teenagers have access to PlayStation3 consoles, pinball, table football, a video jukebox and nine flat-screen televisions. At night, Entourage transforms into a teens-only nightclub.
The ship also includes a kid's play area comprising a light-up dance floor, Wii and PlayStation3 gaming areas, as well as a private karaoke performance stage that doubles as a state-of-the-art surround sound cinema.
Entertainment
In an industry first, a performance by Blue Man Group was held at the 685-seat Epic Theater.
In addition, famed producer and director Neil Goldberg presents Cirque Dreams and Dinner in the 265-seat theater-in-the-round. The show provides an interactive theatrical dining experience with music and acrobatics.
The ship has a 280-seat comedy club and a 200-seat jazz club, which features nightly live blues and jazz performances.
The ship also features a Las Vegas-style casino. Spanning 13,000ft², the casino follows a Monte Carlo-inspired design theme and includes gaming tables featuring poker, black jack, roulette and craps, as well as 340 slot machines.
Dining
The Epic offers 14 different dining options, including Chinese, Italian, French and several other cuisines. The ship also offers 18 bars and lounges.
In addition to the Ice Bar, the ship offers the Spice H20 and Posh Beach Club.
Itineraries
The Epic's maiden itinerary started in April 2011, covering the Eastern and Western Caribbean from Miami. The itinerary started in Philipsburg, St Maarten, and ended at Nassau in the Bahamas. The ship's Western Caribbean itinerary includes Costa Maya in Mexico followed by Roatán, Bay Islands, Honduras and ending at Cozumel, Mexico.