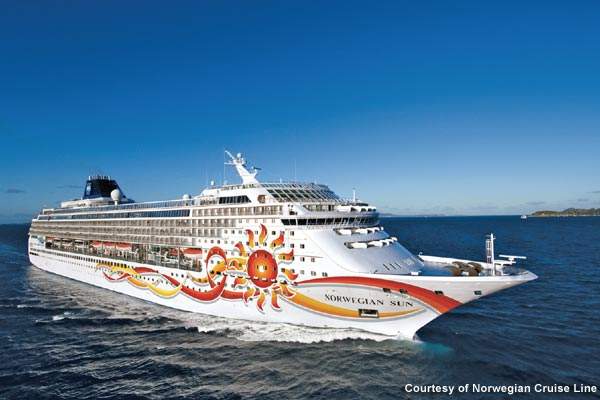 Built in 2001, Norwegian Sun is owned by Norwegian Cruise Line.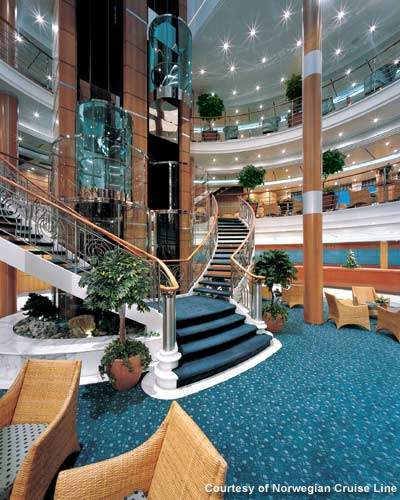 The beautiful and attractive atrium of Norwegian Sun.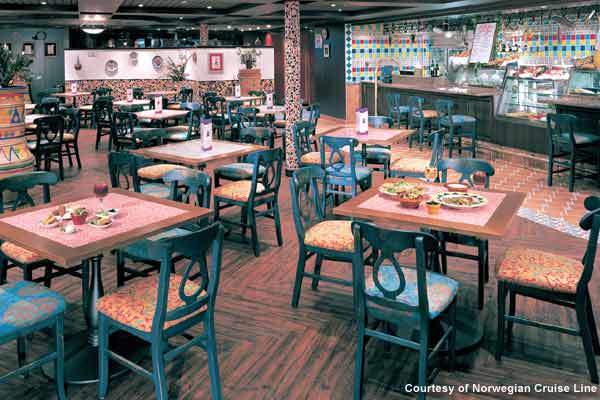 The Las Ramblas Tapas Bar & Restaurant provides a broad range of dining options.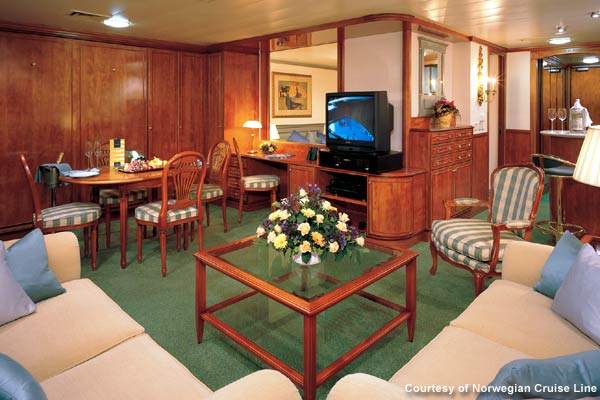 The Owner's Suite master bedroom is furnished with a king-sized bed.
Norwegian Sun is a cruise ship built in 2001 at the Lloyd Werft shipyard in Bremerhaven, Germany. The ship belongs to the Sky Class of cruise ships, and is the third and final ship of this class. Norwegian Sun will be home-ported at Port Canaveral, Florida in October 2010.
A sister ship of the Norwegian Sky, the Norwegian Sun started its maiden voyage in 2001 on a 16-day cruise named "Path of Vikings". The ship sailed from Southampton, England to New York.
The ship was built on a concept called Freestyle Dining. This means that the ship offers the same services as provided by the finest land-based resorts. The passengers on board are free to eat whenever they like. Cuisines range from French, Italian and Spanish, spread over 11 dining options.
Norwegian Sun cruise ship design
With 13 passenger decks, the Norwegian Sun can accommodate 2,400 passengers and more than 900 crew. The ship has 108ft of beam and is 848ft in length. Its average cruising speed is 23kt.
The hull of the Norwegian Sun is made up of steel and is 9,857t in weight. The ship has a dead weight of 7,100t.
Cruise ship facilities
The ship provides a luxurious and comfortable atmosphere. It is furnished with one indoor and two outdoor pools, a large fitness hall and a health spa. There are five large whirlpool bathtubs for public use. The VIP area has its own private bathtubs.
"The engine is equipped with three 12.4MVA and three 10.7MVA diesel alternators."
The ship is furnished with a large casino (open 24-hours a day), a long bar and a cabaret venue at Dazzles Lounge. It also has a shopping centre, a playroom for children and a video arcade.
Norwegian Sun has a separate lounge for drinking and smoking at Promenade Deck, located within the ship's atrium lobby. The deck is equipped with 20 computers for internet access. There is also a conference room, a library and a beauty saloon.
Norwegian Sun accommodation
Passengers have 30 different accommodation options to choose from. These include six grades of suites, 15 grades of cabins with an outside-view and nine grades of interior cabins, which are without a view facility.
Two Honeymoon Suites are located at the ship front. Each suite has a private lounge and bedroom, and a queen-sized bed in the sleeping area. The bathroom is equipped with a full-size comfortable whirlpool tub, private toiletries, cabinets and a deep wash-hand basin.
There are two Owner's Suites, which are the largest category of accommodation in the ship. They have access to a big, teak floor private balcony situated beneath the ship's navigation bridge. The suites are furnished with a king-sized pull-down Murphy's bed, a big dining table with chairs and a TV set with a DVD / CD player.
The cabins are furnished with a queen-sized bed that can be converted into two lower beds. They are also facilitated with a colour television set, refrigerator, an air conditioner and a connection socket for laptop computer.
Ship propulsion
"The Norwegian Sun cruise ship was built at a cost of $332m by Aker MTW, which is now STX Europe."
The ship's engine is based on electric motor propulsion principle. Two double-winding synchronous motors of 15MW at 135rpm, two synchro converters of 12/12-pulses with three excitation systems, and four cast resin propulsion transformers of 9.7MVA drive the diesel-electric propulsion.
The engine is equipped with six diesel alternators, three 12.4MVA and three 10.7MVA. For medium-voltage distribution, two switchboards of 10kV with 21 and 22 panels respectively have been used. A primary power bus system is used to distribute low-voltage power to all fire zones in the ship during emergencies.
Key players
Norwegian Sun was built at a cost of $332m by Aker MTW, which is now STX Europe. The ship is owned by Star Cruises and is operated by its subsidiary Norwegian Cruise Line. Propulsion systems were supplied by SAM Electronics.