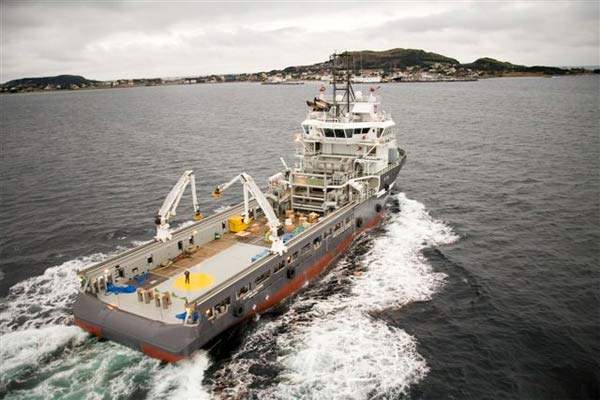 The deck area of the Olympic Octopus.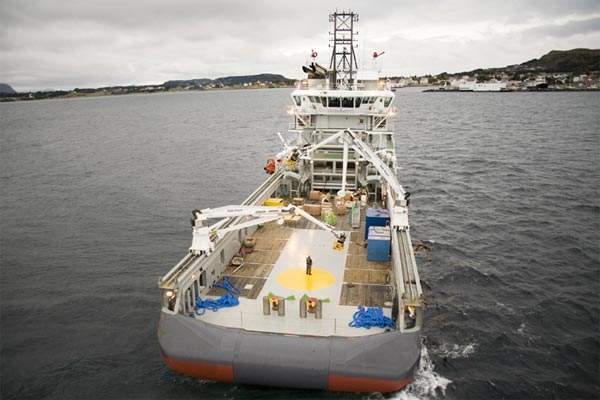 A view of the ship from the stern.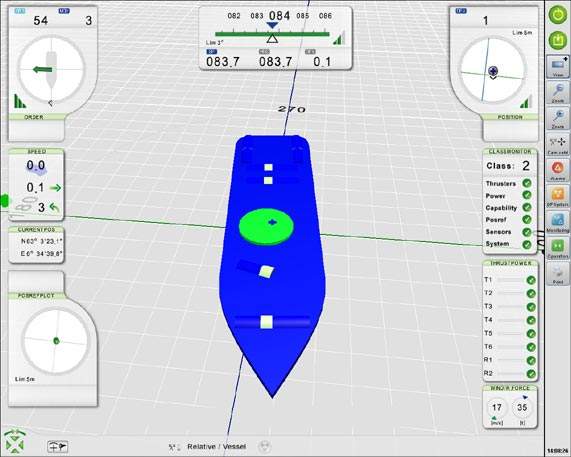 Diagram showing the dynamic positioning system of the ship.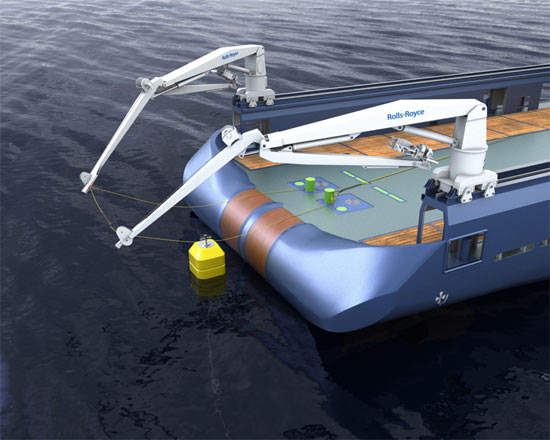 An artist's impression of ship's twin cranes.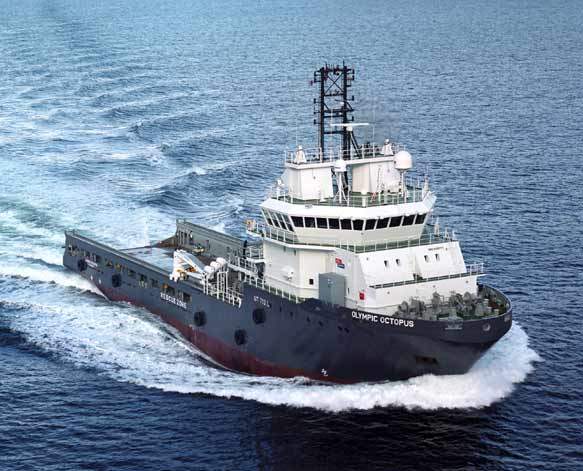 A view of the front of the ship.
The Olympic Octopus is a type UT 712 L anchor handling tug supply vessel, owned by Olympic Shipping AS and built by Aker Yards in Søviknes, Norway. The Octopus name was chosen because of the novel flexible arms which form part of the anchor handling operations. The Olympic Octopus will operate on long term contract to BP in the Mediterranean.
The vessel can act in a safety standby role with a 280-person survivor capacity. It has an overall length of 78.3m and a length between perpendiculars of 68.2m. Its mounded breadth is 17.2m and the depth to the main deck is 8.3m. It has a design draught of 6.3m and a 7m maximum draught. The hull incorporates a bulbous bow and the lines are designed for efficiency and low motions under all operating conditions.
In tug operations, the vessel has a 180t bollard pull. It has a gross tonnage of approximately 3050t and a deadweight of around 2900t.
DECK EQUIPMENT
The Olympic Octopus has a working deck area of 510m² and a deck cargo capacity of 900t. All the normal supplies can be carried and there is tank space for 1,000m³ of recovered oil in connection with antipollution activities.
It is designed for 'safer deck' operations. The vessel incorporates a RRAS (Rolls-Royce Automation System), including alarm monitoring, control systems, tank monitoring and power steering systems.
The system is based on two cargo-rail cranes with double derricks. These run on tracks along the entire length of the deck railing. Rolls-Royce constructed special manipulators acting as mechanical 'arms' which work together with the new Rauma Brattvaag towing pins, shark jaws and centring devices to carry out key functions. They can be controlled remotely from a safe zone by the crew. The vessel also has a new Pennant wires winder.
For anchor handling and towing there is a two drum Rauma Brattvaag hydraulic main winch rated at 400t pull, and a 138t pull secondary winch.
ENGINES AND POWER
The Rolls Royce Bergen B-series main engines were specified to increase power and reduce emissions, with control systems improved and simplified. Power is provided by two Bergen B32:40V12P main units turning CP propellers in nozzles. There are four thrusters – three tunnel side thrusters and an azimuth swing up unit, all rated at 883kW. This gives a speed of 18 knots.
One of the tunnel thrusters is the first application of the newly developed Rolls-Royce Rim Drive thruster technology. Rim Drive is an integrated system combining electrical, mechanical and hydrodynamic elements. The electrical motor takes the form of a thin ring. Its stator is fixed in the tunnel while the rotor blades are attached to the rim pointing inwards. Water flow through the unit is unobstructed since there is no gearbox in the tunnel, nor are struts needed to support a hub. The bearings are water lubricated, eliminating shaft seals and oil-filled gearhousings.
The rim drive thruster is substantially lighter than conventional tunnel thrusters and its axial length is much shorter. This all affords a high total efficiency and reduced noise and vibration. As more thrust is produced for a given power input, fuel consumption is reduced.
"As more thrust is produced for a given power input, fuel consumption is reduced."
The ship meets IMO DP2 requirements for dynamic positioning, and is the first to have the full Rolls-Royce DP2 system, working in conjunction with the latest advances in automation and control.
The vessel is classed by DNV under the notation +1A1, TUG, SUPPLY VESSEL, E0, SF, DYNPOS AUTR, TMON, COMF-V(3), CLEAN, ICE-C, OILREC (NOFO2004).