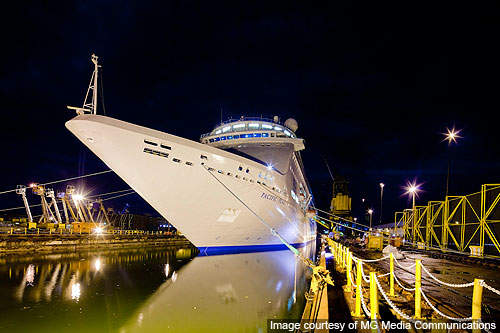 Pacific Pearl in drydock.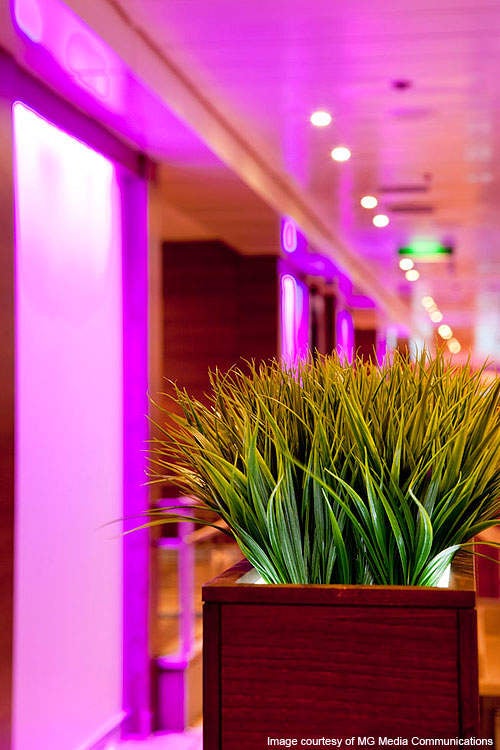 Pacific Pearl's Waterfront Restaurant.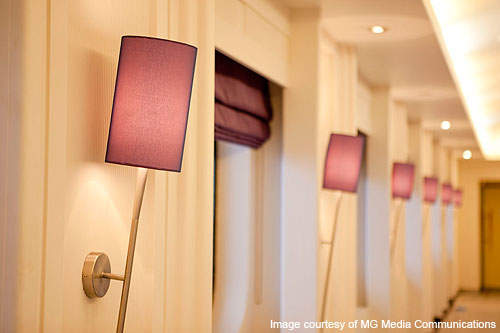 Pacific Pearl new look.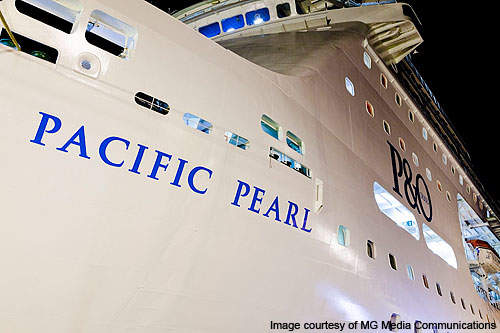 Pacific Pearl in her new livery.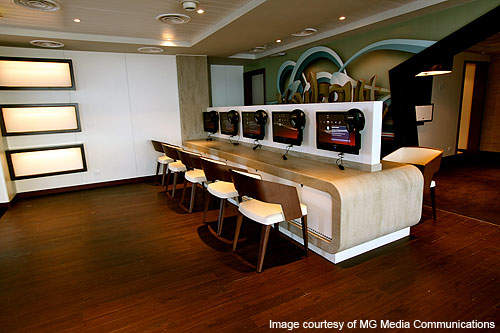 Pacific Pearl features the cruise line's largest ever teen centre for HQ and HQ+ members.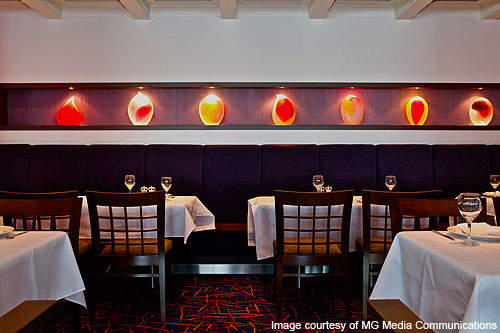 Glass Sculptures in Pacific Pearl's Waterfront Restaurant.
Pacific Pearl cruise ship is owned by Carnival Corporation and is the fourth ship to be operated by P&O Cruises Australia. The ship, previously known as Ocean Village, was refitted in Singapore by Mivan at a cost of over £2m. The refitting work took place between November and December 2010.
The ship was renamed by NZ board sailing Olympic champion Barbara Kendall in an official renaming ceremony on 21 December 2010 at the Waitemata Harbour in Auckland. The refurbished ship cruised for its inaugural voyage on 22 December 2010 from Auckland, joining Pacific Dawn, Pacific Sun and Pacific Jewel, the existing three ships of P&O Cruises Australia.
Pacific Pearl history
Pacific Pearl was originally launched in 1988 as the Sitmar FairMajesty by Chantiers de l'Atlantique for its client Sitmar Cruises. Sitmar Cruises, however, was purchased by P&O / Princess Cruises and the vessel was completed and named as Star Princess in 1989.
In 1997, Star Princess was transferred to P&O Cruises and renamed as MV Arcadia. The vessel was again renamed as Ocean Village when a brand of the same name was established in 2003 by Carnival Corporation. Ocean Village was transferred to P&O Cruises Australia as Pacific Pearl, which had its inaugural cruise from Auckland.
"The 63,500t Pacific Pearl has a length of 247m, beam of 32m and draught of 8.2m."
Pacific Pearl design and construction
The 63,500t Pacific Pearl has a length of 247m, beam of 32m and draught of 8.2m. It has 11 passenger decks, accommodating 1,800 guests. The vessel is installed with four diesel electric motors and can cruise at a speed of 21.5kts.
After completion of pre-fabrication works in July 2010 at Mivan's manufacturing facility in Northern Ireland, the vessel underwent installation work in Singapore at Sembawang Shipyard, a subsidiary of Sembcorp Marine.
The work began in November and was carried out over 36 days. More than 1,800 people were engaged to deliver the ship in the week before Christmas.
The scope of work involved creation of new restaurants and bars such as the Salt Grill and Waterfront restaurants, Connexions and Oasis Bars and the Choc Café.
The vessel was given a complete change over by overhauling all areas of the 11 passenger decks. The hull was also given a new look through a repainting with the latest high-tech and eco-friendly silicone paint.
The pool deck is installed with a new, 7m wide and 4m high big television screen. The atrium of the ship was refitted into a multipurpose entertainment, cafe, bar and retail space.
Pacific Pearl also features a reverse osmosis (RO) plant and digital propulsion system.
Pacific Pearl staterooms
The size of the outside cabin is 17.5m² and features twin beds that can be converted into a queen-size bed. The rooms are provided with a TV, safety deposit box, AC with personal controls, telephone, fridge, wardrobe, drawers, writing desk, and a private en-suite with complementary toiletries and hair-dryer.
The outside cabin with balcony is 21.2m² and includes all the facilities and amenities of outside cabins. With a room size of 30.5m², the mini-Suite provides space for three people and also features a balcony. The inside cabin comes with a room size of 17.5m² and can accommodate two/four people.
Pacific Pearl facilities
Dining facilities include four restaurants and eight bars and lounges. The Blue Bar located on deck six serves as a refreshment centre.
"Pacific Pearl will also feature a reverse osmosis (RO) plant and digital propulsion system."
The Panorama Deck, located on deck seven, features the Salt Grill, Oval Bar and Connexions Bar.
The Children's Centre is located on deck 11. It includes a gaming room fitted with consoles. It is home to Turtle Cove, which offers supervised and entertaining activities for children aged three to six years old.
The Leisure Deck, located on deck 12, features the Splash Bar, pool, hot tubs and the Plantation Restaurant.
The Sun Deck, located on deck 14, provides space for cricket, basketball and golf. It also has a jogging track. A gym and the Aqua Health Spa Centre are located on deck two and a medical centre is located on deck four.