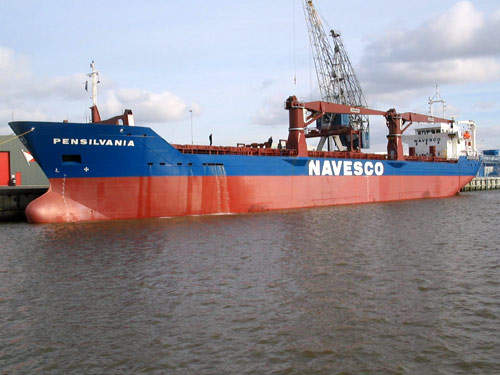 The Pensilvania is a Trader 7000 class vessel, built by Bodewes at its Hoogezand yard, Netherlands, for the Columbian maritime transport and chartering group Navesco.
The unit is a single-deck bulk transport vessel, designed for carrying a range of dry cargoes such as coal, grain, wood and steel coils. It has a raised forecastle and poop deck with a wheel hose located over a three-tier accommodation block at the aft.
The Pensilvania has an overall length of 119.98m or 113.35m between perpendiculars, and has a 15.2m moulded beam. It has a depth of 8.45m and a 7.03m draught as well as a deadweight of 7,715t. It registers a gross tonnage of 4,819t.
A double-bottom runs the full-length of the vessel between the forepeak and aft bulkheads. The bottom has been stiffened to allow a load of 15t/m³.
The double bottom and side tanks are used for ballast water which provides ballasting and trimming. The vessel stores up to 3,400m³ of ballast water as well as 90m³ of freshwater and 550m³ of fuel oil. Corrosion provided an impressed corrosion control system.
The anchoring system consists of two 1,980kg high-holding Pool TW bower anchors connected to a single 9t electrohydraulic single-drum anchor mooring winch.
HOLDS AND CARGO HANDLING
The layout consists of two holds measuring 54m by 12.65m and 27m by 12.65m. The wall height is approximately 9.40m. This gives Hold One a volume of 101,586ft³ and Hold Two a volume of 220,688ft³. There are a number of separation bulkheads – five in the aft hold and one in the fore – which can even be positioned horizontally by a gantry crane and used as a tweendeck.
The deck equipment includes two CBW bulk handling Liebherr cranes, rated at 30t at a 27m outreach or 40t at 20m.
PROPULSION
The main propulsion unit is a MaK 8M32 medium speed diesel engine which can run at 3,840kW at 6,00rpm. This is connected to a Vulkan flexible coupling and, via a Renk type HSU 800 C gearbox with a reduction ratio of 3.78:1, to a Berg propeller. The four-bladed controllable pitch propeller has a diameter of 3.9m.
When underway, steering is enabled by a flap-type rudder controlled by a Tenfjord steering engine. For manoeuvring, there is also a Berg controllable pitch transverse thruster which provides a thrust of 4.6t. It is driven by a 300kW electric motor.
A take-off at the gearbox is linked to a Marathon shaft generator, which can develop350kW at 1,500rpm. There are also three diesel gensets based on a Cummins diesel engine and a Marathon generator. These have a power output of 264kW at 1,500rpm. The Pensilvania also has an emergency genset based on a Cummins Diesel-Marathon Generator.
BRIDGE EQUIPMENT
The navigation and communications package was provided by SAM electronics. These include an Arpa X band and S band radar system and an Atlas 1002 Radarpilot. Debeg provided the ship security alert system, the universal automatic identification system, the GPS and DGPS and the navigation echosounder.
The other equipment includes a GNDSS A3 radio station, an Anschultz Standard 22 gyrocompass, a Reflecta 1 magnetic compass an Anschultz Pilotstar D digital autopilot, three Debeg 6701 Portable VHF GMDSS sets and an Anthea speed log.
Alewijnse Noord supplied the Praxis Automation Maxi-Guard alarm and monitoring system.
LIFESAVING AND FIREFIGHTING
Life-saving systems are based on a 15 Hatecke free-fall lifeboat on a stern cradle. There is a six-person life raft in the stern, two 15-person inflatable life rafts and a Hatecke rescue boat.
The Pensilvania has a MX Fire Protection firefighting system, with Kostabo supplying the safety system. There is a CO2 system for total flooding of the cargo holds and engine room. The vessel has been certified by Bureau Veritas under the notation + Hull Mach General Cargo ship/Container ship, Unrestricted Navigation.