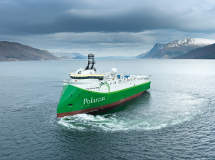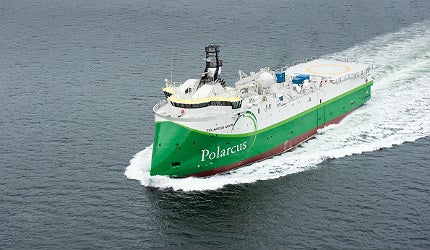 Polarcus Amani is the seventh 3D seismic vessel to join the Polarcus fleet and the third vessel in the Polarcus fleet featuring the ULSTEIN SX134 design. The vessel was designed and constructed by Ulstein Verft in Norway and was delivered to Polarcus in March 2012.
The vessel is also the first of two 12-14 streamer Arctic-ready 3D seismic vessels built by Ulstein Verft, the second vessel being the Polarcus Adira which was delivered in June 2012.
Polarcus Amani features the Ulstein X-BOW hull line design. It is the first vessel to be awarded the DNV Level 1 Triple-E rating. The vessel carries the +1A1, E0, DYNPOS-AUTR, CLEAN DESIGN, COMF-V(3), ICE-1A*, WINTERIZED BASIC, NAUT-AW, HELDK, BWM-T, TMON and SPS class notations from Det Norkse Veritas (DNV).
Design features of Polarcus Amani
"Polarcus Amani features the Ulstein X-BOW hull line design."
The vessel measures 92m in length and has a molded breadth of 21m. The length between the perpendiculars is 84.96m and the depth to the main deck is 9m. The maximum draught is 7.5m and the design draught is 6.5m.
Polarcus Amani is designed with a gross tonnage capacity of 7,709t, a deadweight capacity of 4,472t, and a maximum bollard pull of 125t.
The X-BOW hull line design, which is a backward-sloping bow that starts at the extreme front of the vessel, provides a continuous and sharp bow shape. The design enables the vessel to respond to large waves and maintain high speeds and low resistance with reduced fuel consumption.
The vessel is equipped with a helideck for Sikorsky S-61N / S-92 and also features a vacuum sewage plant and a sewage treatment plant.
Seismic systems
The seismic energy source aboard the vessel comprises of Bolt 1500-LL / 1900-LLXT dual sources. The vessel is equipped with three LMF compressors and acquires seismic data using the Sercel Seal Marine Data Acquisition system.
The vessel has the ability to deploy 12 to 14 patented Sercel Sentinel solid streamers with a Seamap GunLink 4000 fully distributed digital gun controller providing in-water firing control and sensor timing monitoring.
The vessel is also configured with an ION Orca navigation system, ION DigiBIRD depth controllers, and DigiRANGE acoustics for streamer positioning.
Areas dedicated for the seismic systems aboard the vessel include a seismic operation room, a server room, an air gun control room, a streamer store repair room, two battery stores, a back deck store, a bird shack, a tail buoy workshop, a tape store and a technical library.
Navigation and communication systems
The navigation systems aboard Polarcus Amani include an Electronic Chart Display and Information System (ECDIS) and a Differential Global Positioning System (DGPS). The navigational equipment featured in the vessel include Sea-Hawk navigation system, an S-band automatic radar plotting aid (ARPA) radar and an X-band ARPA radar.
Polarcus Amani is equipped with communication systems comprising of Global Maritime Distress and Safety System (GMDSS) based on A4 requirements, an Inmarsat F Fleet-77 satellite communication system and a Very Small Aperture Terminal (VSAT) communication system.
Tank capacities
Polarcus Amani is equipped with tanks capable of holding 2,030m³ of fuel oil, 1,032m³ of fresh water, 2,170m³ of ballast water, 289m³ of urea and 63m³ of lube oil.
Crane facilities
The vessel is equipped with one knuckle jib crane with a lifting capacity of nine tonnes at an outreach of 21m and 12t at an outreach of 18m. It is also equipped with a folding crane that has a lifting capacity of 4.1t at an outreach of 7.2m.
Accommodation and life saving equipment
The vessel accommodates 60 people in 32 single cabins and 14 double cabins. Other accommodation facilities include a mess room, an internet cafe, a gym and sauna room, a hospital, offices, a conference room, and a hotel.
"The vessel runs on four Wartsila diesel generator engines with a power output of 1,710kW each."
Polarcus Amani incorporates six life rafts with a capacity to accommodate 35 people each, a Man Overboard Boat (MOB), and two seismic workboats. The vessel also features fire-fighting equipment including a water mist total flooding fire fighting plant for engine room and a water mist fire fighting system for ancillary facilities.
Propulsion system
---
Related project
---
Aurora Borealis is a proposed icebreaker, drilling ship and multipurpose research vessel being developed by Ericon, a consortium of 19 institutions and agencies from 11 European countries with the European Science Foundation as the co-ordinator.
---
The vessel runs on four Wartsila diesel generator engines with a power output of 1,710kW each and two main electric controllable pitch (CP) propellers with a power output of 4,400kW. In addition it features a 240kW emergency generator.
The vessel is also equipped with a Brunvoll stern thruster with a power output of 830kW, a Brunvoll bow thruster with a power output of 1,200kW, and a Brunvoll retractable azimuth thruster with a power output of 850kW.
The propulsion system of the vessel enables it to sail at a maximum speed of 16kt.