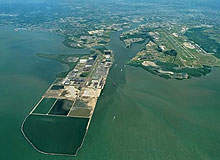 The Port of Brisbane is the largest general cargo port in Queensland, Australia. It is located at the mouth of the Brisbane River, about 15 miles from the Central Business District of Brisbane, Queensland. The port is currently the fastest growing container port with 978,814 TEUs traded in 2010-11; it is the third busiest port in Australia with its total trade being 33 million tons in 2010-11.
Port of Brisbane Pty Ltd (PBPL) operates the port.
Port of Brisbane details
The Port of Brisbane is a purpose-built 7.5km² facility and is accessed via the Moreton Bay.
General cargo berths have alongside depths of 29.52ft to 45.93ft; container berths have depths up to 45.93ft and oil berths up to 46.91ft. Grain berth is 42.65ft deep and the coal berth is 44.29ft deep.
Port of Brisbane construction
The port emerged as a main commercial centre in mid-1800s. Cairncross Dockyard was built during World War II.
"Port of Brisbane Pty Ltd (PBPL) operates the port."
The industrial and port structures changed forever after the completion of two major phases of development which began in the 1960s. The first container terminal was built in 1969.
The general purpose berth and terminal was opened in 2009 at an investment of A$57m. Wharf ten, a 1,220.47ft dedicated container berth, was opened in June 2009 at a cost of A$65m.
Berths 11 and 12 are under construction and are scheduled for completion in 2012 and 2014 respectively. The construction contract for berths 11 and 12 was awarded to Smithbridge Australia in September 2010 and June 2011 respectively.
Facilities at the general cargo port
Most of the facilities are located at the Fisherman Islands. The port is served by 29 operating berths and more than 23,622ft of quayline.
Container terminals include seven container berths with 5,905.51ft of quayline. The general cargo and motor vehicles terminal has three berths with a total length of 2,296.58ft. The terminal handles containers, break-bulk cargo, motor vehicles and other roll-on roll-off cargo.
Dry-bulk terminals include a coal terminal, grain / cottonseed / sugar terminal, woodchips terminal, cement / clinker plant, general purpose wharf and general purpose berth. The Pinkenba bulk terminal, Pinkenba and Gibson Island fertiliser / chemical plant, Queensland Bulk Terminal, Bulwer Island cement / clinker plant and Hamilton wharves / Maritime wharves are located upriver.
Wet-bulk terminals handle crude oil and refined products. Vegetable oils are also shipped through these terminals.
Brisbane multimodal terminal (BMT) acts as an interface between the container terminals and the road and rail networks. It facilitates movement of goods and cargo in and out of the port by rail.
Dry dock and ship repair facilitates are available at Forgacs Cairncross Dockyard. Wharves eight, nine and ten feature 1,796 plug points for refrigerated goods and 5,766 ground slots for dry goods. Wharf three has 15,000m² storage sheds.
Operators of the Queensland port
The Queensland Government has leased the port to PBPL for a period of 99 years.
"The Port of Brisbane is a purpose-built 7.5km² facility."
PBPL is owned by the Q Port Holdings consortium, comprising Global Infrastructure Partners, Industry Funds Management, QIC Global Infrastructure and Tawreed Investments. As per the lease agreement, PBPL is responsible for management and development of the port and its facilities.
Australian Amalgamated Terminals (AAT) operates berths one, two and three. Berths four, five, six and seven are operated by DP World Brisbane, while Berths eight, nine and ten are operated by Patrick Terminals. Berths 11 and 12 will be operated by Hutchison Port Holdings (HPH).
Equipment used
Berths one to three are equipped with a mobile harbour crane and a 66t single-lift container crane. Berths four, five, six and seven are equipped with two Super Post-Panamax twin-lift container cranes, two Post Panamax single-lift container cranes and two Panamax single-lift container cranes.
Berths eight, nine and ten are served by 27 machine-controlled straddle carriers and five gantry cranes. Two of the cranes have heavy lift capacities of 40t, two are 75t and one is 80t.
Future plans for the Port of Brisbane
PBPL has drafted a future port expansion plan to add 2.3km² of port land and provide increased berth space. The reclaimed land will be filled over 15-20 years.
Another project is the sand extraction project, for which approval has already been granted by the Environmental Protection Agency. A total of 15 million cubic metres of sand will be extracted from the Spitfire Channel in Moreton Bay over 15 years.