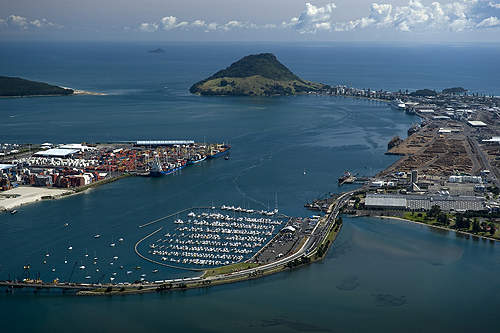 Aerial view of the Port of Tauranga.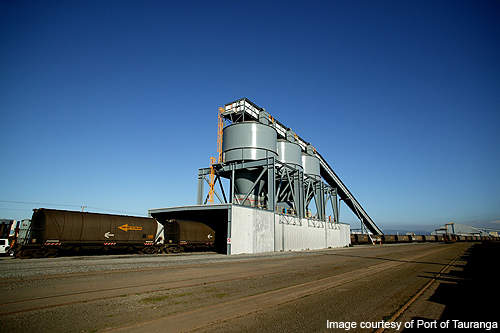 Tauranga's coal facility was constructed at a cost of $30m.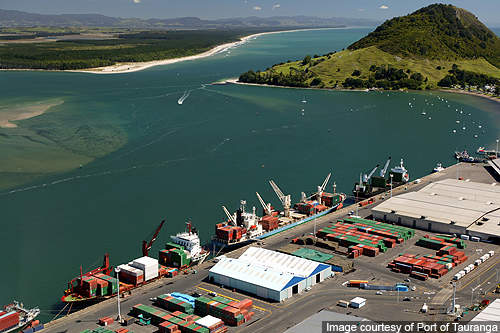 Aerial view of the Mount Maunganui wharf.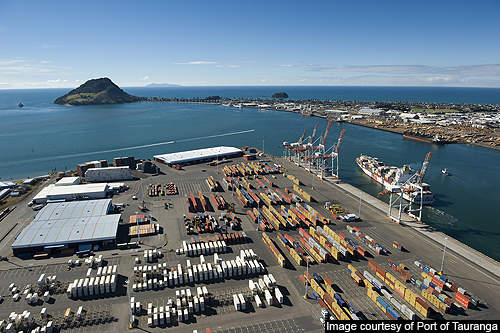 The Port of Tauranga is the largest port in New Zealand in terms of total cargo volume, and the second largest in terms of container throughput.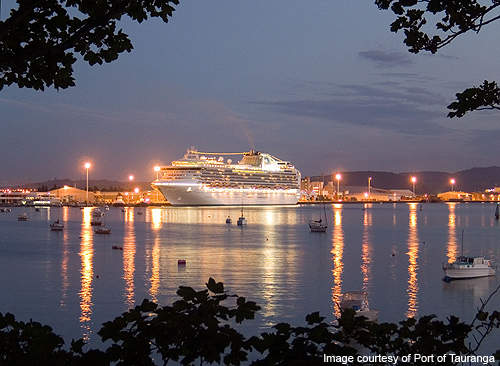 Diamond Princess berthed at the Port of Tauranga.
The Port of Tauranga is the largest port in New Zealand in terms of total cargo volume, with a throughput of over 13 million tons a year. It is located in the Bay of Plenty on the north-east coast of North Island. Its operator, also called Port of Tauranga, was established in 1985.
Roads run throughout the port region, and rail lines from the port connect to the east coast and the main trunk railway systems. There is an airport 1.6km from the port, which provides regular internal flights to Wellington and Auckland.
The port was officially established in September 1873 by order of the Governor of New Zealand. The first large sailing vessel to enter Tauranga harbour was Lady Jocelyn. The Port of Tauranga Harbour Board was established in 1912 to look after the affairs of the harbour.
Port of Tauranga design
The total landholdings of the Port of Tauranga are 185ha. The harbour is in a tidal estuary and occupies an area of 19,900ha. The entrance approaches have a minimum depth of 14.1m, while navigable channels of the inner harbour have been dredged to 12.9m. The maximum permissible length of the vessels that can be accommodated is 290m. Maximum draught while arriving and departing at is 13m high water and is 11.7m at low water.
The port's two wharves are known as Mount Maunganui and Sulphur Point. Mount Maunganui has 12 wharves and a continuous berth face of 2,055m, while Sulphur Point has three berths and 600m of heavy-duty wharf. The 500-berth Tauranga Bridge marina is located at the southern end of the port.
Construction
The order for the construction of a 372m breastwork wharf at Mount Maunganui was given by the government in May 1953. The first pile was driven in November 1953 and the first ship berthed in December 1954. The first stage of cool store, which had 8,500t capacity, was completed in December 1968. The first wood chip export terminal became operational in August 1972. A salt refinery was established by Dominion Salt (NI) during 1972-73 and a 3,000t-capacity grain silo was commissioned in May 1976.
"The port was officially established in September 1873."
A continuous berth-building programme, accompanied by channel and harbour deepening, reclamation works and construction of port facilities, was undertaken between 1961 and 1978. During this period, port draught was increased from 7.31m to 10.7m, and the length of the main wharf was increased from 372m to 1,843m. A bulk cement / tanker berth was constructed in June 1980.
Land reclamation for the Sulphur Point development began in 1965; by 1990, 90ha of land has been reclaimed. An export maize terminal was commissioned in May 1976 and the Forest Industry terminal became operational in 1978. Tauranga Harbour Bridge was officially opened in March 1988. Construction of berths on the reclaimed land of Sulphur Point began in July 1989.
The wharves were officially opened in April 1992. The Port of Tauranga container terminal was opened in July 1998 by the then Prime Minister Jenny Shipley, and a new dairy export facility was commissioned in September 2001. Construction on a $15m bulk liquids terminal was started in September 2006. It was completed in 2008 and is operated by Marstel Terminals.
Port facilities
Mount Maunganui wharf has continuous berth face. Cargo sheds and a 20,000t-capacity cold store are located adjacent to the wharf. Back-up land for cargo handling and storage exceeds 90ha and there are 22 bunker points. To the south of the wharf is a tanker berth, which is equipped with conveyor system used for loading woodchips.
Sulphur Point wharf has 27ha of paved container yard and over 25,000m² of covered storage space. A 9,000t cold store facility is available for temperature-controlled cargo and nearly 1,000 power points are provided for refrigerated containers.
The Tauranga container terminal offers a 24-hour, seven-day service. The terminal's dedicated road and rail access allow free and smooth movement of cargo in and out of the port.
"The Tauranga container terminal offers a 24-hour, seven-day service."
Equipment
There are five Liebherr container cranes at the port. Of these, one is a multipurpose crane with maximum lift capacity of 39t, one is a Post Panamax crane with 65t maximum lift capacity, two are Post Panamax cranes with maximum lift capacities of 55t, and one is a twin-lift crane with a maximum lift capacity of 80t.
The port also has 12 hoppers with capacities ranging from 50t to 300t.
Future plans
The port authority has planned a 170m extension of the Sulphur Point wharf. Construction on the $30m expansion project is expected to begin in the second half of 2011. About 15 million cubic metres of sediment will be removed from the harbour to deepen the channels by 3m. Once completed in 2013, the port will be able to accomodate longer vessels.