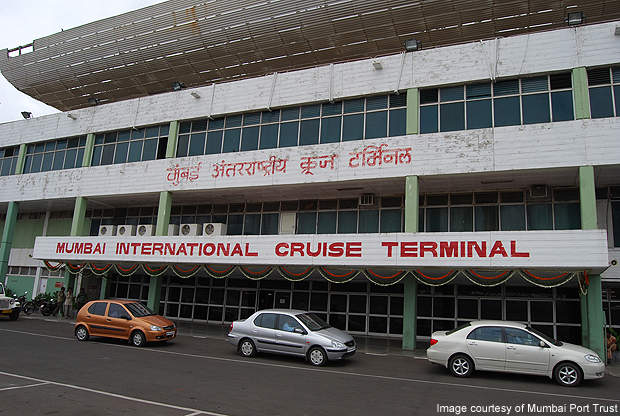 Future works at the Port of Mumbai include the phase-wise development of a new cruise terminal near the Gateway of India monument.
The Port of Mumbai handles about 50 million tonnes of cargo a year.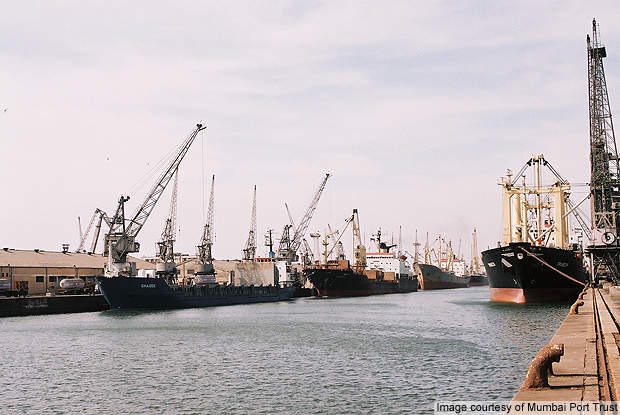 The Port of Mumbai covers around 21% of the general traffic handled by major ports in India.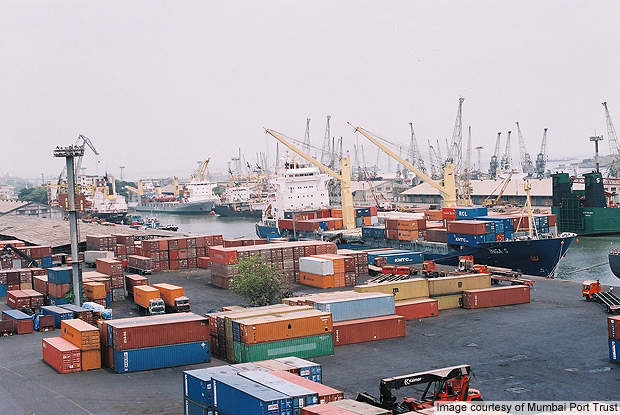 The Port of Mumbai provides facilities to handle, store and deliver cargo, including 24 welding plants, a compressed air plant, electric wharf cranes, two portainers, three transtainers and four reach stackers.
The Port of Mumbai is one of India's premier ports, located in Mumbai, the capital city of the state of Maharashtra. The port has a natural deepwater harbour of 400km2, which is protected by the mainland of Konkan on the eastern side and the island of Mumbai on the western side.
Established in 1873 the port has completed 137 years of its service. It is administered by the Mumbai Port Trust. The port is spread over an area of 46.3 hectares, has 63 anchorage points and a total quay length of 7,800m. The port has made pilotage necessary for ships of 100t and above arriving and departing the harbour.
In August 2010 the port was closed for a few days due to an oil spill that resulted from the collision of merchant vessels MSC Chitra and MV Khalija-III, some five nautical miles off Mumbai. Crude oil containers in MSC Chitra fell into the water and leaked as the ship tilted following the collision. Hundreds of tonnes of oil is estimated to have leaked into the Arabian Sea.
Port of Mumbai facilities
The Port of Mumbai provides integrated sea-port facilities to handle, store and deliver cargo. The port is well connected through an extensive road network of 126km.
The port has its own railway system connected to the Central and Western Railway through the broad gauge main line. With a track of nearly 100km and five diesel locomotives, the port's railway system serves docks and important installations and factories on its estates.
"The Port of Mumbai has completed 137 years of its service."
Mumbai's port can supply drinking water to the ships in the stream and at the berths. Water to the berthed ships is supplied through hydrants installed alongside the berths, whereas vessels in the stream obtain water from water boats. Almost all the berths can be used for oil bunkering.
Cargo storage facilities are available in the docks and outlying areas of the port.
The storage area is built using steel-framed modern sheds and walls of pre-cast concrete blocks. The port has covered storage space of 319,900m², open storage space of 176,000m² and a ground slot of 128,000m². About 200 reefer points are provided for refrigerated cargo at selected berths.
The port is composed of three wet docks: Prince's Dock was commissioned in 1880, Victoria Dock commissioned in 1888, and Indira Dock commissioned in 1914. Prince's Dock has eight berths with a total length of 1,220m and alongside depths ranging from 6.1m to 6.4m. The dock's two berths are 212m long, four are 140m, two are 138m, and one is 100m.
Victoria Dock constitutes 14 multipurpose berths with a total length of 1,732m and an alongside depth of 6.7m. The dock's 15th berth is reserved for Mumbai Port Trust tugs and launches.
Indira Dock has 15 multipurpose berths with a total length of 2,641m and five berths that handle containers are of 812m long.
Maintenance and repair works are undertaken at two dry docks: Merewether in Prince's Dock and Hughes in Indira Dock. Electrified pumps are used at the Hughes dry dock to impound water to an additional height of 1.2m.
The port's Ballard Pier Station handles containers and passenger ships. Its container berth is 244m long with an alongside depth of 10m, while its passenger berth is 232m long and 10m deep. The port also has several open wharves and basins with facilities to handle and store cargo carried by sailing vessels.
Critical functions
Located at the Jawahar Dweep marine oil terminal are four jetties that handle petroleum, oil, and lubricant (POL) tankers.
"The port has covered storage space of 319,900m²."
Its two jetties are capable of accommodating tankers of up to 70,000dwt, while tankers with a maximum draft of 12.2m and up to 125,000dwt can be accommodated at the newest jetty.
The Port of Mumbai also has an offshore berth, Pir Pau, which handles liquid chemicals as well as POL cargoes.
Throughput
In 2008-09 the Port of Mumbai handled 51.9 million tonnes of cargo. It included liquid bulk of 35.8 million tonnes, dry bulk of 311,000 tonnes, containers of 1.3 million tonnes and general cargo of 14.5 million tonnes.
Equipment
The Port of Mumbai has 24 welding plants of capacity 415V – 80V – 300A with eight oxy-acetylene outlets installed in the Hughes dry dock. The compressed air plant in the Merewether dry dock pumping station supplies compressed air to the ships in the dock.
Cargo-handling equipment includes electric wharf cranes installed at Indira Dock and the Ballard Pier Extension. The Ballard Pier Station uses two 35.5t shore gantry cranes and three 35.5t rubber tyre gantry cranes. Container handling equipment includes two portainers of 35.5t capacity, three transtainers of 35.5t capacity, and two 42t and two 45t capacity reach stackers.
Equipment used for dredging includes three non-propelled, grab dumb pontoons without hopper dredger; one non-propelled, back-hoe dredger; and one propelled, suction grab hopper dredger. As well as six non-propelled hopper barges, the port has one flat barge of 400t attached to a floating crane. In addition to its four harbour tugs, the port also uses two hired private tugs.
Future plans
"In 2008-09 Mumbai port handled 51.9 million tonnes of cargo."
The future development programme of the Port of Mumbai has been formulated by Japan International Co-operation Agency.
The plans include construction of two offshore container terminals for handling ships of 6,000 TEU, redevelopment of four harbour wall berths for handling large and deep-drafted vessels at Indira Dock, construction of a new berth at Pir Pau for handling chemicals / specialised grade of POL.
Other works include phase-wise development of a new cruise terminal near the Gateway of India, construction of the fifth oil berth at Jawahar Dweep to increase crude oil handling capacity, and modernisation of the BPX and BPS container berths.