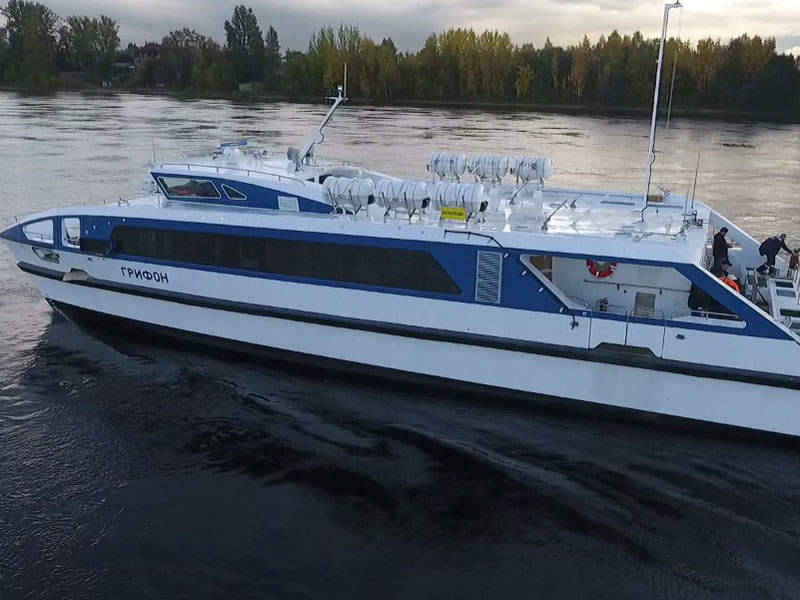 Keel for the Project 23290 passenger catamaran was laid in July 2015. Credit: Joint United Shipbuilding Corporation.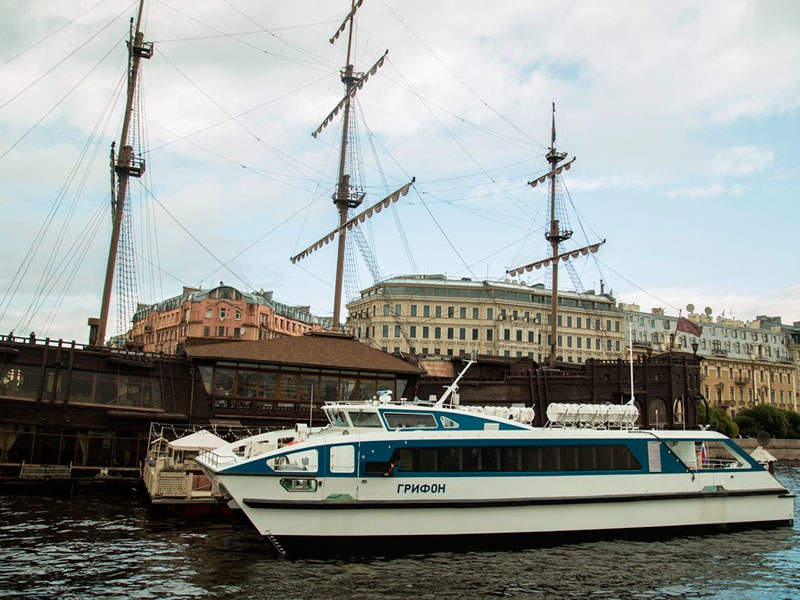 The Project 23290 passenger catamaran has a range of 1,000km. Credit: Joint United Shipbuilding Corporation.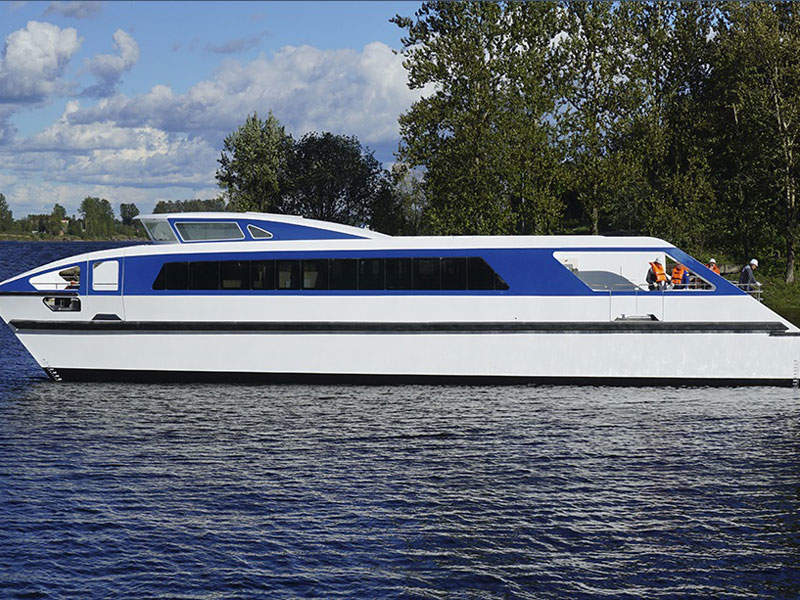 The catamaran's hull is made of carbon fibre reinforced polymer materials. Credit: SNSZ, JSC.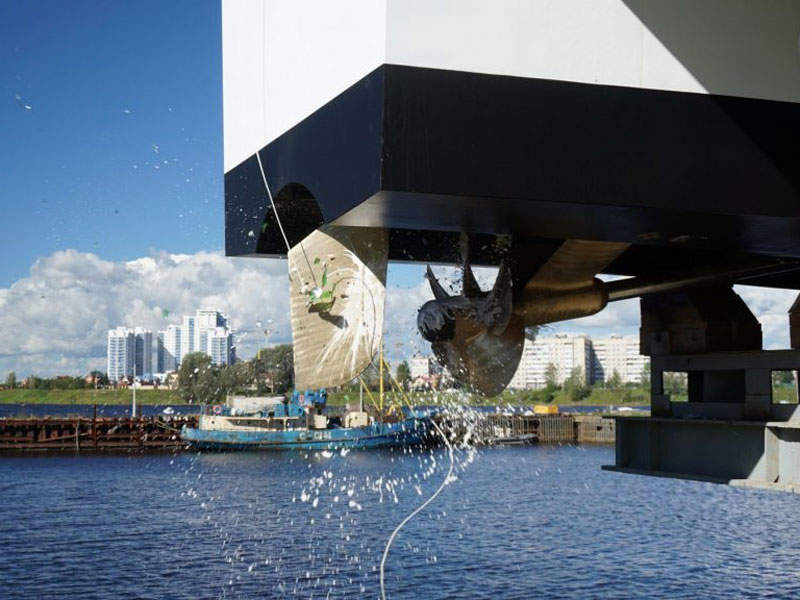 The Project 23290 catamaran is powered by two MTU 10V2000M72 engines. Credit: SNSZ, JSC.
Project 23290 catamaran is a next-generation, high-speed passenger vessel manufactured from composite materials.
The catamaran is the first of its kind in Russia and has been designed by the Central Design Bureau Neptune.
It was built by Russian shipbuilding company JSC Sredne-Nevsky Shipyard.
The design for the Project 23290 catamaran project was finalised in 2013.
A model of the catamaran was demonstrated during the XIX International Forum Russian Industrialist in October 2015.
The first Project 23290 catamaran is named 'Griffin' and was built for the Ministry of Industry and Trade of the Russian Federation.
It is intended to replace the ageing Meteor type hydrofoil vessels, which were built between 1961 to 1991.
The construction of Griffin (hull no. 710) began in July 2015 and the launching ceremony was subsequently held in August 2016.
The ship underwent mooring / sea trials and state trials before making its maiden voyage from Shlisselburg in the Kirovsky District to Peterhof, Saint Petersburg, Russia, in October 2017.
It will be used to transport passengers on a variety of routes upon commissioning, including the Gulf of Finland, Neva Bay and Malaya Neva Rivers.
Serial production of the catamaran is expected to begin in 2018.
Cuba has announced plans to purchase up to four new-generation Project 23290 catamarans.
Project 23290 passenger catamaran design details
The Project 23290 passenger catamaran features a lightweight multi-hull design and has been developed for easy operation.
Its hull and superstructures are made of carbon fibre-reinforced polymer materials with vacuum infusion processes using Prepreg-SCM carbon fibre fabric.
The composite casings are intended to improve the strength of the ship's hull and offer protection from corrosion.
Its composite design also offers increased hydrodynamic stability and seaworthiness.
The overall and waterline lengths of the vessel are 25.7m and 23.6m respectively.
Project 23290 catamarans have an overall beam of 9.3m, rudder draught of 1.5m and height of 5.5m above the waterline.
The overall weight of the vessel is 48t and it features a full load displacement of 66t.
The vessel is equipped with storage tanks capable of carrying 6,000l of fuel.
It is classified by the Russian Maritime Register of Shipping under the notation KM(*)[2] MHC, HSC passenger-A.
Features
The new-generation passenger catamaran is operated by a crew of three and can accommodate between 150 and 250 passengers.
Its spacious main deck offers comfortable seating for travellers, while the passenger cabin is outfitted with large doors at the forward and aft sections to allow the passengers to enter or leave the ship.
The bridge deck is situated above the main deck and offers excellent panoramic views and ventilation.
A helm and navigation station featuring a widescreen colour display is housed in the bridge console to ensure safe navigation at sea.
Communication for the ship is provided via a marine radar antenna located atop the bridge console.
Propulsion
The passenger catamaran's propulsion system is housed in the lower deck.
It incorporates two MTU 10V2000M72 engines and two fixed-pitch propellers spread across two hulls.
The engines are rated at 900kW each and are designed to provide high manoeuvrability and fuel economy.
Performance of Project 23290 catamaran
The Project 23290 catamaran is capable of sailing at speeds of 30k and can travel to a distance of 1,000km.
It can be operated along rivers and coastal sea zones, and is able to withstand sea waves up to four points.