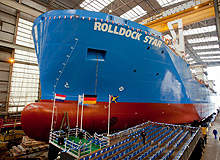 M/V RollDock Star is a multipurpose semi-submersible heavy lift transport vessel owned by the Dutch company RollDock. It is first of the two new ST-class roll-on roll-off / lift-on lift-off / float-in float-out vessels being built for RollDock at the Flensburger Schiffbau-Gesellschaft (FSG) yard in Germany.
RollDock awarded a contract to Flensburger Schiffbau-Gesellschaft (FSG) for two semi-submersible, heavy lift, Ro-Ro, multi-purpose, dry cargo ships in March 2012. The first steel was cut for the RollDock Star in February 2013 and the keel laying ceremony took place in June 2013.
It was launched in August 2013 and delivered in November 2013. The second ship, M/V RollDock Storm, is expected to be delivered in the first quarter of 2014.
The RollDock fleet also consists of two ships, the Sun and the Sea, which were built in 2009 and 2011 respectively.
Dimensions and features of RollDock Star
---
---
MV Tønsberg is the world's largest roll-on / roll-off vessel.
---
RollDock Star has an overall length of 151.5m and beam of 25.4m. The length between perpendiculars and depth to main deck are 145.04m and 5.9m respectively. Her maximum draught is 5.67m and shallow draught is 4.5m.
The vessel has dead-weights of 8,000t and 9,000t with and without hatch covers respectively. It is capable of holding 18,768m³ of cargo.
The ship also facilitates the transportation of designated personnel occasionally needed for handling highly complex and sensitive project loads. It accommodates up to 32 people including crew and technicians.
RollDock Star deck equipment
"The vessel can be submerged by 12.5m, allowing the cargo to be floated in or out of it."
The ST-Class vessels are designed to transport demanding cargo and hefty loads. RollDock Star is a highly versatile and flexible vessel with the capability to operate either in conventional transport sector or in the offshore industry. It can hold cargo of 119.4m x 19.4m cargo.
Loading and unloading of cargo is performed in three different ways. The two heavy-duty cranes manufactured by Liebherr are capable of lifting 350t of cargo with a maximum outreach of 18m each.
Individual loads up to 4,000t can be taken on and off board in the Ro-Ro mode. The Ro-Ro ramp is 19.4m long and 9.5m wide. The weather deck plus the stern Ro-Ro ramp can be adjusted in six different positions allowing for various quay heights for transporting exceptional loads. Additionally, the detachable Ro-Ro ramp provides enough space for over-length loads.
The vessel can be submerged by 12.5m, allowing the cargo to be floated in or out of it.
Engine and machinery of the RollDock Star transport vessel
The ship is powered by two MAK 9M32 diesel engines, generating up to 9,000kW of power. The engines are coupled to a pair of variable pitch propellers via a double shaft system. The fully laden vessel can reach a speed 16k.
RollDock Star is fitted with a Schottel-built bow thruster, rated at 1,200kW, for easy manoeuvring. The ship is also equipped with two Caterpillar C32auxiliary engines, which each generate 912kW of power.
"The ship is powered by two MAK 9M32 diesel engines, generating up to 9,000kW of power."
A remote controlled, fully automated, ballast water treatment system (BWTS) is built with fibreglass pipelines. In addition, a fully intact alarm and monitoring system is installed in the bridge unit of the vessel. The system monitors and controls the information delivered to the Engine Control Room (ECR) and the bridge.
High-efficiency thermal oil system has been supplied by Konutherm for the heavy fuel (HFO) heating. The system includes two optimised exhaust gas heaters, also called economisers, for maximum heat recovery from the engines' exhaust gas.
A special reverse power system from the ships' cranes is inbuilt in the thermal oil system to recover the energy released from the crane and thus saves more fuel.
Contractors involved with the RollDock Star vessel
RollDock and FSG formed a joint venture with Germanischer Lloyd (GL) for the design of the new vessel. The new innovative design also serves as a basis for a range of semi-submersible heavy-lift Ro-Ro vessels with maximum possible loading and unloading flexibility.
Other suppliers of equipments aboard the RollDock Star included Caterpillar, Liebherr Rostock, Schottel, and MAN Diesel & Turbo.