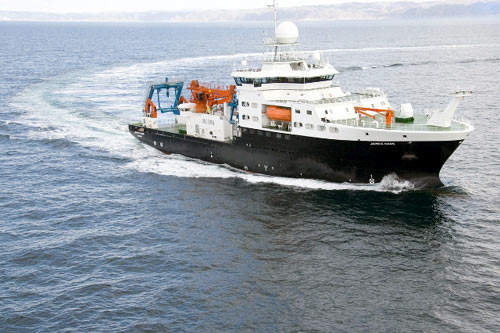 The RRS James Cook is the latest addition to the NERC fleet.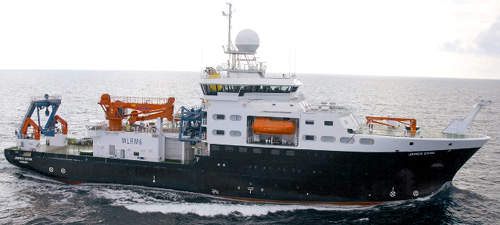 The ship replaces the RRS Charles Darwin, launched in 1989.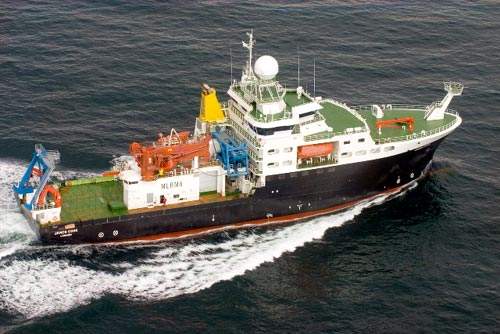 The vessel has a cruising speed of 12kt.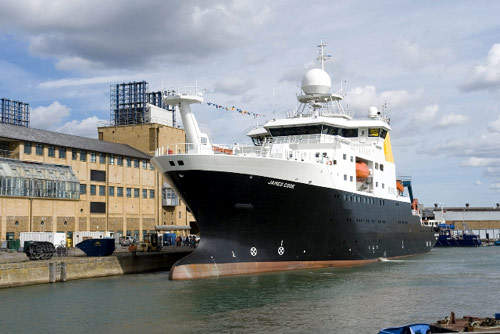 The RRS James Cook's maiden voyage started in the first quarter of 2007 and has taken her to the Atlantic Ridge.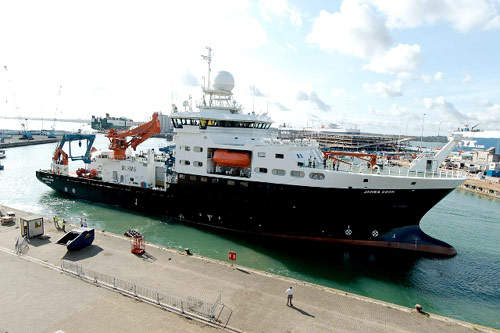 HRH the Princess Royal named the ship in February 2007.
The RRS James Cook is the latest addition to the scientific research fleet of the UK-based Natural Environment Research Council (NERC). The ship was commissioned by NERC as a replacement for the older RRS Charles Darwin, which was in service for 21 years, performing 180 research cruises and travelling 787,000 nautical miles (32 times around the world) before her last cruise in June 2006.
NERC has a fleet of three RRS vessels including the RRS James Cook, RRS Discovery and RRS James Clark Ross. The vessels are operated by the National Oceanography Centre, Southampton, UK, on behalf of NERC.
FUNDING
Funding for the project was provided from the NERC budget and a capital allocation of £23.1m from the UK Government's Science Budget 2003-2004 to 2004-2005 Large Facilities Fund. The funding relied on the satisfactory completion of Gateway Reviews (independent reviews managed by the Office of Government Commerce at key stages in the lifecycle of the project). The project passed its Gateway 3 Investment Decision in May 2004.
CONSTRUCTION
In July 2004, NERC awarded a £40m contract for the construction of the new research vessel to Flekkefjord Slipp & Maskinfabrikk AS of Norway. The ship was designed by the Norwegian designer, Skipsteknisk AS.
The construction of the hull began in January 2005 and the ship was completed during the summer of 2006. The ship was launched in May 2006 and began sea trials during June 2006. The vessel was then delivered to NERC in August 2006. The vessel was officially named in February 2007 by HRH the Princess Royal (Princess Anne) at the National Oceanography Centre in Southampton.
The ship set out on its maiden cruise in March 2007 to the Atlantic ridge to study the Fifteen-Twenty Fracture Zone (FTFZ). The vessel will be conducting core drilling and sample collection from 16,000ft below the surface of the Atlantic. The vessel is currently on-station in the mid-Atlantic but has been designed for tropical conditions as well as operating on the edge of ice sheets.
SHIP DETAILS
The length of the ship is 89.5m with a breadth of 18.6m and a draft of 5.5 to 5.7m. The ship has a displacement of 5,800t and a cruising speed of 12kt. The ship can stay at sea for 50 days before having to put into port for fresh water and stores. The payload of scientific stores (deadweight) is 385t. Accommodation aboard the vessel includes 32 scientific berths and the permanent crew complement includes nine officers, and 13 crew and technicians.