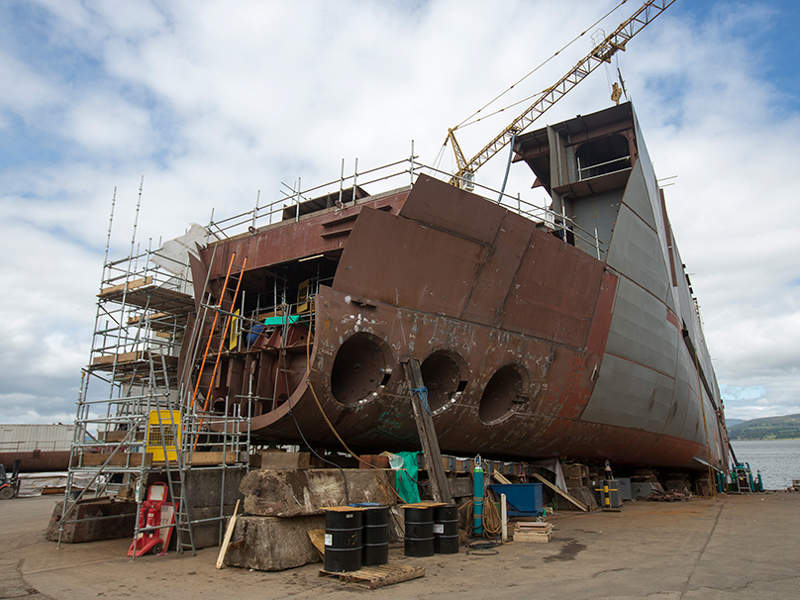 The 94m multi-purpose research vessel RV Investigator was delivered in 2013. Image courtesy of CSIRO.
The keel-laying ceremony was held in May 2012 in Sembawang's shipyard in Singapore. Image courtesy of CSIRO.
The vessel was constructed using the block construction method. Image courtesy of CSIRO.
RV Investigator can carry 900t of fuel oil and 250t of fresh water in addition to a broad range of scientific equipment. Image courtesy of The Centre for Australian Weather and Climate Research.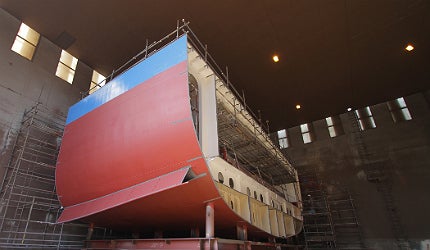 RV Investigator is an ocean-going multi-purpose research vessel built for the Marine National Facility. The Marine National Facility is a blue-water research facility operated by Australia's national science agency CSIRO and funded by the federal government.
The new marine research vessel was delivered in August 2014 and will replace the Commonwealth Scientific and Industrial Research Organisation's (CSIRO) existing research vessel, Southern Surveyor, which was built in 1971. Construction on the new vessel was launched in January 2012.
The Australian Government, in its May 2009 budget, promised to pay $122.4m (A$120m) to purchase the new state-of-the-art vessel. The finance was provided through the Education Investment Fund.
The Minister for Innovation, Industry, Science and Research launched the project in Hobart, Tasmania in August 2009.
The operation of the vessel, which is owned and managed by CSIRO, will be guided by an autonomous steering committee. The fund to support the ocean trips of the Australian scientists and their foreign collaborators for research will be provided by the Australian government.
Australia's future research ship construction contractors
"The vessel has been designed and engineered to carry out a gamut of sophisticated scientific activities."
Teekay Shipping, a wholly owned subsidiary of Teekay Holdings, was selected as the engineering, procurement, construction and commissioning (EPCC) contractor of the research vessel in January 2011. CSIRO, who managed the project, had undertaken a stringent procurement process prior to awarding the contract.
RALion, a joint venture between Robert Allan, and Alion Science and Technology, was brought in to design the vessel in February 2011. The ship was built by Sembawang Shipyard, a subsidiary of Sembcorp Marine, under a subcontract awarded by Teekay in January 2011.
Main dimensions and design features of RV Investigator
Overall length of the vessel is 93.9m. Maximum beam and draft are 18.5m and 5.7m respectively. The fully loaded vessel has a displacement of 4,575t.
The hull line allows the vessel to operate with very low noise emissions. It curtails the amount of air drawn under the vessel while she is in motion and reduces the creation of a bubble layer. This is done to make sure that the noise created by hull-mounted instruments does not alter the behaviour of fish and aquatic mammals.
In order to avoid the disturbance caused by the bubbles and collect clean marine data, the scientists made use of a gondola and drop keels.
Measuring approximately 13m in length and 9m in width, the gondola is installed 1.5m below the hull. It facilitates the scientists to send acoustic instruments below the bubble layer.
The drop keels enable the researchers to deploy a range of scientific instruments well below the layer created by bubbles as they can be drowned about 4m below the hull.
The vessel is capable of carrying 900t of fuel oil and 250t of fresh water. The combined capacity of the two fresh water evaporators is 30t per day. The vessel has a cruising speed of approximately 12kt and an endurance of 60 days at sea.
The vessel can carry up to 40 scientists and support staff in addition to its 18 crew. Its features ensure a safe marine working environment for scientists on board.
Research capabilities of RV Investigator
The vessel has been designed and engineered to carry out a gamut of sophisticated scientific activities. It is expected to help the Australian universities and their overseas partners, as well as research organisations, conduct critical marine research more easily and effectively.
"RV Investigator facilitates deeper swath-mapping to help determine depths of the oceans, offshore resources, ecosystem structures and influences on ocean currents."
RV Investigator facilitates deeper swath-mapping to help determine depths of the oceans, offshore resources, ecosystem structures and influences on ocean currents. In addition, the vessel also provides high-resolution shallow water mapping to find out ecosystem structure.
The vessel's bettered winches and fibre-optic cables assist to carry out biological sampling more efficiently and at greater water depths. Long sediment coring system allows the scientists to look further back into the climate record.
A broad range of scientific equipment fitted to the vessel allow marine scientists to study oceanography, climatology and fisheries, and to conduct marine ecosystem, marine environmental, marine geo-scientific, and multi-disciplinary marine research.
The vessel can also be fitted with purpose-built systems to enhance research capabilities. Some of the equipment/facilities that can be added include radiation and trace metal laboratories, deep-water dredging, coring and drilling devices, fishing nets, towed camera systems, and remotely operated vehicles.
Navigation and communication equipment
The vessel is furnished with a full range of navigational and radar equipments as per Australian and international standards. It is also equipped with a speed log and a multi-frequency scientific split-beam echo sounder.
A dynamic positioning (DP) class-1 control system enables her to hold station with specified limits.
Communication equipments include Inmarsat communication system, Inmarsat Fleet Broadband voice/fax/data, Iridium ship-to-shore communications system, NextG mobile phone, Satcom C two-way data communications, weather fax, and HF/MF and VHF radios.
Propulsion
RV Investigator is outfitted with three diesel generators. It is propelled by two fixed pitch propellers, each driven by a reversible electric motor. A retractable bow thruster of 1,200kW is fitted to provide smooth manoeuvring to the vessel.