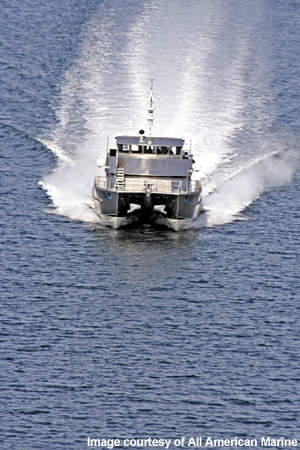 The R/V Manta is the latest research vessel for the NOAA.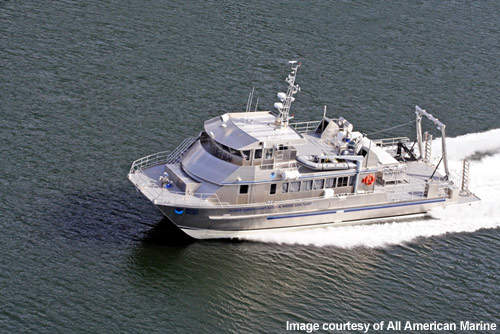 The R/V Manta is a twin aluminium-hulled catamaran.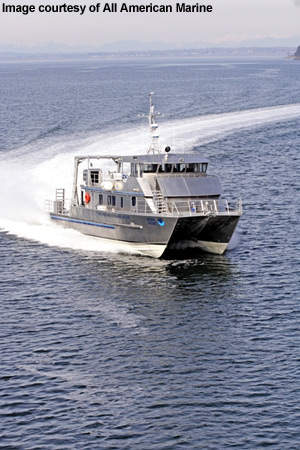 The R/V Manta can accommodate has a crew of 14 and can accomodate 25 passengers.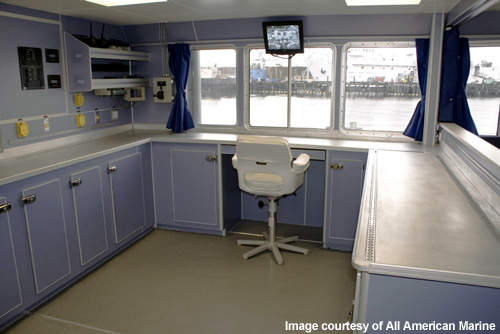 The dry lab allows monitoring of work operations on deck.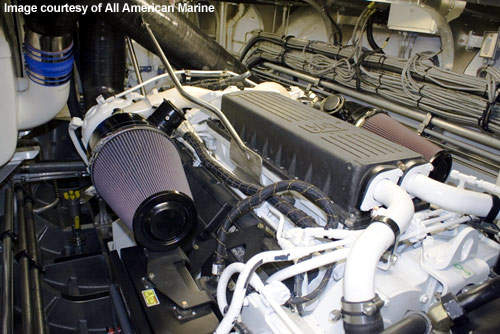 The engine room.
The R/V Manta is the latest small research vessel (SRV) added to the fleet of the National Oceanic and Atmospheric Administration (NOAA). The ship will operate out of Galveston, Texas, and will conduct marine research in the Flower Garden Banks Sanctuary, which is situated around 115 miles south of the Louisiana/Texas coast.
The twin aluminium-hulled catamaran Teknicraft research vessel was designed by Teknicraft Design Ltd of Auckland, New Zealand, and constructed by All American Marine Inc at its yard in Bellingham, Washington, US. The vessel was designed and outfitted to specifications set by Technology Associates Inc of New Orleans, Louisiana, which also acted as the engineering consultant during construction.
The construction of the R/V Manta started in May 2007 and the vessel was floated out on 15 January 2008. Following fitting out and sea trials in the Olympic Coast National Marine Sanctuary in February 2008, the R/V Manta was shipped to Fort Lauderdale in Florida. The R/V Manta then sailed to Galveston, where it was officially named on 27 June 2008.
Technical
The R/V Manta has an overall length of 25.2m, a waterline length of 22.5m, a beam of 9.14m, a draught of 3.5ft, and a displacement of 78.5t.
The ship can host 20 divers on twin AAM custom fabricated dive benches and has its own Nitrox compressor, recompression chamber, a dive bottle filling station and three dive showers. The ship also has a 15.5ft Polaris rigid hull inflatable boat and two DBC SOLAS liferafts.
"The R/V Manta carries a crew of 14 and can accommodate 25 passengers."
There is 700ft² of working space on the aft deck, with a Morgan articulating knuckle crane, a hydraulic A-frame of 4,500 SWL, and a moon pool. Heavy equipment includes a Markey Machinery Com-7H scientific winch and a Kinematics Marine Hydraulic trawl winch. The vessel also has a weather and flow-through water monitoring system provided by the SeaKeepers Society.
The R/V Manta can generate 900 gal of fresh water per day using an AquaMatic 900-2 water maker. All waste is treated by the Tidal Wave type II sanitation system and pumped out or stored until docking.
Accomodation
The R/V Manta carries a crew of 14 and can accommodate 25 passengers. The vessel has five private staterooms, two bathrooms, a large galley, and a multipurpose sitting and dining area. The galley has a range oven, microwave, ice maker, trash compactor, pantry, and separate full-size refrigerator and freezer. The sitting room/mess has two tables, a 42in LCD screen and a briefing area. There is an additional sitting room just aft of the pilot house on the upper deck.
The staterooms have two bunks, lockers and climate control systems. One of the main deck staterooms can convert to a second briefing room with bench seating. The ship has over 250ft² of dedicated separate wet and dry laboratory space, with fresh and salt water plumbing, chemical stations, refrigerator, freezer, desk space and a fully networked computer
system. Researchers in the dry lab have full access to controls of the hydraulic A-frame and winches and can monitor outside operations via a closed circuit television system.
Propulsion, generation and navigation
The R/V Manta, using hydrofoil technology, is powered by twin Caterpillar C32 ACERT diesel engines. Each unit delivers 1,600 brake horsepower at 2,300 rpm. The propulsion system uses ZF 3050 transmission (gear boxes) driving Hamilton Jet HM 571 water jets. Fuel consumption is approximately 5 gal per nautical mile at speeds ranging from 22kt to 31kt fully laden, giving a range of 650 nautical miles with a 3,600 gal fuel capacity.
The steering gear is from Hamilton Jet and Jastram and the generators are two Northern Lights M1064-T2 with 65kW ratings. The radar is a Furuno FR-1833 C NT (NavNet) system and the depth sounder is A Furuno ETR-6/10N. In addition the radio is an Icom M504 VHF system and the autopilot is a ComNav Commander along with Ritchie HB 740 compass and a Furuno Fax 30 weather fax. Remaining equipment includes a Furuno BBWGPS WASS/GPS GPS system and a Furuno FA 150 automatic
identification system (AIS).