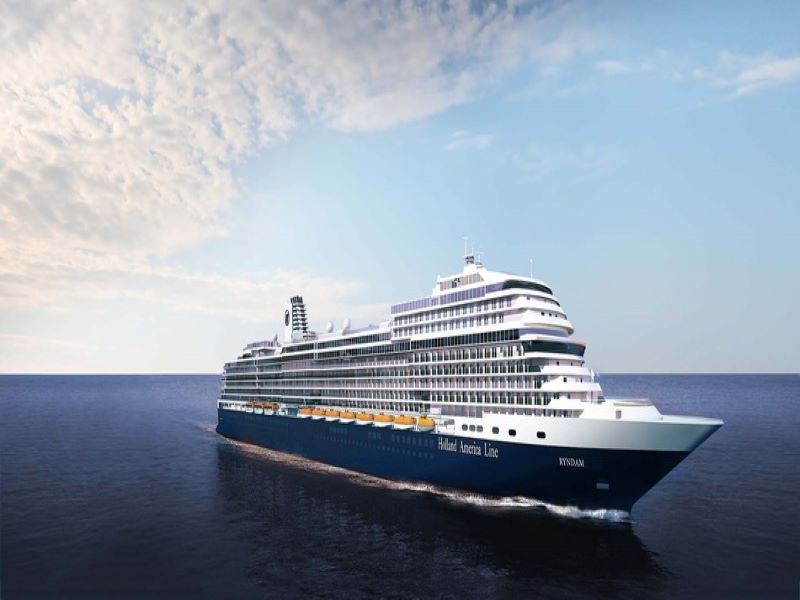 Ryndam is the fourth ship in the history of Holland America Line to bear the name. Credit: Holland America Line Inc.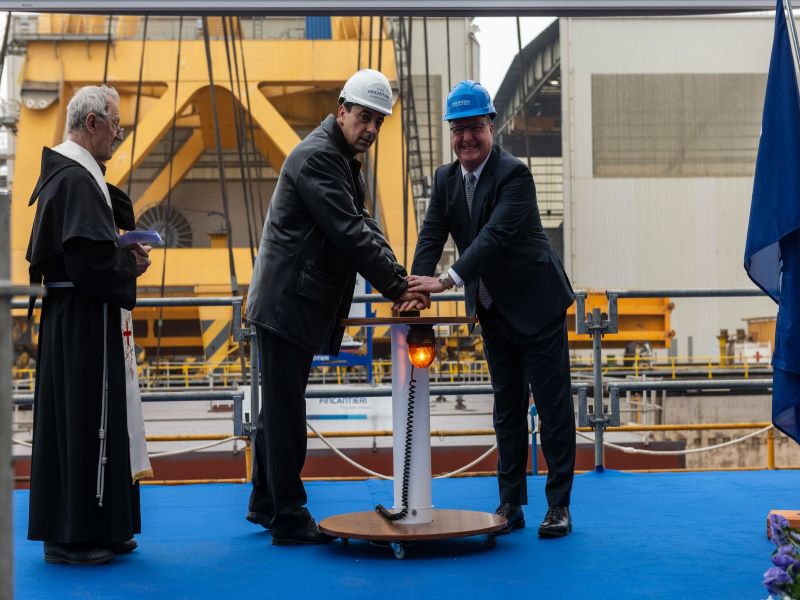 The new ship is expected to enter service in May 2021. Credit: Holland America Line Inc.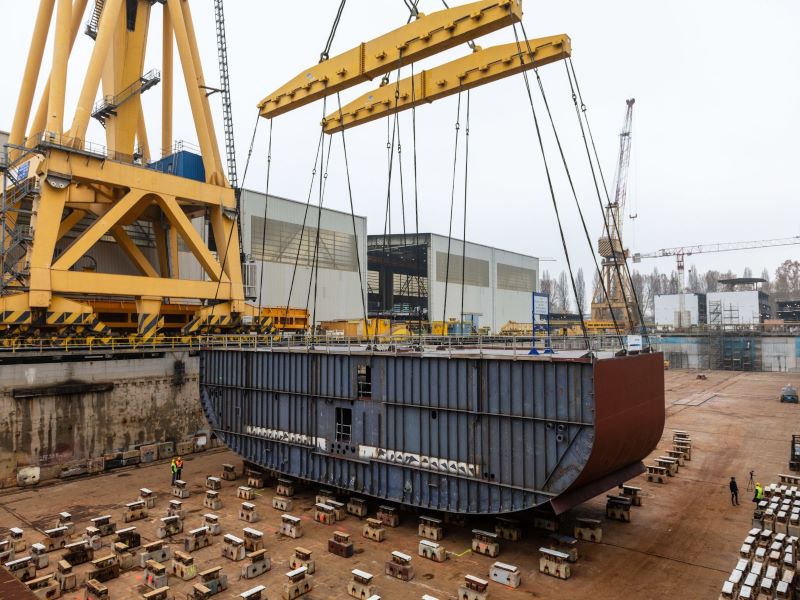 The steel-cutting ceremony of the ship was held in March 2019. Credit: Holland America Line Inc.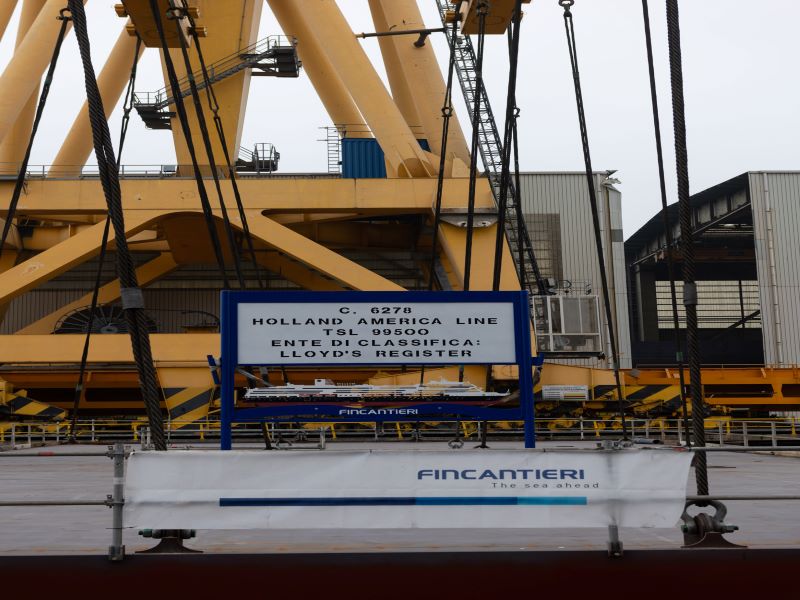 The keel-laying ceremony of Ryndam was conducted in November 2019. Credit: Holland America Line Inc.
Holland America Line is planning to launch, Ryndam, a new Pinnacle-class ship, in May 2021. Ryndam is the 17th ship being built for Holland America by Fincantieri.
The steel-cutting ceremony of the cruise ship was held in March 2019. The forward lower section of the ship, known as troncone, was launched at Fincantieri's Palermo shipyard in Italy, in October 2019.
Fincantieri held the keel-laying ceremony at its Marghera shipyard in Italy, in November 2019. The lowering of a 505t block into the shipyard's building dock marked the beginning of the construction of the ship. The steel structure of the ship is expected to be completed by July 2020.
The cruise ship is the third Pinnacle-class ship and will join its sister ships, Nieuw Statendam and Koningsdam. Nieuw Statendam made its maiden voyage in December 2018, while Koningsdam entered service in April 2016.
The cruise line's first Ryndam (Ryndam I) ship was part of its fleet from 1901 to 1929. It is the company's first cruise ship to sail a world cruise in 1927.
Ryndam cruise ship design and features
With a gross registered tonnage of 99,500t, Ryndam will be able to accommodate 2,668 guests. The 4,400t Troncone is 82m long, 35m wide.
The ship will feature a 270° surround screen World Stage, Grand Dutch Café, BB King's Blues Club, Lincoln Centre Stage, Rudi's Sel de Mer and Rolling Stone Rock Room.
Hospitality designer Adam D Tihany in collaboration with architect Bjørn Storbraaten is responsible to design the cruise ship.
Staterooms on board Ryndam cruise ship
The ship will feature suites such as Neptune, Signature, Pinnacle, and Vista. Neptune and Pinnacle will have floor-to-ceiling glass doors and windows, as well as a private verandah. The suites on board the cruise ship will also include a sitting area and two lower beds that can be converted to a king-size bed.
The 175,282ft² Ocean View staterooms will provide travellers with views of the ocean. The Spa Ocean View rooms will offer spa treatments and modern amenities.
Each stateroom will be equipped with interactive LED television with on demand movies, music,  mini-bar, data port, mini-safe and telephone. The design will include solid steel verandah railings for the staterooms and Plexiglas® verandah railings with a mix of solid steel and clear-view for the suites.
Dining venues
The ship will include Rudi's Sel de Mer, a brasserie that is named after the cruise line's Master Chef Rudi Sodamin and will offer classic French dishes with a contemporary flair. The brasserie's menu includes marinated lobster, grilled aeafood platter and duck à l'orange.
Other dining venues on the ship will include Pinnacle Grill, The Dining Room, Italian restaurant Canaletto, Tamarind, Dive-In, Nami Sushi, New York Pizza and Club Orange. The ship will provide a 24-hour in-room dining service.
Travellers will be able to choose from several traditional steakhouse dishes offered by Pinnacle Grill, while Tamarind will cater to those interested in exploring delicacies of Japan, Southeast Asia, and China.
Entertainment on Ryndam cruise ship
The ship will feature Music Walk®, a collection of five venues hosting live music and performances.
The BB King's Blues Club's all-star band will feature an eight-piece band and entertain the guests with the Beale Street beat. The club will offer speciality cocktails such as the Lucille and Rock Me Baby.
The ship will also host live, interactive music experience at Billboard Onboard. Lincoln Centre Stage will host musicians performing live chamber music. World Stage on the Ryndam cruise ship will feature presentations and performances, including comedy, music, songs, and dance.
Itineraries of Ryndam
The ship will debut with a seven-day Premiere Voyage from Trieste (Venice, Italy) to Civitavecchia (Rome, Italy) in May 2021. The bookings for the inaugural Mediterranean cruise began in January 2020. The cruise ship will also embark on a ten-day cruise, known as European Splendor, to Amsterdam, Netherlands, upon completion of Premiere Voyage.
The Europe 2021 season in Northern Europe will include seven and 14-day roundtrip itineraries from Amsterdam. The ship will offer cruises to Norway, Baltic, Iceland, and British Isles.
Ryndam will sail to Fort Lauderdale, Florida, US, on a transatlantic crossing from Amsterdam towards the end of the season. The voyage will include stops at Zeebrugge in Belgium, Portland in the UK, Le Havre and Brest in France, and Ponta Delgada in Portugal.