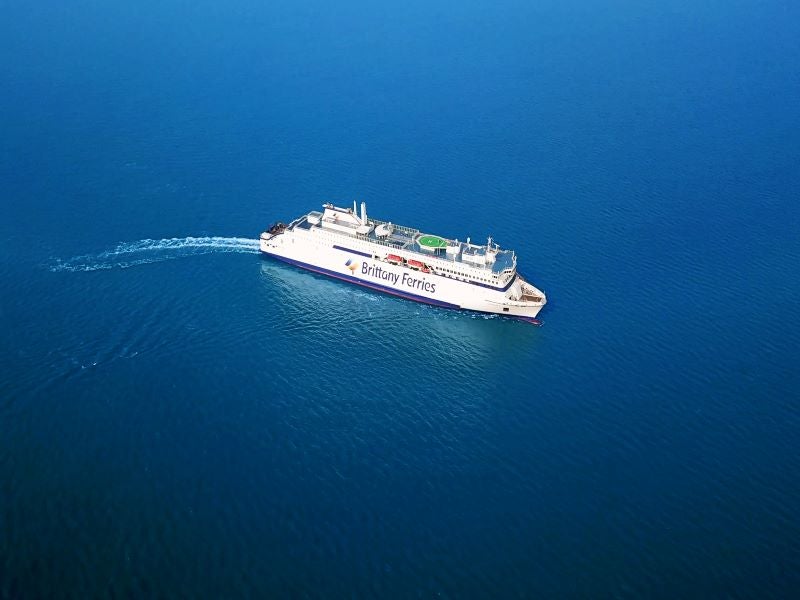 The Salamanca ferry is the first E-Flexer-class vessel equipped with gas engines. Credit: Brittany Ferries.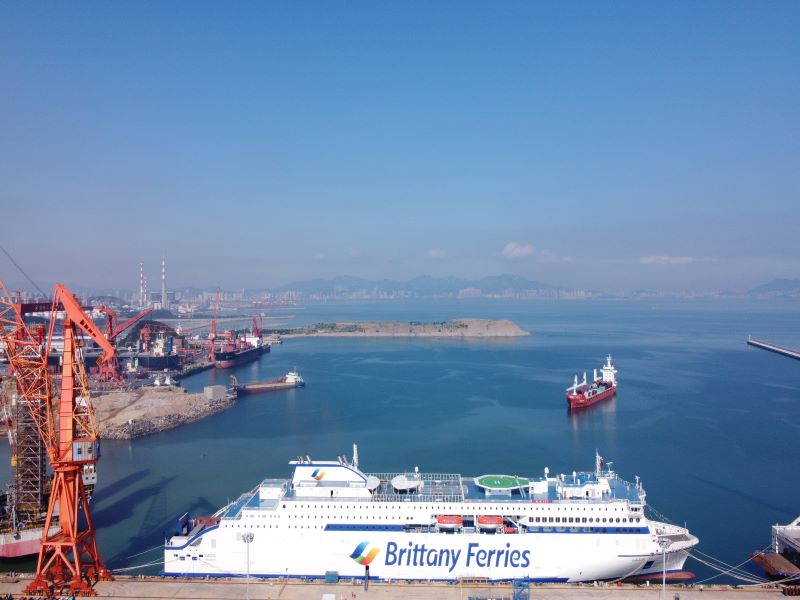 The vessel was delivered to Brittany Ferries in November 2021 and is expected to enter service in Spring 2022. Credit: Stena RoRo.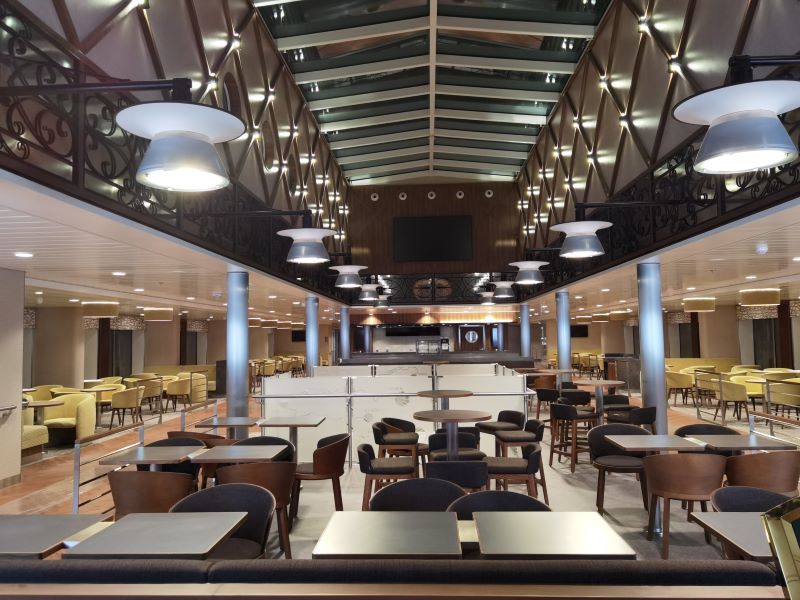 The Salamanca will transport passengers and cargo between Portsmouth, UK, and Spain. Credit: Brittany Ferries.
Salamanca is an E-Flexer-class vessel built for Brittany Ferries, a shipping company based in France. It is the first liquefied natural gas (LNG) fuelled ferry to enter passenger and cargo service in the UK.
The vessel was constructed under an order from Stena RoRo, which is supplying a series of E-Flexer-class vessels to Brittany Ferries on a long-term charter basis. It was delivered to Brittany Ferries in November 2021 following the completion of sea trials on the Yellow Sea in China.
The vessel started commercial operations service in March 2022 from Portsmouth, UK, to Bilbao, Spain.
Salamanca: design and features
Salamanca has a length of 214.5m, a draught of 6.4m and a breadth of 27.8m. It offers 2,723 lane metres of space for freight and accommodates 1,100 persons including passengers and crew.
Powered by LNG dual-fuel engines, Salamanca is the first vessel in the series to feature gas engines.
The vessel has a top speed of 21 knots and a gross tonnage of 41,716. It also features approximately 3km of space in the cavernous garage to transport freights and vehicles.
Accommodation on board Salamanca
The cabins feature the biggest bunks in the Brittany Ferries fleet. The two-berth Commodore suites accommodate double beds with direct access to the outside deck and complimentary access to the Commodore C-Club Lounge. The two-berth Commodore Club cabins provide twin beds and offer complimentary access to the Commodore C-Club Lounge.
Offered in two categories, the wheelchair-accessible, two-berth cabins on board the Salamanca are designed to support the needs of wheelchair users. The Standard Plus inside cabin category features twin beds, air conditioning and wheelchair access to the bathroom, as well as an alarm and telephone. The wheelchair-accessible Premium Plus outside cabin category offers a view of the sea through the window. The outside cabins have limited availability.
The four-berth Club cabins are air-conditioned Premium Plus cabins with en-suite facilities, air conditioning and bunk-style beds. Each cabin can accommodate four persons or serve as a large two-berth cabin with two lower berths.
The four-berth inside cabins of the Standard Plus category are furnished with air conditioning and en-suite facilities. Each cabin can accommodate four persons or serve as a large two-berth cabin with bunk beds.
The Salamanca also offers two types of pet-friendly cabins in the Standard Plus category. The pet-friendly four-berth inside cabins feature bunk-style beds, air conditioning, en-suite facilities and laminate flooring with space for a standard-size animal bed.
The Premium Plus category also includes pet-friendly four-berth outside cabins furnished with bunk-style beds, air conditioning, en-suite facilities, and laminate flooring. The cabins offer space to accommodate a standard-size bed for a pet.
Dining and bar amenities
Restaurant Azul is the main restaurant on the Salamanca ferry. It offers a range of dishes and buffet foods and is open for lunch as well as an inclusive three-course evening meal.
Taberna de Tapas is a Spanish-themed restaurant that offers a range of authentic tapas dishes including patatas bravas and popular regional items. The restaurant offers a continental or Spanish breakfast and serves the inclusive three-course meal from Restaurant Azul during busier seasons.
The Commodore C-Club lounge is an exclusive premium lounge that offers free access for passengers staying in Commodore-class cabins. It also features limited spaces for other passengers on a chargeable basis. The lounge offers a host of complimentary services and will allow passengers to buy wines from self-service machines.
The Plaza Mayor is the vessel's main bar, which features a large skylight to enable the entry of natural light. It is also installed with a big screen for sports events and music shows.
Entertainment facilities on board Salamanca ferry
The ferry provides a duty free shopping experience at its boutique, which is located in the heart of the ship. Passengers can shop for souvenirs, perfumes, magazines, books and a wide selection of wines from the wine cellar.
A video-on-demand service is also available throughout the ship that can be used from a digital device using the vessel's on-board Wi-Fi, as well as on the in-cabin TV to access films, radio and TV shows.
Additionally, an indoor kids' play area is located inside the main restaurant, with another play area located outside the bar.
Propulsion
Salamanca ferry is equipped with two Wärtsilä 46DF four-stroke, dual-fuel main engines, which are designed to operate on LNG as well as marine heavy fuel oil. The engine provides a power output ranging from 6.2MW to 18.3MW at 600rpm.
The ferry is also equipped with three auxiliary Wärtsilä 20DF dual-fuel engines, which can operate on heavy marine fuel and LNG. The fuel flexibility enables compliance with IMO Tier III regulations while allowing operators to choose the fuel based on price and availability.
The vessel's dual-fuel Wärtsilä engines are designed to adapt to cleaner fuels like bio-methane fuels or synthetic fuels as they become available in the market.
Contractors involved in the Salamanca project
The Salamanca ferry was built by shipbuilding company China Merchants Jinling Shipyard based in Weihai, China.
Figura Architects, an architecture and design studio based in the UK, was appointed to design the interiors of the ferry.
Wärtsilä, a technology provider for marine and energy markets, was contracted to supply a complete LNG package including two Wärtsilä 46DF main engines and three Wärtsilä 20DF auxiliary engines. The company will also provide long-term service for the equipment supplied under a ten-year agreement signed in December 2021.
Wärtsilä Voyage, a subsidiary of Wärtsilä, provided Smart Panoramic Edge Camera System to enhance the safety and efficiency of the vessel.