The Salica Frigo under construction.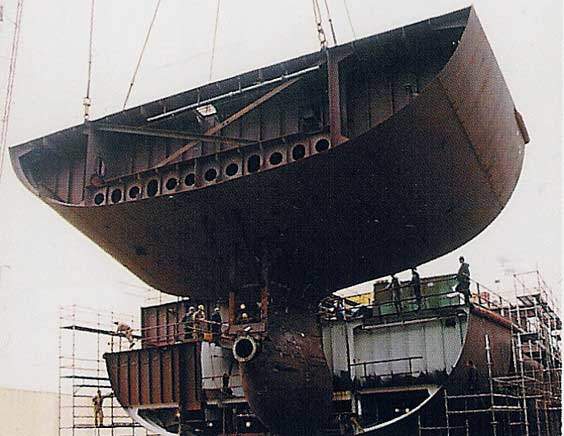 The hull being assembled.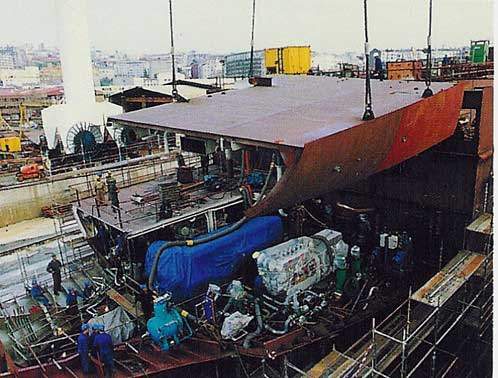 Major equipment being installed.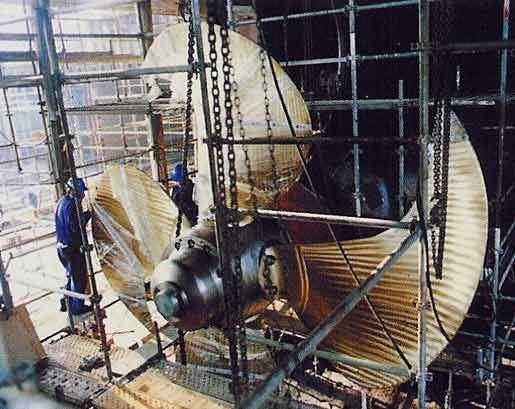 The propeller being installed.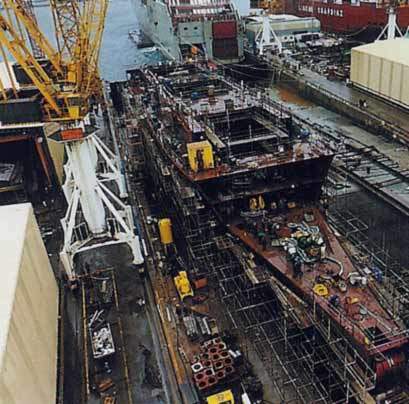 Aerial view of the Salica Frigo.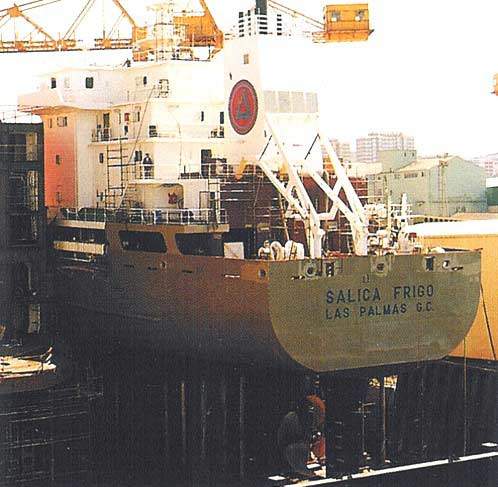 The stern of the Salica Frigo.

Line diagram of the Salica Frigo.
The Salica Frigo has been designed for carrying cargoes of fruits, especially bananas or frozen products. It has an overall length of 132.9m and a 120m length between perpendiculars. It has an 18.8m-moulded breadth and the depth to main deck is 10.28m. It has a 7.3m design draught. The ship's tanks have a fresh water capacity of 87m³, a 1,200m³ ballast capacity, can contain a 45m³ of Lub oil and have a gas-oil capacity of 1,660m³. It has four holds with a total capacity of 310,000ft³.
Holds 1 and 2 have their height divided into three tweendecks (each hold becoming a separate refrigerating space). Holds 3 and 4 are divided into four tweendecks (each hold becoming two separate refrigerating spaces).
These four holds can be refrigerated simultaneously. All the rooms have finned air coolers with ventilators supplying 90 air changes per hour to each space.
CARGO REFRIGERATION
The refrigerating installation consists in three units with primary coolant (NH3) cooling the Calcium chloride brine, which is the coolant circulating to the hold evaporators. The brine distribution system is a three-temperature system consisting in a main brine line for cooling, a freezing line and another line for defrosting.
For the cooling operations the vessel is provided with three screw
compressors with a power of 170kW, three horizontal titanium tube plates condensers, three NHJ tanks, three plate heat exchangers for brine cooling, three pumps for seawater condensers, three cold brine pumps and a brine heater. For loading and unloading, the vessel has four electrohydraulically-driven cranes arranged between the hold hatches.
The 6,000kg cranes have an outreach of 18m with hoisting speed of 60m/min. All the holds and tweendecks are provided with folding type hatches, hydraulically-operated and made up of 4/6 panels, allowing a free opening of 10x9m approx. A 1.5t and 9m outreach electrohydraulic aft crane is used for service and ship's stores.
VESSEL ENGINES
Ship's power is supplied by two Diesel Gen sets with a power of 1,250hp (990kW) at 1,000rpm driving 1,150kVA alternators This gives a voltage of 400V at 50Hz. In addition, the Salica Frigo has a 640kW (at 1,000rpm) emergency generator driving a 700kVA alternator off a voltage of 400V 50Hz.
SHIP PROPULSION
For propulsion, the main engine can develop an output of 6,300kW at 500rpm. This drives a shaft line with controllable pitch propeller through a reduction gear. A 1,500kW tail alternator is coupled to the reduction gear.
Manoeuvring is by a hydraulically-controlled, variable pitch bow thrust 500CV propeller driven by a 400V 50Hz alternating current electric motor.
The accommodation is arranged for a crew of 25. All the decks are linked through a wide internal staircase. The air-conditioning system is fed by two refrigerating compressors of 104,000kcal/h.
The vessel contains one free fall boat on launching ramp and davit for hauling the same on board with a capacity for 25 people, and a rescue boat and three life rafts – one life raft with six seats and two with 25 seats.
The bridge contains a variety of navaids including a GMDSS Area A3
communications system, radiotelephony with 100kHz at 30MHz, a 1.6MHz at 30MHz, transmitter synthesizer and a wand antenna coupler. There is a radio beacon with automatic hydrostatic releasing and two radar responders.
The Salica Frigo is classed by Bureau Veritas with the notation Class 13/3 E Refrigerated cargo carrier, AUT-MS, Deep Sea, and RMC
Freezing.