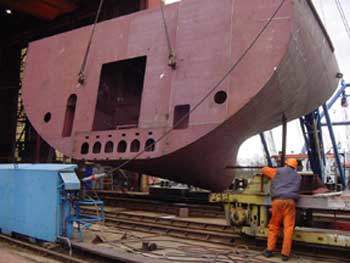 Arrival of the bow at the shipyard.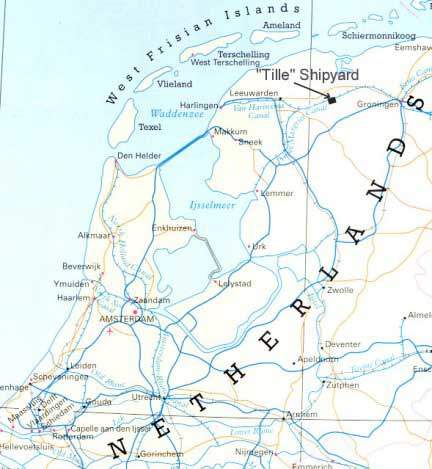 Map of Tille shipyard.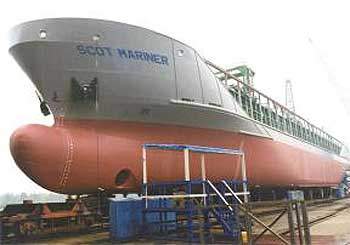 Morning of the launch.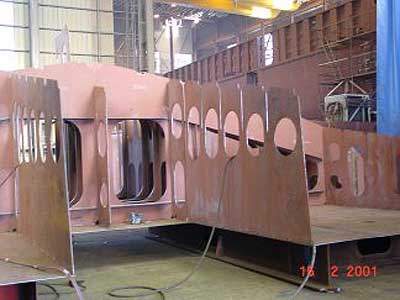 Sections of the after peak tank.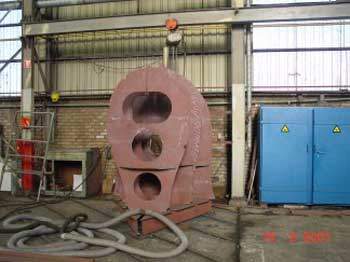 Stern with propeller shaft opening.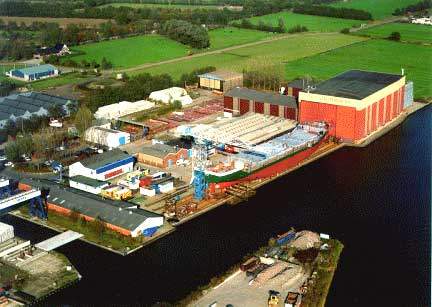 Aerial view of the shipyard.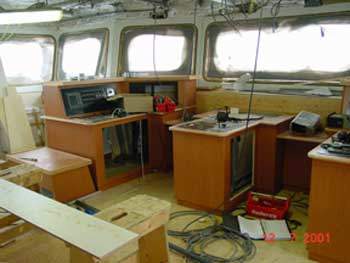 Fitting out bridge controls.
The Scot Mariner was built at the Dutch shipyard of Tille Scheepsbouw Kootstertille for the UK-based company Scotline. The vessel is planned to operate in the packaged timber market, travelling to the UK and Ireland from a number of Scandinavian ports. It is single-decked and has a cargo capacity of 5,267m³.
VESSEL DESIGN
The Scot Mariner has an overall length of 89.99m and measures 84.98m between perpendiculars. It has a moulded breadth of 13.75m and the depth to main deck is 6.25m. It has a 1.47m wide double-skin at the side and a 1m wide outer skin at the bottom. This volume contains water ballast, although the remainder of the ship's 1,460m³ water ballast total lies in the main storage tanks located in the fore and aft peaks. The coaster also carries 265m³ of diesel oil.
The Scot Mariner registers 2,560gt, has a displacement of 4,636t, a design deadweight of 3,300dwt and a scantling deadweight of 3,350dwt. It has a 4.85m design draught and a 4.92m scantling draught.
The main hold extends 61.8m in length by 10.8m across the ship and stands 7.925m high. This affords sufficient space for containers – of lengths between 20ft and 45ft – to be stowed in the hold three-tiers high. A total of 102 containers can be carried in the hold. The containers enter through a single hatchway extending the length of the coaster. These are enclosed by electric-hydraulic hatch covers manufactured by Rodenstaal.
A Coops & Nieborg travelling gantry crane is used to handle these covers. The covers themselves can also support two tiers of containers providing they don't obstruct the line of vision. Once the covers are put on, 40 units can be housed on the first tier and another 20 on the second tier. This gives a total of 162 units, evenly loaded to a maximum of 14t each.
SHIP PROPULSION
The main power is provided by a single engine – a low-NOx type Wartsila model 6L26A. This gives an output of 1,950kW/1,000rpm. This is linked to a single Flender model AG525 Gearbox, which gives an out speed of 224rpm. This is in turn connected to a Kamewa Nickel-aluminium-bronze controllable pitch propeller, which is 2.8m in diameter.
This gives the Scot Mariner a service speed (90% MCR and 3% gearing loss) of 13 knots in good weather. For manoeuvring in port, there is a Promac FP400-1050 bow thruster, which has an output of 300kW at 660rpm. Mooring is carried out by a SEC mooring winch/windlass and capstan assembly.
There is a power take-off on the gearbox to feed the Newage Stamford/UCM alternator. This generates 434kW of power at 1,500rev/min. There is also a pair of diesel-driven alternators – one for power and one for emergency. These are Newage Stamford HCM-434C units and are driven by Cummins 6CTA 83D(M) engines. The Alternators have an output of 147kW/1,500rpm each.
The Scot Mariner is manned by three officers, three crew, two trainees and two others. There are eight single rooms and one double room located in the poop deck and two tiers of deckhouse. There is an Ajax fire detection and CO2-based prevention system, in the hold and the control room. The hold has a mechanical ventilation system.
The vessel is classified by Lloyd's Register of Shipping with the notation +100A1. Ice Class 1D, FCSA. +LMC. UMS. Strengthened for Heavy Cargoes. Safe Loading and Unloading Aground. Containers in Hold and on Hatch Covers.