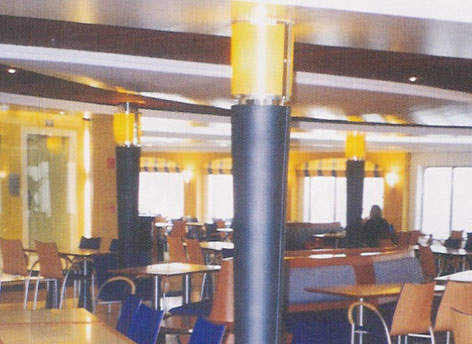 The cafeteria on the SeaFrance Rodin.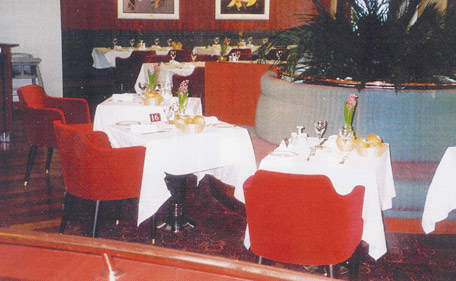 The main Brasserie Restaurant on the SeaFrance Rodin.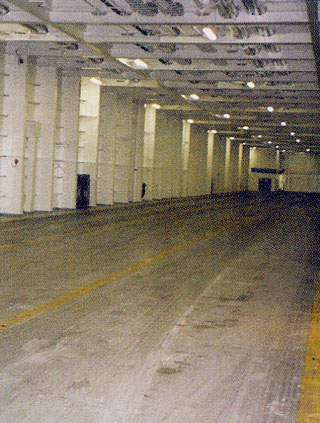 The main vehicle <BR />Deck 3.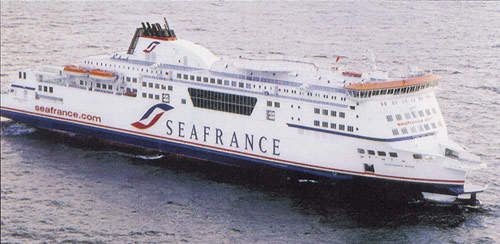 The SeaFrance Rodin sailing between Dover and Calais.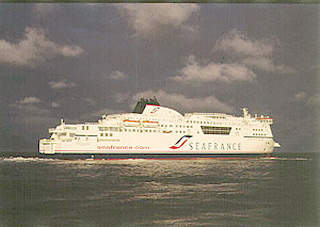 SeaFrance Rodin sailing in the evening.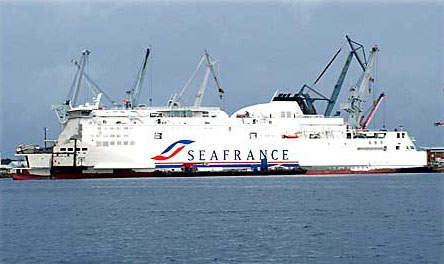 The SeaFrance Rodin under construction in Finland.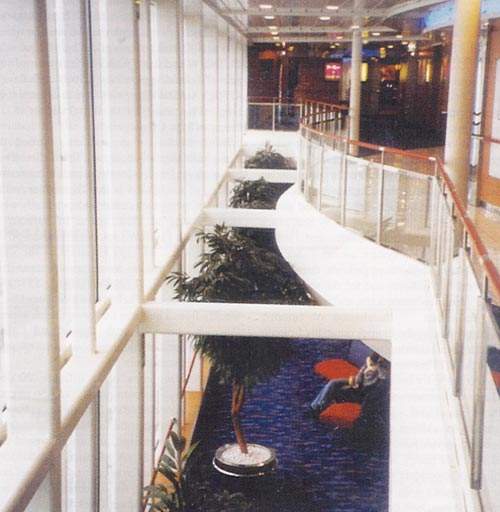 The two-deck entrance area on the SeaFrance Rodin
The passenger/vehicle ferry Seafrance Rodin was built by Aker Finnyards in Rauma, Finland for Sea France. It is used for five daily trips between Calais and Dover.
The ferry has an overall length of 185.82m and measures 170.1m between perpendiculars. It has a 27.7m moulded breadth, a 6.5m design draught and a 6.75m scantling draught. It has a deadweight of 6,260dwt and registers 33,796gt or 11,502t net. The Seafrance Rodin is manned by ten officers, 20 deck ratings, ten engine room ratings and 56 catering ratings.
The Seafrance Rodin has simultaneous dual-level loading and discharge. All the access equipment was designed by Hamworthy KSE. The bulbous bow incorporates a 'cow-catcher' mechanism for speed of mooring at the shore ramp. This leads to clamshell bow doors measuring 8m x 4.9m. There is also an inner door consisting of two side-hinged sections, which can open out to afford a clear 8m x 4.9m opening. There are also two upward hinging bulkhead doors which seal the upper vehicle deck.
Foot passengers enter into a two-deck-high gallery extending along the starboard side. This leads to a 400-seat bar lounge on Deck 5 called Bar Le Pub, with a central U-shaped bar.
On Deck 7 is Le Parisien bar with 350 seats on two levels on the perimeter, surrounding a dance floor. Above this on Deck 8 is La Brasserie, with 350 seats. This features a semi-circular bar and dining area. Aft of La Brasserie, and accessed by a semi-private stair from Deck 7, is a separate 158-seat lounge/restaurant for truck and coach drivers.
CARS
The Ferry contains approximately 2,000 lane metres of storage space across the two decks. This roughly equates to 700 cars or 120 lorries. Vehicles are arranged over four lanes to port and three lanes to starboard of an offset centre casing. This permits full usage of the 27.7m breadth of the ship.
In addition, hoistable car platforms are located at the port side of Deck 5 to provide an additional 470 lane metres or 95 car spaces. The maximum freight payload is 2.5t/m or a total of 5,000t and the maximum wheel load is 15 tonnes/axle at a minimum of 13m between two axles.
There is an active anti-heeling system operated from the cargo control room that can correct any eccentric weight distribution and obviate selective lorry loading. In order to accommodate a variety of commercial vehicles, there are large clear heights – 4.9m on Decks 3 and 5, and 4.5m under the stowed car platforms. If the hoistable platforms are used, this gives 2 1m clear above and 2.4m below.
MACHINERY
The propulsion system is split into two rooms. The main engines are two Wartsila 2V46B units, each with an output of 11,700kW, which are positioned forward. Two smaller Wartsila 8L46B units, each with a 7,800kW output are located aft. These are combined in twin Schelde gearboxes, which each have a 4,750kVA ABB alternator driven from the aft side. These in turn drive 5m diameter Lips CP propellers. This arrangement gives a service speed of 25 knots at 85% MCR. Stability is afforded by a pair of ACH fin stabilizers.
Steering is carried out by twin Becker flap rudders, controlled by Porsgrunn steering gear. These rudders can be moved independently in harbour to assist the 1,800kW Lips thruster located in the stern. There are also three 1,800kW thrusters in the bow and four Wartsila 8L20 engines driving l7l0kVA ABB alternators for electricity supply.
The Maritime Pusnes mooring equipment consists of two windlass/winches and two mooring winches forward, together with four mooring winches aft.