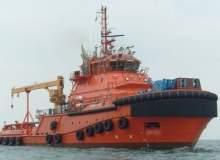 Seaways 20 is a multitasking anchor handling (AH) and offshore support tug owned and operated by Singapore-based shipping company Seaways International.
The vessel was built, fitted out and certified in accordance with the American Bureau of Shipping (ABS), a Houston-based marine and offshore classification services provider.
Delivered in December 2011, the vessel was built and outfitted by Keppel Corporation's Keppel Shipyard located in Singapore. The contract to build the vessel was given in December 2008. Robert Allan Limited of British Columbia, Canada, had designed the vessel.
Design and features of Seaways 20
"Seaways 20 is a multitasking anchor handling (AH) and offshore support tug owned by Singapore company Seaways International."
The Seaways 20 is of RAmpage tugboat design series which was developed by Robert Allan to part the gap between a full offshore supply vessel (OSV) and a harbour / inshore tug.
These tugs are provided with greater manoeuvring and sea-keeping abilities to operate effectively and maintain station even in high sea states.
The steel-made hull of the vessel is constructed in double chin form with an elevated forecastle deck and flared bow. The upper sections of the deck house are given a tapered shape to achieve near-360° visibility.
The vessel is equipped for dynamic positioning system (DPS) class-2 operations and is designed to perform ocean towing, tanker handling and berthing, anchor handling, floating hose handling, deck cargo transfers, oil spill response and fire fighting duties. The aft main deck features a 3m x 3m moon pool that can be prepared for remotely operated vehicle operation.
The gross tonnage of the vessel is 1,687t and overall length is 55m. Beam, depth to main deck and maximum draught are 15m, 6.75m and 6.55m respectively.
The vessel also features an anti-pollution system with two spray booms fitted with hoses and nozzles. An Alfa Laval water maker of 5m3/day capacity is also fitted.
Accommodation facilities include fully air-conditioned cabins for 30 persons, a mess room with lounge, hospital and a ship's office.
Vessel and deck capacities of the multitasking anchor handling (AH) tug
Deadweight of the Seaways 20 is 1,533t. The vessel features a cargo deck measuring 20.62m x 11.22m, with a deck load capacity of 200t and strength of 5t/m2.
Tank capacity for fuel oil is 593m3, potable water is 119.5m3, recovered oil is 254.8m3 and ballast water is 564.50m3. Storage capacity of sewage holding tank and grey water tank are 18.20m3 each.
Bollard pull capacity of the vessel in forward direction is 100mt and in backward direction is 85mt. The maximum cruising capacity of the vessel is 13kt, while economical speed is 11kt.
Towing equipments on Seaways International's vessel
The vessel is outfitted with heavy duty towing equipments. These equipments are located at the aft main deck. An offshore crane is also fitted with a maximum outreach of 30.5m.
Towing and anchor handling equipments include an anchor handling / towing winch whose drum brake load is 350t and drum dynamic pull capacity is 200t, a forecastle tow winch with break load of 250t and dynamic pull of 90t, two tugger winches and two capstans. Storage reels, shark jaws, towing pins and a stern roller of 350t are the other equipments.
Navigation and communication equipment and propulsion of the Seaways 20 offshore support tug
The Seaways 20 is fitted with two marine radars, both of which are provided with automatic radar plotting aid (ARPA) capability. Of these two radars, one is an X band which has a direct interface with the automatic identification system (AIS).
"Delivered in December 2011, the vessel was outfitted by Keppel Corporation's Keppel Shipyard located in Singapore."
Communication equipments include satellite communication systems for email/phone/fax, two VHFs with marine channels and four UHF hand carry radio sets.
MaK GM 25C diesel engines, each generating 2,970kW at 750rpm, are the two main engines of the vessel. Each of these engines drives a Schottel SRP 3030 controllable pitch propeller (CPP). Diameter of each propeller is 3,400mm.
Electrical power is generated by three Caterpillar C18 diesel generator sets of 275kW each, one Caterpillar C9 emergency generator set of 143kW and two shaft alternators, each with a capacity of 1,200kW.
The vessel is equipped with Kongsberg DPS class-2 control system with joy stick operation. Manoeuvrability is achieved by two 500kW rated Schottel controllable pitch type bow thrusters.