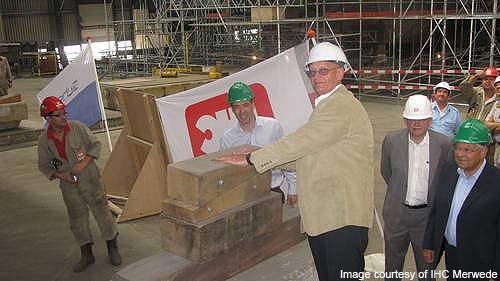 Keel laying ceremony of Seven Pacific vessel was held in July 2009.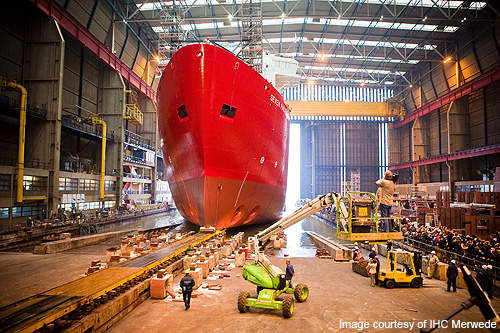 Naming and launch ceremony of Seven Pacific was held in March 2010 at Krimpen aan den Ijssel.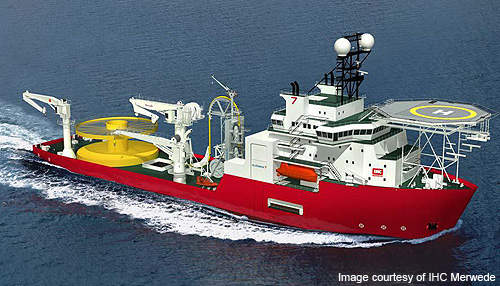 The vessel can cruise at a speed of 14.2kt.
The Seven Pacific is a state-of-the-art, ice-class, pipelaying and construction vessel owned by Subsea 7. The design and build contract of the vessel was awarded to IHC Merwede Offshore & Marine in April 2008. The naming and launch ceremony of the vessel was held at Krimpen aan den IJssel, The Netherlands in March 2010.
The vessel is being built as part of Subea 7's ongoing capital investment programme worth $1bn. Under the programme, the company is expected to build eight new vessels between 2007 and 2010. The Seven Oceans, the Seven Seas and the Seven Atlantic vessels have already joined the existing fleet. The fourth vessel, Seven Pacific, is expected to join them in the fourth quarter of 2010. Sea trials of the vessel were conducted in September 2010.
Design and construction
The Seven Pacific was designed by IHC Merwede in full compliance with the owner's demands and requirements. The 7,300t vessel has an overall length of 133.15m and breadth of 24m. Depth to main deck is 10m and design draught is 6.5m.
Construction of the vessel started in March 2009 when the first steel was cut into units. These units were welded together at IHC Krimpen Shipyard. The keel laying ceremony was held in July 2009. The vessel has been built to meet the latest regulations and the highest standards.
"Seven Pacific can accommodate 100 people."
Seven Pacific propulsion
Seven Pacific is equipped with 6.6kV integrated electric power generation system. The main engines/generators consist of two 3,360kW and two 3,840kW diesel electric engines.
There are three 2,500kW electric motor-driven Wartsila azimuth thrusters with fixed pitch propellers, fitted in nozzles at the stern. The vessel also makes use of two 1,500kW Wartsila bow tunnel thrusters and one 2,400kW Wartsila retractable azimuth thruster. The vessel is capable of cruising at a speed of 14.2kt.
Seven Pacific accommodation
Seven Pacific can accommodate 100 people. There are four Captain class cabins, four Officer class cabins, 30 single cabins and 31 double cabins. The vessel has also been equipped with two medical bays.
Seven Pacific facilities and equipment
Seven Pacific is capable of fitting flexible pipes and umbilical at water depths of up to 3,000m. The vessel's deck area is 1,700m² and deck strength is 10t/m². There is also a 7.5m x 7.05m work moon pool area.
The vessel can store 1,500m³ of marine gas oil, 600m³ of potable water and 3,100m³ of ballast water. Anti-heel and stabiliser tanks of the vessel have a capacity of 415m³ and 540m³ respectively.
Seven Pacific has an approved and certified helideck equipped with a fixed foam fire fighting system. It is suitable for carrying operations of Sikorsky S92 and Super Puma helicopters.
The vessel's deck cranes include a 260t Vertical Lay System (VLS), consisting of a 250t active heave-compensated knuckle boom crane and twin under-deck carousels designed and built by Huisman Equipment.
"The vessel is being built as part of Subea 7's ongoing capital investment programme worth $1bn."
The deck carousels, installed below the large working deck, can store up to 2,500t flexible pipe and each has a capacity for 1,200t of product. There is provision to install an extra carousel of 3,000t capacity. The knuckle boom crane allows the vessel to operate on offshore construction works. There is also a 20t/40m (safe working load/radius) main deck crane, and 30t/12.5m (safe working load/radius) and 10t/30m (safe working load/radius) aft deck cranes.
The vessel is also equipped with twin over side launched work-class ROVs (remotely operated underwater vehicles) rated at 3,000m. These ROVs provide support on offshore construction works and allow the operator to keep vigil on the pipe laying process on the sea bed.
Navigation and communications
Seven Pacific is equipped with DP (AA) (Class II)-classified Kongsberg Simrad SDP 22 dynamic positioning system. The vessel's reference systems include two Veripos differential global positioning systems (DGPS) and two HiPAP 500 tracking systems.
The extensive communications system of the vessel is consisted of Inmarsat C and Inmarsat F systems, and a dual KU / C band Vsat satellite communication system.