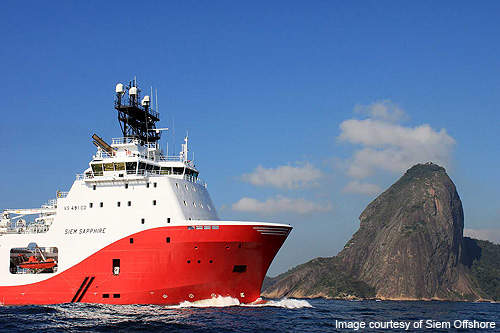 Siem Sapphire is an anchor handling tug supply (AHTS) vessel.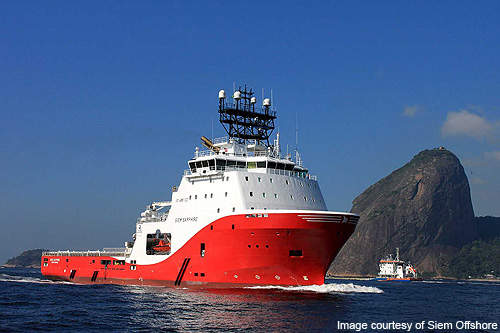 Siem Sapphire has a service speed of 10kt.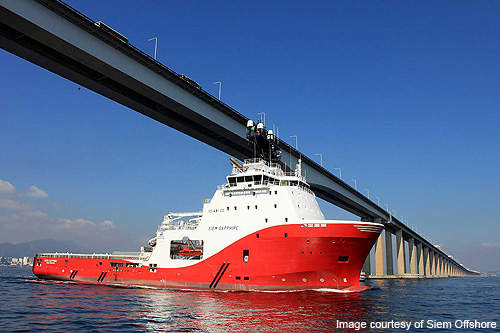 The vessel is equipped with deck and ROV cranes.
The Siem Sapphire is an anchor handling tug supply (AHTS) vessel, delivered in March 2010. It is the third vessel in the series of ten vessels built by Norwegian ship builder Kleven Verft for its client Siem Offshore. The vessel is also capable of carrying out deep-water inspection and construction operations.
The Siem Sapphire and the Siem Emerald, the second vessel in the series, have been leased to Petrobras. These vessels will operate in Brazil for four years.
Siem Pearl is the first AHTS in the series and was delivered in September 2009. Siem Amethyst is the tenth and the last vessel in the series. It was delivered in April 2011 from Ulstein, Norway. The other AHTSs in the series are Aiem Aquamarine, Siem Ruby, Siem Topaz, Siem Diamond, Siem Garnet and Siem Opal.
Siem Sapphire design
The Siem Sapphire is of the VS491 CD design, which was developed by Vik – Sandvik. Apart from AHT functionality, the VS491 CD anchor handlers have full under-deck capacity for cargo items. Powerful engines and winches allow the vessels to tow rigs from one place to another. The vessels built with the VS491 design consume less oil as they use only 16t of fuel per day at a speed of 12kt, while other vessels use over 25t under the same conditions.
"The Siem Sapphire is of the VS491 CD design."
The Siem Sapphire's hybrid diesel electric- and mechanical arrangement allows it to switch between different modes. This helps in attaining continuous and optimum efficiency. Diesel electrical booster mode allows the vessel to attain 300t bollard pull.
The overall length of the vessel is 91m and length between perpendiculars is 79.35m. Moulded breadth is 220m and mean moulded draught is 7.95m. Depth to main deck is 9.6m, depth to C-Deck is 19m and depth to bridge deck is 27.4m. Lightship displacement is approximately 6,069t, while summer displacement is about 1,0230t. Gross tonnage of the vessel is about 7,473t and net tonnage is about 2,241t.
The cargo deck area of the vessel is 820m² and deck strength is 10t/m². Length of the deck is 45.2m and breadth is 18m. Maximum deck load is 1,600t.
Capacity
The vessel can cruise at a maximum speed of 18kts.
Ballast water storage capacity of the tank is 2,887.6m³, fresh water storage capacity is 1,071.8m³ and fuel oil storage capacity is 1,223.8m³. About 291.3m³ dry bulk and 647.4m³ liquid mud can also be stored.
"The vessel can cruise at a maximum speed of 18kts."
Accommodation
A total of 60 persons can be accommodated on the ship. There are 20 one-man cabins and 20 two-man cabins. There is a 15m² cooler room and 13m² freezer room. On-board facilities include a deck office, hospital, conference room and gymnasium.
Propulsion
The vessel is powered by two Wartsila 16V32 main engines, each capable of producing 10,720bhp at 750rpm. There are two AA NIR 7188 main generator sets, each rated at 3,400kW, and two Caterpillar 3516C auxiliary generator sets, each rated at 2,100kW. There is also a 425kW Caterpillar – C18 emergency generator.
Propulsion is provided by two AA QD 560 electric propulsion engines, each of 1,600kW capacity. The vessel is equipped with two controllable pitch propellers (CPP). Bow thrusters include two tunnel thrusters of 1,000kW each. The vessel also has two tunnel stern thrusters and one bow azimuth thruster.
Equipment
The vessel is equipped with Hydramarine-supplied deck crane and remotely operated vehicle (ROV) crane. The deck crane has a safe working load (SWL) of 3t and outreach capacity of 15m, while the ROV crane has a SWL of 10t with outreach capacity of 18m. The gantry crane was supplied by Triplex and can handle 42t. A 500t anchor handling winch, two 24t tugger winches, two 14t capstans and two stern roller were supplied by Rolls-Royce.
The dynamic positioning system supplied by Kongsberg is of K-Pos DP-21 model. Cargo Equipment was supplied by Allweiler, while Aeron Miljøteknikk had supplied the HVAC (heating, ventilation, and air conditioning) system. The internal fire fighting system was supplied by Marioff and navigation and communication equipment by Emil Langva.