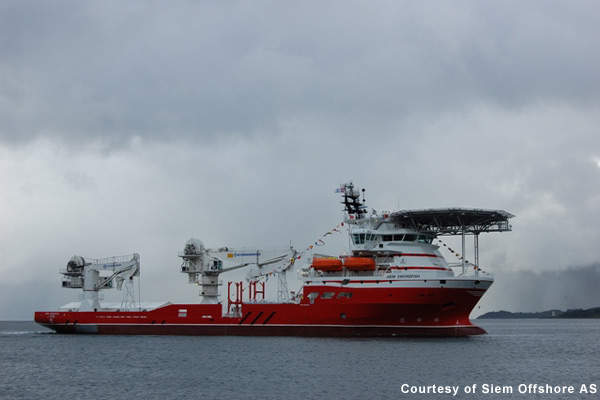 The ship will operate under a five-year charter for Veolia Environment Inc.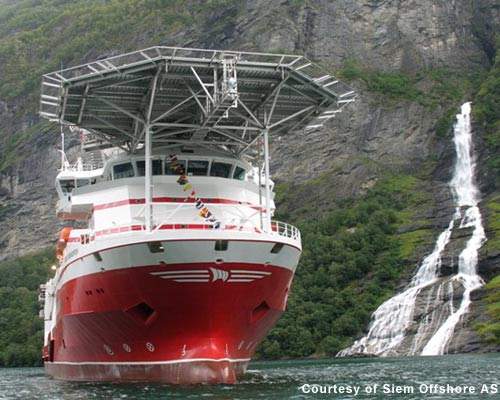 The main crane can operate at depths approaching 3,000m.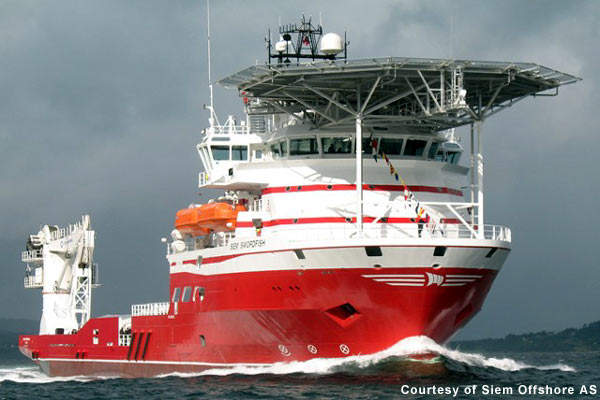 The vessel can accommodate 100 crew and work personnel.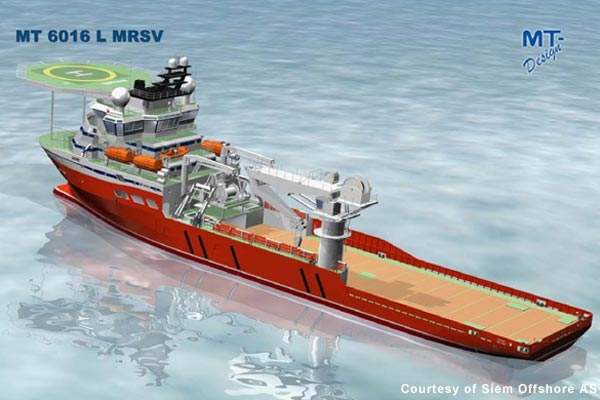 The Siem Swordfish is an MT 6016 L design which is becoming more popular for this type of multi-purpose vessel.
The Siem Swordfish is a new ROV (remotely operated vehicle) support vessel constructed for Siem Offshore AS by Kleven Werft at their yard in Norway (hull number 315, keel was laid in October 2006). The ship is of an MT 6016 L design (designed by Marin Teknikk AS) and will operate in a variety of different waters carrying out ROV support, subsea surveys, diving support, deep-sea crane operations, inspection, repair, construction and maintenance.
The ship, which was delivered in June 2007 (christened in Gerainger Fjord on 27 August 2007), is on a five-year charter to Veolia Environment Inc (with an option to buy the vessel when the charter is complete). The 4,800-gross-ton vessel is of a clean design (Clean Class and COMF-V rate 3) which means lower fuel consumption and lower emissions with a notation of DnV X 1A1, ICE C, Supply vessel, SF, E0,DYNPOS-AUTR, Comf-V(3),Naut OSV (A), Clean Design, DK(+), Helideck-S.
Technical
The ship has an overall length of 103.7m, length between the perpendiculars of 96.8m, loaded length of 94.8m, a beam of 19.7m, a draft of 6.2m, net tonnage of 1,450t and a deadweight of 4,500t.
The ship's propulsion is diesel electric driven and makes use of frequency controlled propellers, pumps and fans. The ship is powered by Caterpillar engines and uses Rolls-Royce AZP100FP azimuthing thrusters to provide main propulsion (able to make 16kt). There is also a Kongsberg SDP21 dynamic positioning system for accurate maintenance of position when engaged in operations.
Accomodation
Accommodation on board the ship is arranged for 100 crew and personnel. There are 24 single-berth cabins with separate bathroom, 24 double-berth cabins with separate bathroom, three four-bed cabins and eight one-plus-one-man cabins (Pullman).
"Siem Swordfish was delivered in June 2007."
Additional space onboard for work activities includes a conference room with nine seats, a four-person office on the shelter deck, a sky lobby reception and TV room, one conference room on the captain's deck, two survey / operations rooms on the bridge deck, and three large offices on the main deck.
Work equipment
The ship is equipped with four cranes from Hydra-marine including: one 150t active heave compensated subsea crane, one 70t active heave compensated subsea crane and two 5t deck cranes. The large crane (Hydra-marine HMC 3568) is capable of making a 150t lift and can operate to a depth of 3,000m using 64mm galvanised non-rot wire.
The work / cargo deck area is 1,150m² with a strength of up to 10t/m² (deck cargo capacity is 2,150t). There is a 7.2m × 7.2m moon pool with a flush hatch and also various ROV areas such as a workshop, LARS area, storage area and launch area. The ship also has a helideck that is rated for S92 (Sikorsky helicopters).