The Silvia has a capacity for carrying up to 1,250 passengers.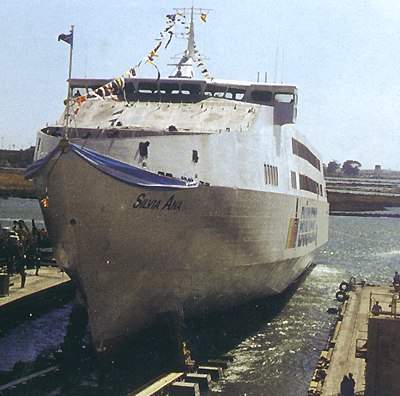 Silvia Ana was built and launched at the Bazan Shipyard in Spain.

The Silvia Ana has an overall length of 125m.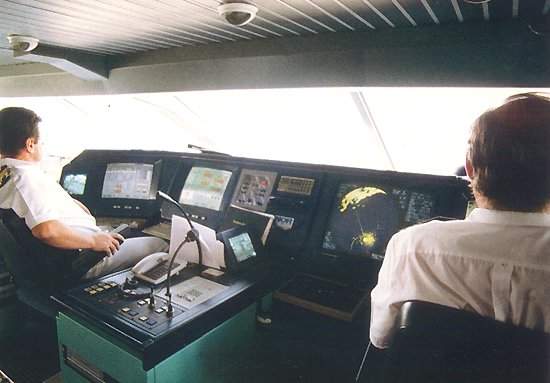 The bridge on Silvia Ana.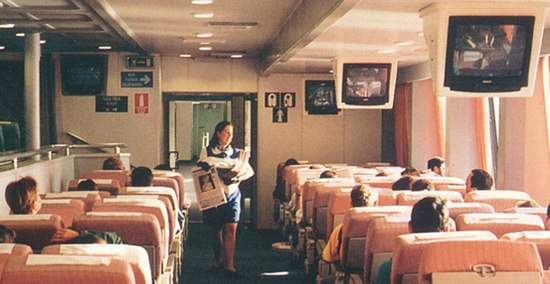 The ferry has a total accommodation area of 2,500m².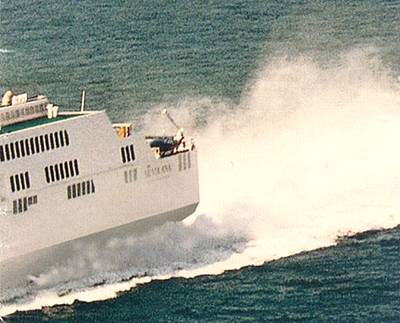 Silvia Ana is powered by a 16-cylinder engine.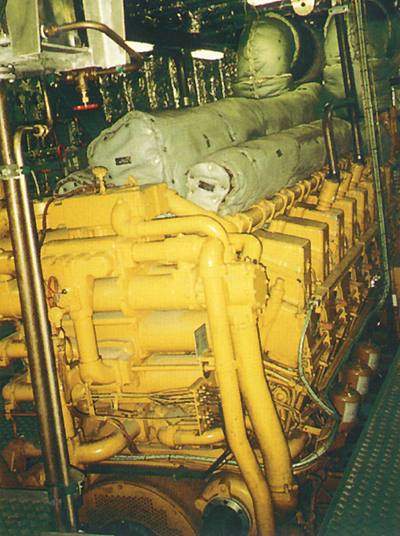 The caterpillar diesel engine, rated at 5,650kW.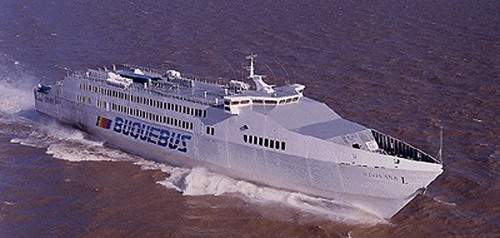 The ferry Silvia Ana is principally used on the River Plate.
The Silvia Ana ferry is operated by Buquebus during the Southern Hemisphere summer, crossing the River Plate between Buenos Aires and Pirapolis, The vessel makes two daily round-trips. These 130nm crossings are timetabled at approximately 3.25 hours. Buquebus charters the vessel to Color Line for the summer season in Northern Europe, for the Kristiansand (Norway) – Hirtshals (Denmark) route. Silvia Ana was built at Bazan's San Fernando shipyard in 1996.
DESIGN
The Silvia Ana is the largest all-aluminium monohull built at Izar, with an overall length of 125m, a maximum breadth of 18.7m and a full load draught of 2.44m. It has a full-load deadweight of 485t. The ferry has a service speed of 38 knots at full payload, although, in the shallow River Plate waters, it can reach 40.2, and up to 42 knots at 75% loaded trials.
The ride control is assisted by a Vosper Thornycroft/MDI ride control system, featuring two 2m² nylon fins and two 4.5m² transom flaps. Data from measurements taken by Canal de Experiencias Hidrodinamicas del Pardo during Silvia Ana's sea trials showed that accelerations at the ship centre in significant wave heights of 2.5m were less than 0.03g, and heeling was less than 0.5°. Evidence of the waterjet efficiency is exemplified by the 0.53 miles turning circle, which was achieved at 39 knots during trials.
FACILITIES
The Silvia Ana can carry 1,250 passengers and 238 cars, or four coaches/11 caravans and 217 cars. Public spaces occupy two decks, linked by an atrium. Each of the decks contains a large central shopping area. There are four tourist-class lounges with seats for 828 passengers. There are also three first-class lounges on the upper passenger deck that can accommodate 422 people. The seats were supplied by Aviosystem.
The vehicles embark and disembark through two stern doors/ramps supplied by Kvaerner Ships Equipment. Both stern doors can be used simultaneously. One can load/discharge from the main deck, while the other is used for the upper deck. A drive-round system enables the cars to board through one door and disembark through the other. A full load can be discharged 15 minutes and it takes about 17 minutes to embark.
PROPULSION
Silvia Ana is powered by a 16-cylinder engine, rated at 5,650kW per engine or 354kW/cylinder, although tests demonstrated that an output of 375kW/cylinder could be reached. The 3616 diesel engines are located in two engine rooms and arranged three-abreast. In each compartment, the outboard engines drive a steerable/reversing Kamewa 112 SII waterjet through a Reintjes VLJ 5520 gearbox. The two centre engines are linked through a Reintjes DVLJ 5530 twin-input/single-output gearbox. These drive a Kamewa 140 BII booster waterjet.
The Silvia Ana incorporates composite shaftlines manufactured by Applied Composites to allow weight savings over steel versions of around 12t. They are linked by Geislinger composite Gesilco couplings.
Auxiliary power is supplied by Caterpillar 3412T diesel engines, which drive three 437kVA generators. Two of these are installed in the forward engine room, with the third in the aft engine room. When in port, the ferry can be manoeuvred with assistance of two Duoinvent 25kN contra-rotating bow thrusters.
AUTOMATION AND CONTROL
An advanced integrated monitoring, control and alarm system has been installed to oversee the vessel's propulsion, plant, electrical plant and main auxiliary services. This has been supplied by Servowatch Systems.
The integrated bridge equipment includes Transas Marine electronic chart, Ben Marine log, Furuno 2110 and 2120 ARPAs, Anschutz compasses and autopilot and Sailor GMDSS station. The engine rooms are covered by two CCTV circuits with six cameras. The public spaces are monitored with another 16 cameras.