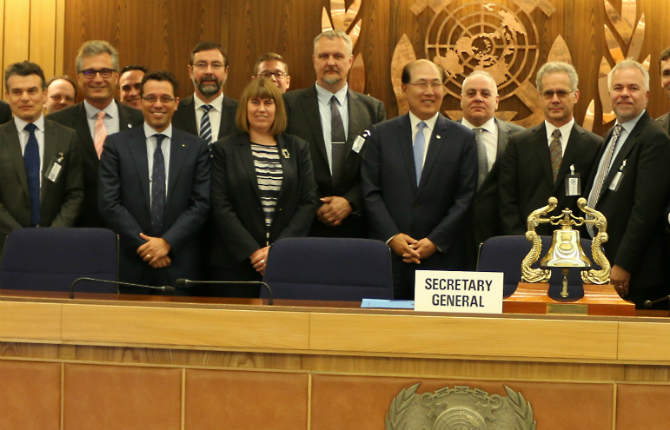 Skandi Aker is an advanced multipurpose vessel. Delivered in January 2010, it is said to be the largest mono-hull well intervention vessel ever built. It is also the first intervention vessel that is classified according to DNV's well-notation, which means that it can take oil on board.
The vessel is owned by DOF Subsea and is presently on charter with offshore engineering and construction firm Aker Oilfield Solutions.
In September 2010, the vessel was declared winner of the international "Ship of the Year 2010" award.
Design
Skandi Aker, designed by STX Norway Offshore Design in Ålesund, is of the OSCV 06 L design series. It was designed to carry out riser-based well intervention services and sub-sea construction and installation activities at water depths of up to 3,000m.
The 16,000 GRT vessel has an overall length of 156.9m and a moulded breadth of 27m. The length between perpendiculars is 137.7m and depth to the main deck is 12m. Design draft to mid-ship is 6.5m, while maximum scantling draft to mid-ship is 8.5m. The deck area is 2,100m².
Construction
"The steel-made hull of the vessel was built by STX Europe in Romania."
The steel-made hull of the vessel was built by STX Europe in Romania. Outfitting and completion were carried out by STX Europe Søviknes.
Low resistance hull lines help in achieving high speed at low fuel consumption. There is a 7.2m x 7.2m moonpool. A helicopter landing platform supplied by Marine Aluminium can accommodate Sikorsky S-92 type helicopter.
Accommodation
A total of 140 people can be accommodated on Skandi Aker. The vessel has two Captain class single cabins, two Client class single cabins, 25 Officer class single cabins, 29 Crew class single cabins and 41 Crew class double cabins.
Facilities
Facilities onboard include five lounges / dayrooms. Four of these are located on deck A, while the fifth is located on deck C.
A gymnasium is located on deck C and a cinema hall is located on deck B. Conference facility is available on main deck as well as deck B. The sky lobby and helideck reception are located on deck D.
Propulsion
Skandi Aker is powered by two 8L 32/40 MAN engines, each capable of generating 3,740kW at 720rpm, and four 6L 32/40 MAN engines, each capable of generating 2,805kW at 720rpm. The generator sets include two Siemens 1 DK 4s and four Siemens 1 FJ 4s. There is also an MTU engine with a Stamford emergency generator.
"The Skandi Aker was designed by STX Norway Offshore Design in Ålesund."
The vessel has two 1,900kW tunnel thrusters, two 1,500kW retractable azimuth thrusters and two 3,000kW contra-rotating azimuth thrusters. The diesel-electric propulsion system is constituted of one Kamewa-Ulstein 86XF5 / 4E-3700, frequency controlled CP propeller.
The vessel is fitted with Ulstein Hinze FSR 2600 / K 460 flap rudder and Rolls-Royce Tennfjord SR 723 FCP steering gear.
Manoeuvring and positioning
Skandi Aker uses IMO DP III dynamic positioning system for manoeuvring. To establish position, two Seapath, two DGPS and two HPR HiPaP (High Precision Acoustic Positioning) 500 reference systems are used.
The vessel is equipped with a Fanbeam, thruster control system and four joystick panels.
Navigation and communication
Skandi Aker is equipped with an SAM Electronics' NACOS 35-5 integrated navigation command system called Valmarine. Supplied by SAM's associate company, Valmarine is comprised of X and S-band Chartradar 1100 radar systems.
A dual Saab R4 DGPS positioning system, an SAM SLS 4120 Satlog and 4630 Echosounder units are the supplementary navigational aids installed.
Equipment
The vessel is equipped with a 42m-tall derrick with a 400t active heave compensated (AHC) crane. An electro-hydraulic knuckle boom crane and cargo rail crane are also on the deck.
Two Perry Slingsby Triton XLS 150 Work Class remotely operated vehicles (ROV) and two off ROV moonpool launch and recovery systems are available. The ROV activities can be carried out in sea states up to Hs 6m.
Four, 70 POB lifeboats with the capacity for 140 persons on each side are provided. Harding KISS 800 C1 x MOB Boat and Weedo 700 life rafts make up the other lifesaving equipment.