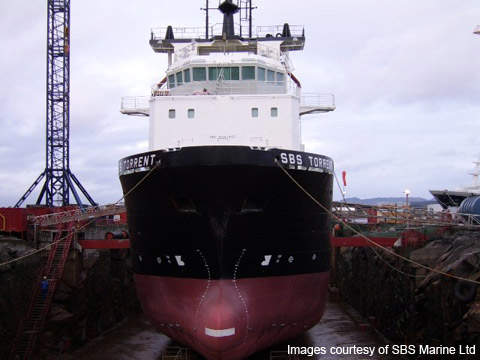 The SBS Torrent is a new 625 supply vessel (medium size platform supply vessel) for the oil industry that entered into service in 2007. The ship is owned by SBS Torrent KS and SBS Marine Ltd.
The ship was constructed at the JSC Vyborg shipyard by Karmsund Maritime, Norway, and was delivered on 4 April 2007. The notation of the vessel is 1A1 Fire Fighter I SF E0 DYNPOS-AUT DK(+) HL(2.5) TMON with DNV + 1A1, SF, EO, DP FI-FI classification.
The vessel was designed by Vik-Sandvik of Norway and is the fifth of her class (VS470 MKII) in the SBS Marine Ltd fleet. The new ship is now under long-term charter operations on the west coast of India for Transocean.
The new vessel has four sister ships: SBS Nimbus, SBS Stratus, SBS Tempest and SBS Typhoon.
DESIGN
The SBS Torrent was designed with a 'well deck' arrangement meaning that the main deck area is surrounded by high bulwarks that form a well into which cargo is loaded. The bulwarks have also been designed with the additional safety feature of safe havens, allowing crew to shelter in case it becomes necessary to move off the main deck during cargo operations.
"The bulwarks have also been designed with the additional safety feature of safe havens."
Each of the safe havens has a liquid product tank manhole, allowing easy access even when the deck is full of cargo. The well deck improves the safety of cargo handling at sea and can save cargo from damage. The design of the hull gives excellent fuel efficiency with fuel consumption at 10kt and a draft of 5.0m proven during operations at 3.5t of marine diesel oil per hour.
PROPULSION
The vessel is equipped with four tunnel thrusters at 800HP each, with two forward and two aft that can keep the ship on station during cargo unloading operations in bad weather.
The rate of change of the controllable pitch propellers of the tunnel thrusters is full port to full starboard in 13 seconds, this allows an excellent response to joystick commands on the bridge.
The vessel also has two controllable pitch main propellers and two independently-operated high lift rudders. This combination of thrusters, main propellers and rudders ensures that the vessel can maintain station in winds up to 40kt and current up to 3kt on the beam. There are two main diesel
engines rated at 2 x 2,030 BkW at 1,000 rpm and the fuel consumption is approximately 185 g/kWh.
CARGO
Drill pipe and other tubular section cargo is arranged in smaller bundles than would normally be expected between four sets of casing pins on the main deck (subdividing the deck into four and with a reduction in bundle weight allowing for less possibility of the cargo shifting).
"The ship has been designed to carry bulk cargo and serve many platforms one after the other."
The ship has been designed to carry bulk cargo and serve many platforms one after the other. To this end the ship has product segregation allowing the ship to carry two types of mud, brine, base oil and dry bulk. All of the products can be offloaded either port or starboard midships or alternatively at the stern.
The on-board liquid product tanks are equipped with a tank cleaning system from Gunclean Toftejorg.
SHIP SYSTEMS
The ship has two shaft generators (1625 kVa at 440 Volts 1,200 rpm) to supply cargo systems, thrusters and crew accommodation. There are also two auxiliary generators (each 462 kVa at 440 Volts 1,800 rpm) so that cargo can be discharged in any weather. There is also an emergency harbour generator rated at 81 kVa 440 at Volts 1,800 rpm.
There are ten tanks for mud, brine and base oil all are fully segregated. The ship has two stockless anchors (SPEK), two mooring winches and two capstans aft. There is also a single passive free-surface roll reduction tank.
DIMENSIONS
The ship has an overall length of 73.4m, a perpendicular length of 84.00m, a first deck depth of 16.60m, a scantling draught of 7.60m and a gross tonnage of 2,500t.
The trial speed was 14.5kt. The cargo deck area is 710m² and the capacity is 1,800t. The ship carries 1,109m³ of fuel oil, 912m³ of fresh water and 816m³ of ballast water. There is a single deck crane. The ship has single pipe high-pressure air conditioning system and a vacuum-based sanitary
system.
SHIP'S ACCOMODATION
The ship has two single state cabins with separate bed and bathroom. There are seven single cabins with separate bathroom, three double cabins with separate bathroom and two four man cabins with separate bathroom. In addition there is a mess room, galley and lounge as well as a ship's office and a hospital.