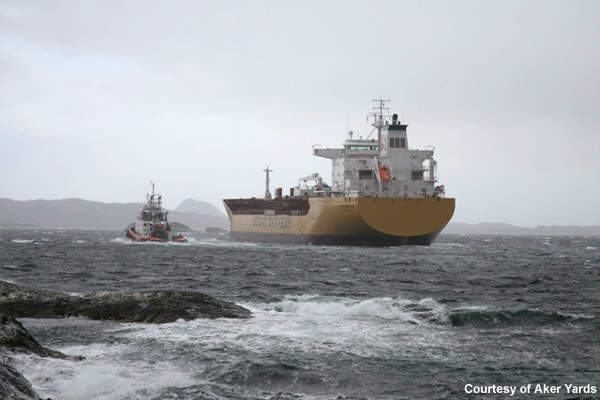 The Stolt Sagaland is will be able to transport liquid chemicals.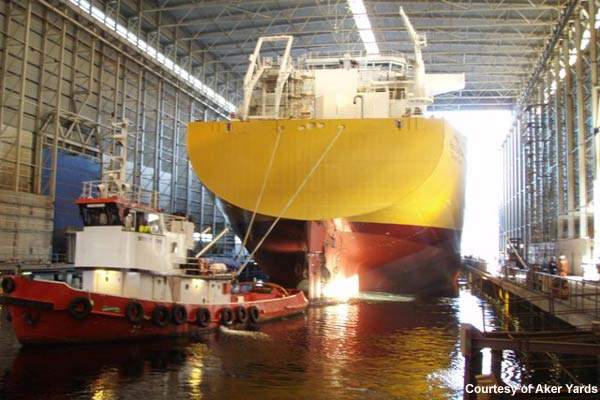 The Stolt Sagaland prior to delivery after final fit-out.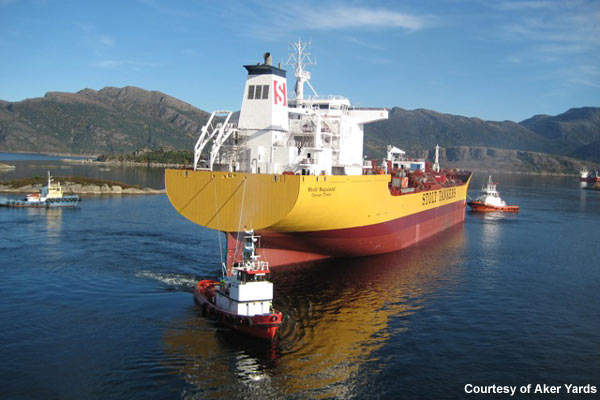 The Stolt Sagaland was launched in September 2007.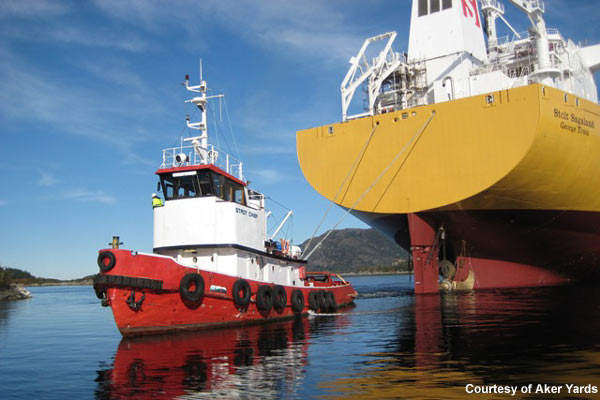 There are five more identical tankers to be delivered.
The M/T Stolt Sagaland is the latest addition to the fleet of Stolt-Nielsen, a Dutch shipping company based in Rotterdam. The vessel was delivered in February 2008 to Stolt Tankers & Terminals, having been constructed at the Aker Yards in Floro, Norway. The vessel was launched in September 2007. The new ship is registered in the Cayman Islands and its home port is George Town.
The Stolt Sagaland is the first in a series of six new ships ordered by Stolt-Neilsen as part of a fleet upgrade and expansion programme instigated in 2005. The first two ships were ordered in 2005, with the remaining four ordered in 2006.
The production of the ships will be undertaken by Aker Yards at two yards in Florø and the Damen Shipyards Okean in the Ukraine. The fore and aft sections of the ships will be constructed in the Ukraine.
The mid-ship sections will be built in Florø. The fore sections of the ships will then be welded to the aft sections and towed as 'small' ships to Florø. When the fore and aft sections arrive in Florø, they will be separated in the dry dock and then joined with the mid-sections.
The shipbuilding contract is worth an estimated $525m.
TECHNICAL
The Stolt Sagaland has a 44,500m³ capacity in its 39 cargo tanks for the transportation of liquid chemicals and oil. The stainless steel tanks are located mid-ships to decrease the weight. The ship has customised and optimised stainless steel tanks to fit with the owner's operational requirements and also new hull lines with less resistance for lower fuel consumption.
"The Stolt Sagaland has a 44,500m³ capacity in its 39 cargo tanks."
The vessel has an overall length of 182.72m, a P-P length of 175.22m, a moulded breadth of 32.2m and a moulded depth of 15.6m. The vessel is 44,044 metric tons deadweight on summer draft of 11.85m. The main engines of the vessel (two-stroke diesel engine – 7S50MC-C MAN Diesel A/S) have an output of 11,060kW and the ship can achieve a service speed of 15.0kts.
The ship's notation is 1A1 Tanker for Chemicals ESP and Oil Products E0 CCO VCS-2 HL(1.5) TMON. The auxiliary boilers are of the Mission (XM and OM) series and were supplied by Aalborg Industries in Aalborg, Denmark. The D9 emergency generator diesel was supplied by Scania CV AB, Industrial & Marine Engines. The two main generator diesel engines (7L21/31) were supplied by MAN Diesel SE.