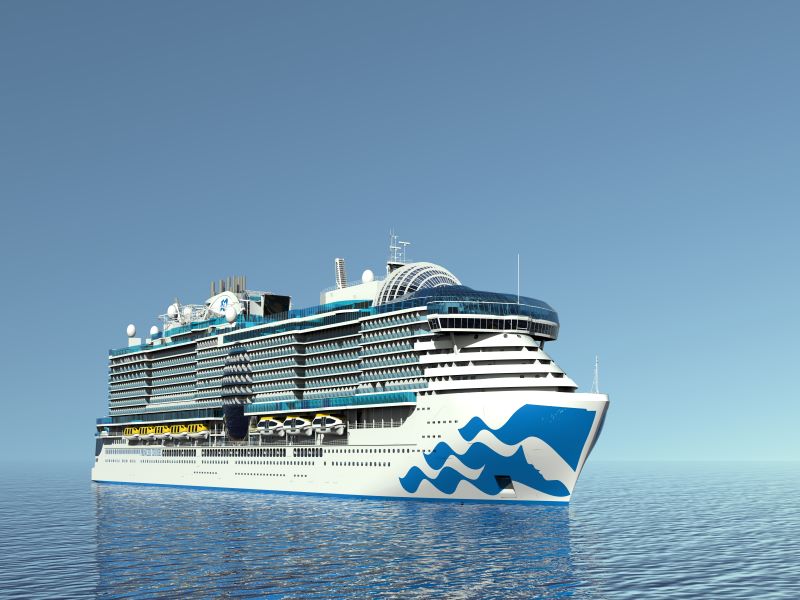 Sun Princess is a new Sphere-class vessel being built for Princess Cruises. Credit: Carnival Corporation & plc.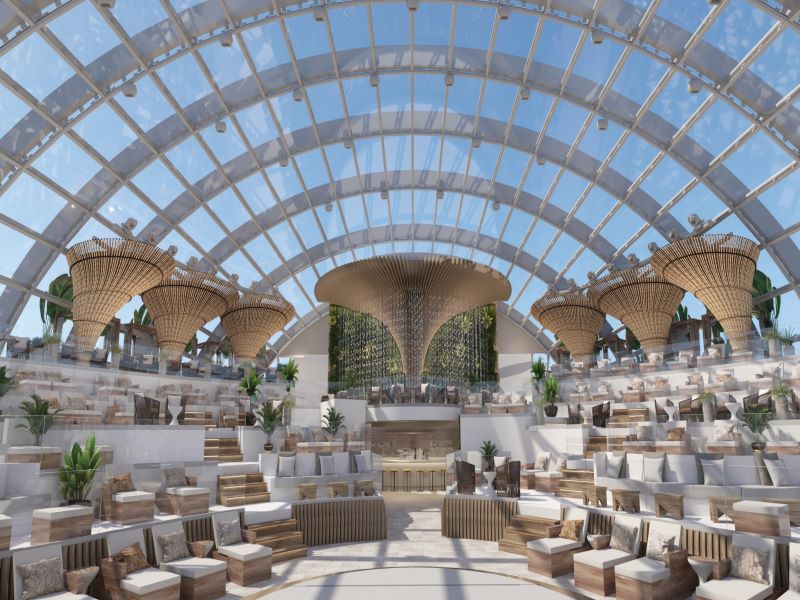 Sun Princess will be the largest ship in the operators' fleet and feature expanded spaces and venues. Credit: Carnival Corporation & plc.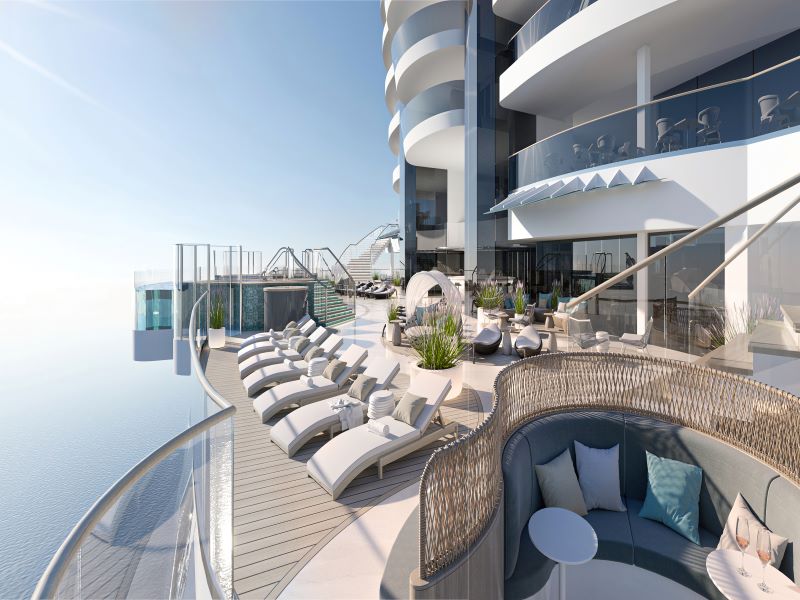 The vessel will be Princess Cruises' first ship to powered primarily by LNG. Credit: Carnival Corporation & plc.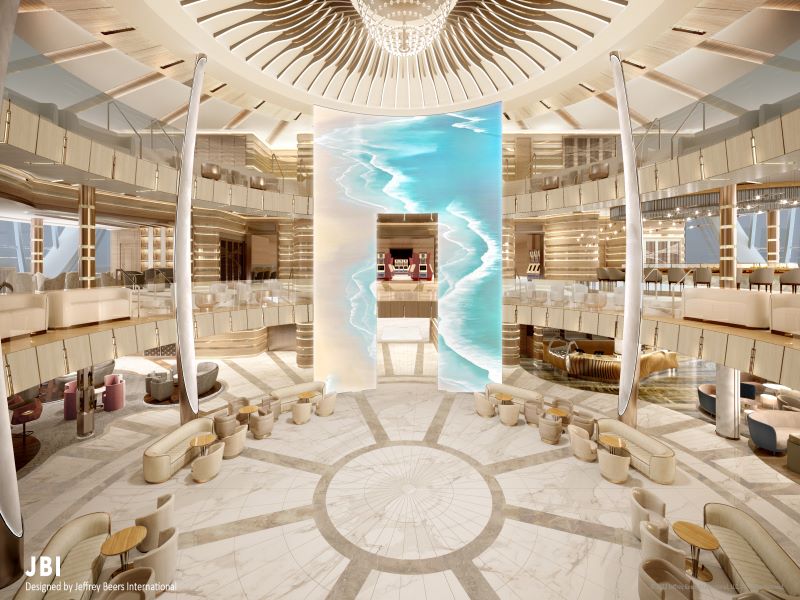 The ship's interior design will focus on offering outward views with bright interior decor and finishes. Credit: Carnival Corporation & plc.
Sun Princess is a new Sphere-class cruise ship currently under construction for Princess Cruises, a brand owned by Carnival. It will be the biggest in Princess Cruises' fleet and the first ship in the cruise operators' fleet to be dual fuelled and powered primarily by liquefied natural gas (LNG) fuel technology.
Sun Princess is being built as part of Carnival's focus on green cruising, involving a total of 11 new ships to be powered by LNG fuel.
Fincantieri, a shipbuilding company based in Italy, is constructing the vessel at its Monfalcone yard. The vessel is scheduled for debut in February 2024.
Sun Princess design and features
The Sun Princess will be 345.3m long, with a gross tonnage of 175,500GT. It will have a total of 21 decks and accommodate up to 4,300 guests. It will feature expansive venues, multi-storey dining rooms, and next-level stateroom accommodations.
A suspended glass Piazza will be located at the centre of the ship featuring a European square-inspired hub, with vibrant lighting and dynamic views. Spanning three stories, it will be interconnected with many of the ship's restaurants and bars.
The ship will also feature the Dome, a multi-level venue with a glass-enclosed dome and covered deck, whose design is inspired by the terraces of Santorini.
The ship's interior design offers outward views and features bright decor and finishes. It will also feature more vantage points offering views of the destinations.
Sun Princess accommodation
The dual-fuel LNG cruise ship will feature a total of 2,157 staterooms, including 50 suites and 100 connecting rooms. The ship will also offer a selection of staterooms with full wheelchair-turning space and a roll-in shower equipped with grab bars and a fold-down bench seat.
Princess Cruises' Reserve Collection will debut on the Sun Princess, offering premium location mini-suites and cabanas and exclusive access to a private restaurant, including additional luxuries.
The Sun Princess exclusive Signature Collection staterooms come with premium stateroom amenities and suites, including access to the Signature Restaurant, Signature Lounge, and the private Signature Sun Deck.
With a total area of 1,262ft2 Signature Sky Suite is the largest among the suites and will accommodate up to five guests. The suites will feature an expansive stateroom and balcony, two bedrooms and bathrooms, a separate seating area, and a sofa bed.
The Signature Penthouse Suite with a balcony will have an area ranging from 304ft2 to 636ft2. Each suite in the category will feature a living space, a separate seating area with a sofa bed, and enhanced amenities, as well as access to Signature areas such as the Sky Suite.
With an area of 329ft2, the The Cabana Mini Suite will feature a balcony, a private cabana, and an extra-large private lounge space. The Mini Suite, with an area of 303ft2 including a balcony, will feature a separate seating area with a sofa bed.
The Deluxe Balcony stateroom, with an area of approximately 235ft2, including a balcony with outdoor furniture, will feature floor-to-ceiling sliding glass doors, twin beds, a refrigerator, a flat-screen TV, and more.
The Premium Oceanview stateroom will have an area of 212ft2 and will feature either a queen or two twin beds, a flat-screen TV, a refrigerator, a bathroom with shower, and complimentary 24-hour room service.
The Interior staterooms will be the most affordable option, with an area ranging from 136ft2 to 145ft2, and will feature either two twin beds or a queen-size bed. The rooms will also include basic amenities such as a flat-screen TV and an in-room refrigerator.
Sun Princess dining and bars
The Horizons Dining Room will be a three-storey dining room, featuring a wide range of dining options at each level. It will feature stunning views with natural light and a decorative sculpture stretching from deck six to deck eight.
The Crown Grill speciality restaurant will feature a modern, sleek design, and theatre-style kitchen. Offerings will include premium aged beef and fresh seafood items. The restaurant will feature an intimate dining experience in a classically elegant setting, and an open kitchen where chefs prepare and cook to order top-quality cuts of beef chops and seafood.
Guests can watch pasta being made fresh in the all-new Sabatini's Italian Trattoria, with sweeping circular windows. The restaurant will feature an interior design with intimate bistro-style nooks and a dramatic circular dining room.
The International Cafe, to be located on the top deck of the Piazza, will offer an array of small-bite meals, treats, and gourmet beverages. Offerings will include freshly baked croissants, pies, quiche, and a wide variety of salads and sandwiches.
Alfredo's Pizzeria will be a sit-down venue located on the top deck of the Piazza and will serve freshly prepared individual-size pizzas. It will feature an open kitchen design, allowing guests to watch as pizzas are being prepared in a woodfire-style oven. Guests can enjoy their pizza either alfresco or in the Piazza.
The Gelateria will offer sweet treats of fresh gelato in a variety of classic flavours or with a combination of choice toppings.
The Crooners bar will be located on the second level of the Piazza and will feature warm tones and a vintage vibe, with live music and cocktails. The Good Spirits at Sea will offer a mix of dining and beverages in one place, with farm-fresh, local ingredients and cocktail creations. The Wheelhouse bar will feature a compass-like structure extruding from floor to ceiling.
Entertainment venues on the Sun Princess
The Dome on the cruise ship will feature an indoor and outdoor pool during the day. The pool will be transformed into a stage at night to serve as a South Beach-style entertainment venue with state-of-the-art lighting effects.
The Princess Arena will be a configurable performance venue, with an LCD panel that brings productions to life.
The Princess Live will offer entertainment throughout the day, with multiple events such as trivia, game shows, the Daily Wake Show, and live concerts, including late-night comedy.
Guests will be able to indulge in a game of slots or other table games at the Princess Casino. On-board retail shopping will also be available at the Shops of Princess.
Wellness and relaxation venues
The Lotus Spa will be two stories tall, with features including a salt room, aromatic steam room, the Enclave, and hydro pool.
The Sea View Terrace and Bar will be located at the bow of the ship and feature a two-deck bar and a modern lounge space.
The Wake View Terrace, located towards the aft of the ship, will feature an infinity pool, a South Beach-style resort deck, and day and night entertainment, including a full bar.
The Sanctuary will be an adult-only retreat with beverage services and an al fresco massage. The Signature Sun Deck will be a private area of the Sanctuary for Signature booked guests.
The Cabana Deck is an exclusive outdoor space, with comfy furniture and premium access for guests of the Cabana Mini-Suite.
Sun Princess itinerary
Sun Princess is scheduled to commence her maiden cruise season in February 2024. She will sail for a season of Mediterranean cruises, which will be followed by Caribbean sailings from Fort Lauderdale later in 2024.