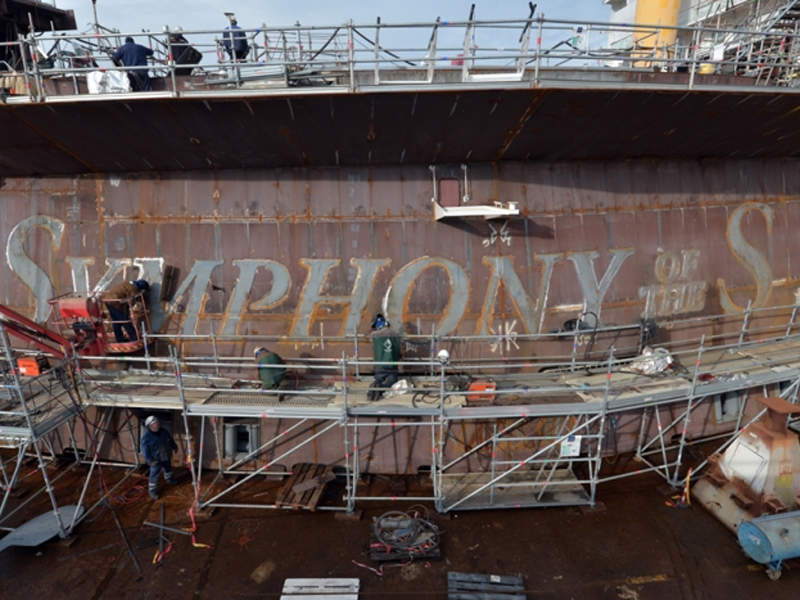 Symphony of the Seas is the fourth Oasis-class cruise ship built by STX France for its customer Royal Caribbean International. Built at STX's Saint-Nazaire shipyard, it is the world's biggest cruise ship.
The shipbuilding contract for Symphony of the Seas was placed in May 2014. The keel-laying ceremony was held in October 2015 and the ship was sailed out in June 2017. The vessel embarked on her maiden voyage on 7 April 2018.
Symphony of the Seas features
The cruise ship features a distinctive seven-neighbourhood concept, which includes imaginative and sophisticated dining, Bionic Bar robot bartenders, the iconic waterfront AquaTheater, the Perfect Storm waterslides, and Ultimate Abyss slide at sea.
Symphony of the Seas is 362m-long, 70m-tall and 66m-wide with a gross registered tonnage of 228,081t.
The vessel can accommodate 6,680 passengers in 2,750 cabins, which are available in different configurations. The passengers are served by 2,200 international crew members.
Deck details
The cruise ship features a total of 18 decks, with 16 of them reserved for guests on-board.
Accommodation is located on decks three, six to 12, 14, 17, and 18. Deck 5 features a running track and Vitality at Sea spa, while deck 6 houses the Vitality at Sea fitness centre.
The upper decks of the ship accommodate dining venues, entertainment area, bars and lounges, kids and teens area, pool, spa, fitness, running track, rock climbing, Flowrider®, conference centre, shopping area and casino.
Accommodation aboard Symphony of the Seas
The cruise ship's main attraction is the ultimate family suite, which can house up to eight guests in its two bedrooms.
Some of the unique features of the suite include the in-suite slide, an 85-inch HD TV for movies and video games with multiple consoles, LEGO wall, and hidden areas. It also features a 19.6m² balcony, which has provision for table tennis, a three-dimensional Luckey Climber vertical maze for kids, and a full-size whirlpool.
Symphony of the Seas also offers a range of accommodation units, including royal loft suites, villa suites, star loft suites, and spacious aquatheater suites with a large balcony.
"The open-air restaurant located in the sports zone can accommodate more than 100 guests."
Guests can enjoy the ocean view from the ultra-spacious Ocean View cabins. The ship also offers a range of accommodation with balconies with both ocean and interior views.
Dining venues
The cruise ship features new food and beverage concepts with more than 20 specialty and complimentary restaurants across its seven areas. It also accommodates Hooked Seafood, which is Royal Caribbean's first New England-style seafood restaurant.
Solarium restaurant serves both lunch and dinner, while El Loco Fresh restaurant offers Mexican cuisine.
The open-air restaurant located in the sports zone can accommodate more than 100 guests. It also features a sweet and ice cream shop called Sugar Beach.
Royal Caribbean's signature restaurants on-board the ship include Chops Grille, Izumi Hibachi and Sushi, Jame's Italian, Wonderland Imaginative Cuisine, 150 Central Park and Park Café.
Entertainment aboard Symphony of the Seas
Entertainment facilities for guests include pools, an ice-skating rink, a mini-golf course, a nine-deck-high zip line, two rock-climbing walls, a full-size basketball court, and a tennis court.
The cruise ship offers one of the tallest slides at sea, as well as two FlowRider surf simulators, a Splashaway Bay water park for kids and toddlers, and other waterslides.
Itineraries
The cruise ship commenced her seven-day maiden voyage from Barcelona in April 2018. The journey covers popular destinations such as Palma de Mallorca, Provence, Florence, Pisa, and Naples.
It will also set sail on a seven-night journey in November 2018, covering the eastern and western Caribbean, from Royal Caribbean's new Crown of Miami terminal.