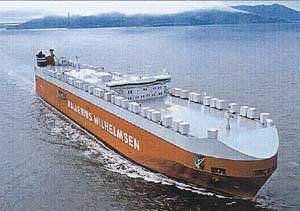 The Tamesis underway.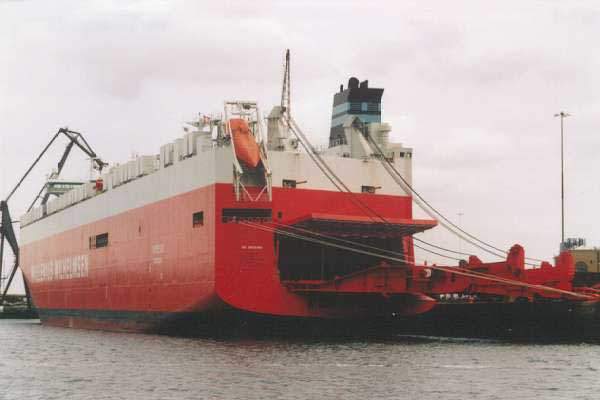 Loading through the stern loading doors.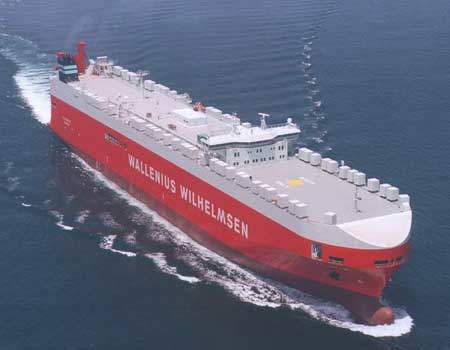 Artist's impression of the Tamesis.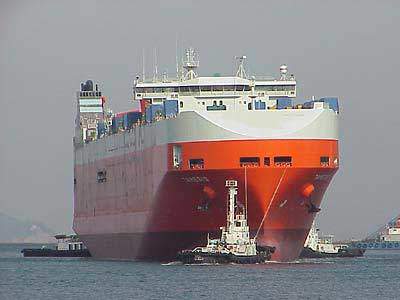 The Tamesis coming into port.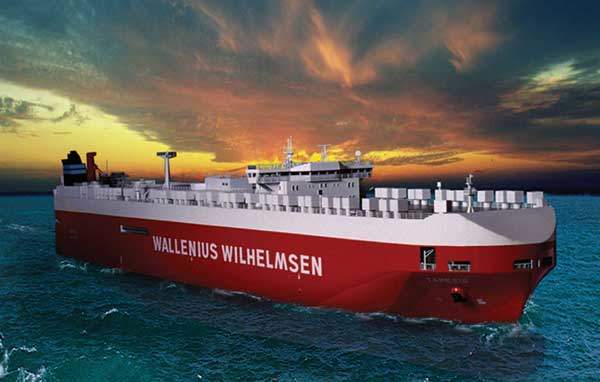 The Tamesis ready for sailing.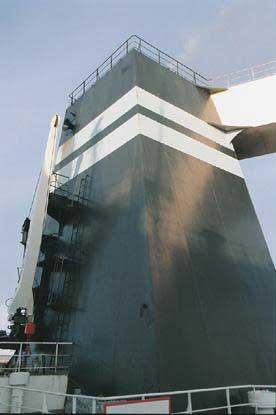 The Wilhelmsen characteristic funnel.
The Tamesis is the first of four fourth-generation roll-on/roll-off ships designed for the transportation of railway trains, agriculture equipment, yachts, heavy plant equipment and general cargo. One of the largest ro-ro carriers in the world, it was built by Daewoo Heavy Industries in their Okpo Shipyard (hull number: 4423) in Korea for Wilhelmsen.
The Tamesis has an overall length of 240.6m and a length between perpendiculars of 226m. Its moulded breadth is 32.26m. The depth to upper deck is 32.45m, or 15.60m to the freeboard deck. It registers a gross tonnage of 67,140gt and has a deadweight design of 34,376dwt, or a scantling deadweight of 39,517dwt. Its design draught is 1,102m and it has a scantling draught of 1,177m.
Below the freeboard deck, the Tamesis has a double-skinned hull, with the spaces serving as water ballast tanks. Altogether, there is 14,442m³ of water ballast available. Three longitudinal divisions separate two fuel tanks and from the water ballast in the double bottom skin.
The Tamesis has a total of ten car decks, which can accommodate up to 5,430 cars. The total cargo deck area is 46,000m². Six decks are fixed steel decks and three are hoistable decks, each consisting of separate panels. As a vehicle carrier, the ship can load cars with the batteries connected and fuel in the tanks. The necessary ventilation is enabled by means of 68 axial flow fans that discharge to the upper deck.
In general, the heavier types of cargo would be carried on the lower decks with a free height of 3.4m and strengthened for pressure up to 10t/m². The largest and voluminous items, such as locomotives and bulldozers, would be placed on Deck 4, which offers a free height of 6.4m. For containers, there are fastening devices for up to 1,600 TEU. The ship also has a number of 16 and 32 forklifters for cargo handling.
Main access is by means of the three-section stern quarter ramp, which can be closed by the stern door. This ramp is angled to the starboard side. There are also three ramp covers and eight hoistable ramps. The access ramp can load four trailers with a combined load of 320t simultaneously.
The Tamesis has a number of inherent safety features. Wilhelmsen insisted that Daewoo should design the vessel to stay afloat long enough for the crew to escape, should the freeboard deck (4a) become punctured. This has been achieved by making Deck 5a watertight. Other safety features are the Consilium fire detection system and the Unitor CO2/seawater fire extinguishing system for the cargo hold/engine room.
The main engine is MAN B&W EL70MC(Mk5) with an output of 28,480bcp at 106rpm or 25,630bhp at 102rpm. This is linked to a Nickel-aluminium-bronze propeller, manufactured by Hyundal. This fixed pitch propeller has a diameter of 7.4m.
This gives it a service speed (85%MCR) of 20 knots.
The main engine consumes 7,970t of oil each day. In order to enhance the effective range, the bunkers contain 4,994m³ of heavy oil and diesel, 374m³ of oil.
For manoeuvring, there is a Kamewa bowthruster and stern thruster, each with an output of 1,800kW at 1,190rpm.
Electric power is generated by five diesel-driven alternators. The engine is manufactured by Ssangyong MAN B&W, while the alternators are Hyundai/HFJ5-804-14E units. Three of the units have an output of 2,280bhp when driven at 720rpm, while the remaining two have an output of 1,710bhp when driven at 720rpm. There is also an Aalborg thermal-oil heater boiler with an output of 2,500kW.
The wheelhouse contains all the usual features, including a Skanti Radio Saturn BM Scansat-CT satellite navigation system and a Kongsberg Norcontrol Databridge 1000 radar system. Loading planning is carried out by an Autoship Systems computer.
The Tamesis is classified by Det Norske Verltas under the notation +1A1 General Carrier Car Carrier RoRo MCDK EO, LCS(SI).