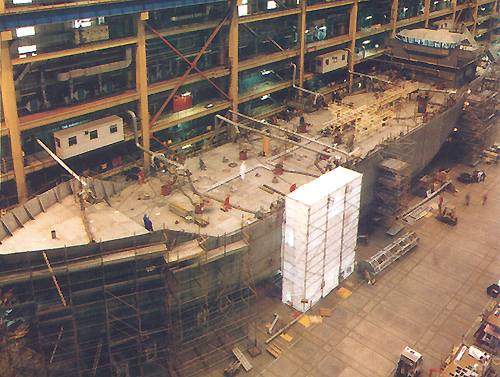 The 4,500dwt Thames Fisher.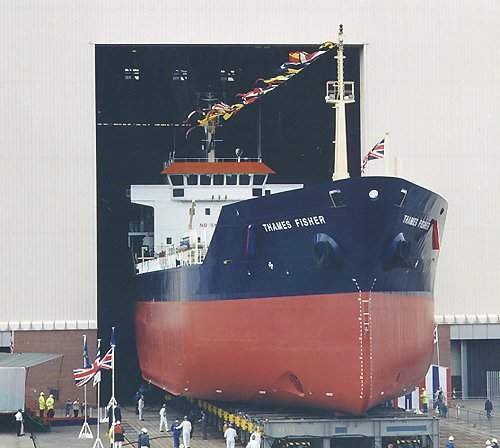 The Thames Fisher has a gross tonnage of 2,760t and a net tonnage of 1,464t.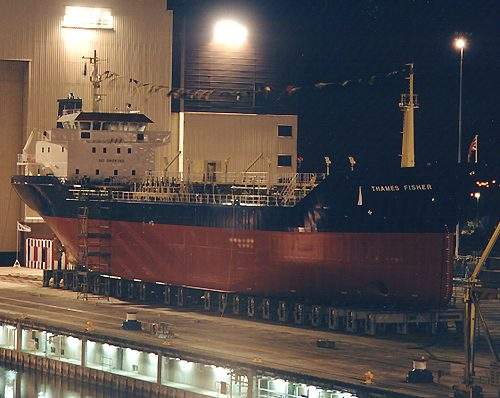 Thames Fisher lit up at night at the VSEL yard.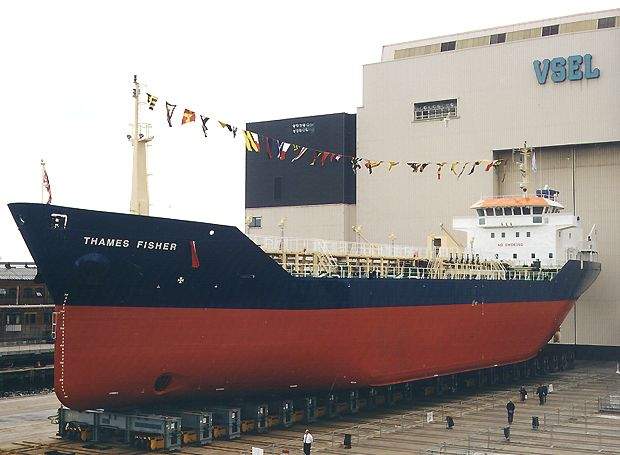 The Thames Fisher is 91.4m long overall and has a 6.02m design draught. These dimensions are governed by restrictions at the ports of call.
The 4,765dwt Thames Fisher is the first of three double-hulled product tanker vessels built at the Vickers Shipyard in Barrow-in-Furness for James Fisher Tankships. The vessel was delivered in October 1997. Its two sister ships, Humber Fisher and Mersey Fisher were built in 1997 and 1998, respectively. The Mersey Fisher is slightly different and features a modified crossover connection on the cargo manifold. This enables the vessel to carry a greater range of parcels.
Design
The Thames Fisher has a gross tonnage of 2,760t and a net tonnage of 1,464t. The distance between the bow and centre manifold is 48m. The manifold spread is 4.8m and it has a 15.5m beam.
The Thames Fisher is 91.4m long overall and has a 6.02m design draught. The vessel's ballast parallel body length is 40m.
Cargo systems
The Thames Fisher has cargo tank volume capacity of 5,100m³ at 98%. The vessel was designed to carry refined oil products with a flashpoint below 60°C, and some categories of edible oils. The cargo piping and manifolds had been manufactured from stainless steel. The cargo system volume comprises five pairs of tanks, with capacities ranging from 550m to 3,405m. The vessel can unload a full cargo in about six hours. This is enabled by a series of ten 175m³/h (at 100m head) deep well hydraulic cargo pumps supplied by Frank Mohn.
"The Thames Fisher has a gross tonnage of 2,760t."
The cargo tanks also feature the use of stainless steel heating coils. These are able to maintain cargo temperature at 65°C allowing a high degree of flexibility in the types of cargo that can be transported. The vessel's thermal oil heater is a Wanson Termopac 2,500 3SC unit rated at 2,907kW.
By using separate lines and pumps, up to six tanks can be simultaneously loaded/discharged. During loading/unloading a Whessoe gauge is used to provide temperature and volume information, supported by an MMC vapour lock. Immediately in front of the accommodation unit lie two 63m capacity slop tanks. These were designed to carry cargo if necessary.
The ballast system is composed of 11 tanks, which total 2,200m. Two Transvac eductor-jets and Desmi ballast pumps have been fitted.
Propulsion
Propulsion is provided by a Ruston 8RK 270M main engine. This eight-cylinder in-line turbo-charged, four-stroke diesel unit is capable of delivering 2,300kW (3,083bhp) at 886rpm. It gives the vessel sufficient power to maintain a service speed of 12kt at 90% MCR. Fuel consumption is estimated to be around 9.6t of diesel per day. With a bunker capacity of around 180m, this gives the vessel a range of approximately 3,000nm.
The two Cummins engine-driven alternator has an output of 600kW at 800rpm. A 600kW Stamford International shaft alternator has also been fitted. For a back-up power supply, there is an emergency generator that is capable of producing 95kW.
The Thames Fisher has an Ulstein 3.5t thrust capacity bow thruster unit and a high lift rudder. It also has a 3,200mm diameter CP propeller, as well as the 600 AGSCKP main engine gearbox.
Automation and control
The cargo control system, accessed via the raised catwalk, houses the key cargo and ballast tank controls and pressure gauges. There are two 0.5t SWL hose handling davits fitted to handle the cargo hoses. All valves are opened and closed manually and there is no remote cargo handling control system on the bridge.
The bridge is well equipped with an array of navigational and communications aids including two Kelvin Hughes Nucleus anti-collision radar systems, one of which has an ARPA facility. GMDSS- standard communications are provided through a Marconi Salvor 6 unit.