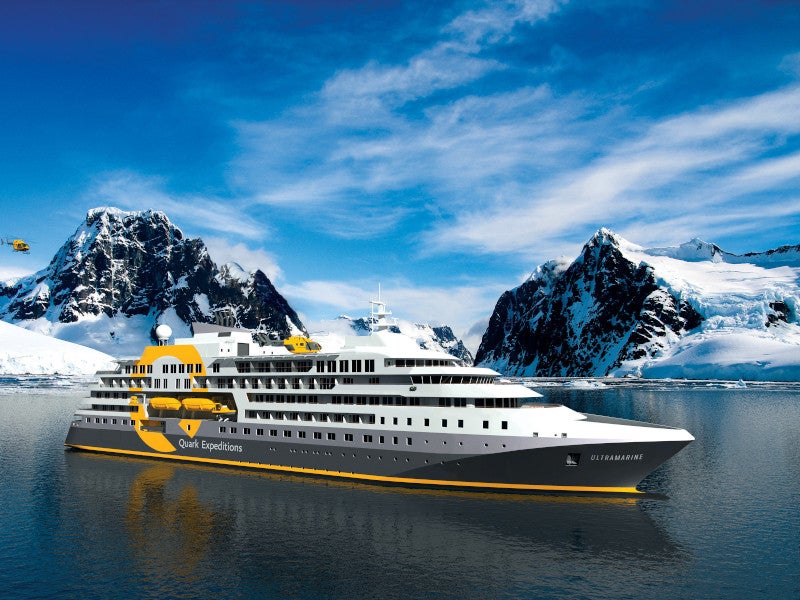 Ultramarine is a technologically-advanced polar expedition ship purposefully designed for polar excursions. It will be operated by Quark Expeditions, a part of Travelopia Group which was acquired by global investment firm KKR.
The keel-laying ceremony of the vessel was held in August 2019 and the ship was launched in May 2020. Ultramarine was was built by Brodosplit at its Split shipyard in Croatia.
Ultramarine is designed to carry passengers to polar regions, enabling them to explore the wilderness through various adventure activities. It will offer the most exciting off-ship adventure options in the entire industry.
The ship will embark on voyages to Spitsbergen, Greenland, the Canadian Arctic during its inaugural Arctic season in 2021. It will join the Ocean Adventurer ship as part of the company's 'Q the Adventure' campaign covering several destinations in the polar regions.
Ultramarine polar vessel design
The Ultramarine vessel features Quark Expeditions' yellow 'Q' logo spanning across its entire height of the ship. It incorporates a streamlined hull and propeller design which will minimise resistance, thus ensuring the ship to sail with less power. It will have the capacity to accommodate 199 guests along with its staff and crew of 140.
The ship is 128m long, 21.5m wide and weighs 13,500t. It has a draft of 5.1m and will be able to cruise at a speed of 16k in open water.
The ship will have a 70-day operational range combined with innovative sustainability features to reduce its environmental footprint. It will incorporate a micro auto gasification system (MAGS) which is capable of converting onboard waste into energy, eliminating the need for transportation of waste.
It will have four embarkation points, situated on the port, stern and starboard for faster and easier embankment of the Zodiacs. The ship will also be equipped with four fully enclosed life boats for safety.
Ultramarine is assigned with the Ice Class rating of 1A+ and Polar Class rating of PC6.
Ultramarine polar expedition ship features
Guests on Ultramarine will be able to enjoy polar adventures during the days and will spend the nights in a premium quality space inside the ship.
Adventure options will include heli-skiing, helix-landing, mountain biking, alpine kayoing, flight-seeing, Greenland camping and an ice sheet experience.The expedition ship will include two twin-engine helicopters and 20 quick-launching Zodiacs for heli-skiing, heli-skiing and alpine kayoing.
The Zodiacs will be positioned in a hangar close to the waterline to reduce the time required to launch and recover the boats.
The passengers can access the bridge to observe the sailing and navigation of the ship by the Captain and officers.
Accommodation aboard Ultramarine
The ship will feature 102 suites across nine categories, ranging from six solo suites to the entry-level twin suites. The suites are designed with large entryways, premium sleep areas and spa-like bathrooms with heated floors to connect to the polar landscapes.
Deck 6 will house Solo Panorama, Terrace Suite, Owner's Suite and Ultra Suite categories, while Explorer Suite and Explorer Triple cabins will be located on Deck 3. Balcony Suite and Deluxe Balcony Suite rooms will be positioned on Deck 4.
Ultramarine dining and entertainment venues
The main restaurant is well-positioned to offer views of the outdoor from every seat. It will offer complete access to the 360° wraparound deck and a wine-tasting bar.
The Panorama lounge and bar on the ship will offer open panoramic views and an observation deck. The lecture theatre will feature a high-resolution LED screen, real-time translations and live broadcasting system allowing passengers to learn about different types of adventures and places on the itinerary.
The wellness centre will house a spa offering a plethora of treatments, a sauna with floor-to-ceiling windows and a fully equipped fitness room with a separate zone for yoga.
The ship will feature a polar boutique which can store cold-weather expedition gear along with carefully selected souvenirs from the polar regions. It will also have two ready rooms situated near the Zodiac hangar, which will provide personal lockers for guests to store and dry personal items and gear.
Propulsion
Ultramarine will be powered by four main diesel engines and electric generators, driving four 3,000kW main propulsion motors, two 600kW bow thrusters and a 800kW stern thruster.
The diesel-electric propulsion will meet the IMO Tier III requirements and will reduce fuel consumption and exhaust emissions.