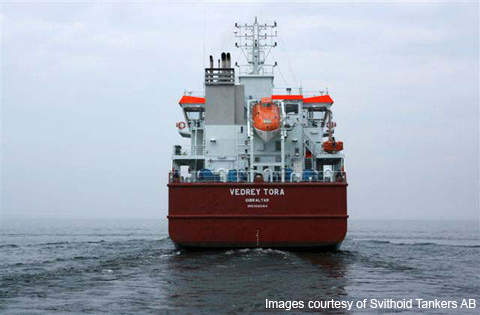 The Mt Vedrey Tora is the first Tora-class tanker constructed for Svithoid Tankers AB of Sweden. The new vessel is owned by Vedrey Tora Shipping Ltd, a wholly owned subsidiary of Svithoid Tankers AB, and is registered in Gibraltar. The Tora's hull was constructed at the III International Shipyard Astrakhan, Russia, and outfitted at SRC Shipbuilding Ltd in Tallinn, Estonia, before being delivered in June 2007.
The vessel was designed by LMG Marin AS of Norway. The ship is managed by V Ships UK Ltd and is under a seven-year charter to JamesFisher Everard to be used for year-round operation around Northern Europe. The ship was christened at SRC Laevaremondi OU Yard in September 2006. The tanker was named after the mythic Scandinavian goddess and is the first of six vessels under an agreement signed in October 2004.
Technical
"The tanker was designed for the bulk transportation of crude oil and oil products."
The tanker, which has a deadweight of 3,515t, was designed for the bulk transportation of crude oil and oil products with a flash point of less than 60°C. The vessel is capable of carrying six different types of cargo in a single trip.
The vessel is fitted with a double hull, double sides and a double bottom to prevent oil spillage accidents.
The overall length of the vessel is 79.9m with a perpendicular length of 75.0m. It has a beam of 15.7m, a depth of 7.80m and a maximum draught of 5.5m. Operational speed is 12.5kt. The ship has ten cargo tanks with a total capacity 4,200m³. The notation of the vessel is DNV 1A1 tanker for oil products RO, ESP, E0, CCO, ICS, VCS2, TMON, ground loading.
Propulsion
The vessel has single-screw propulsion powered by a Wärtsilä 6L26A diesel engine, with an output of 2,050kW. The transmission gears for the ship are SCV62-P44, supplied by Wärtsilä Propulsion AS. There are three KTA19 Cummins auxiliary diesel generator sets, each of 485kW output, and a power take-off shaft generator of 800kW output. There are two boilers, fuel tanks of 250m³ capacity and ballast tanks of 1,850m³.