Vestland Mira cruised to the North Sea just seven minutes after her naming ceremony in Balestrand, Norway.
Vestland Mira is an advanced platform supply vessel, the design of which is based on Havyard 832 L.
The 86m long Vestland Mira can sail at a maximum speed of 15kts.
The cargo deck of Vestland Mira measures 901m² in area.
Aft bridge workstation featuring advanced bridge consoles.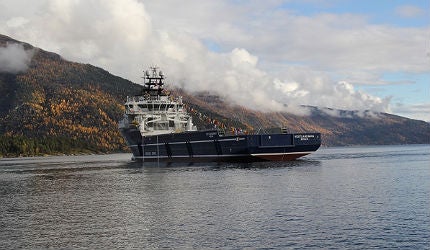 Vestland Mira is a Norwegian platform supply vessel (PSV) built by Havyard Ship Technology, a Norway-based shipbuilder, for Vestland Offshore. The vessel sailed for operations in the North Sea immediately after her naming ceremony, which was held in Balestrand in October 2012.
Havyard won the contract to build the PSV in October 2011. Construction on the vessel started in 2011 itself, with the keel laid in December 2011. The vessel's hull, which was built by Cemre Shipyard in Turkey, was launched in April 2012.
Vestland Mira can cruise at a maximum speed of 15kts. Her service speed is 12.5kts, while economic speed is 11kts.
Features and main dimensions
"Vestland Mira was designed by the design and engineering department of Havyard Group."
Vestland Mira was designed by the design and engineering department of Havyard Group. The vessel is of 832 L design, which was developed by Havyard especially for platform supply vessels. The 832 L is an upgraded version of Havyard's 832 design. The new design calls for the creation of a PSV with enhanced crew capacity.
Significant features of the vessel include greater performance, fuel economy and lower emissions, in addition to enhanced crew and greater load capacities.
The PSV measures 86m in length and 17.6m in width. Length between perpendiculars is 77.4m, while maximum draught is 6.4m.
Vessel and cargo capacities
Gross tonnage and net tonnage of Vestland Mira are 3,246t and 1,362t respectively. Her deadweight is 4,200t, while lightweight is 2,613t.
The vessel has a deck load capacity of 2,500t. The cargo deck area is 901m2, including free space of 61.9m x 14.4m. Cargo deck strength is 5t/m2.
The vessel has tanks with capacities of 1,015m3 for fuel oil, 1,370m3 for liquid mud, 1,520m3 for brine, 145m3 for base oil, 900m3 for potable water, 2,370m3 for drill water/ballast, 150m3 for methanol, 165m3 for glycol, and 340m3 for cement / barite / bentonite.
Accommodation facilities onboard Vestland Mira
The vessel is outfitted for the accommodation of up to 25 persons in spacious cabins. In all, there are nine one-man cabins, four two-men cabins, and two four-men cabins. All cabins are provided with bathrooms.
Other facilities include a hospital, a fully equipped office, two day rooms, and a gymnasium.
Interior works were carried out by Maritime Montering. Furniture for the ship was supplied by Maritime Møbler. Laundry equipment came from Miele, while the galley was supplied by Beha.
Cargo handling equipment onboard Vestland's new PSV
Vestland Mira is equipped with a TTS Marine GPK knuckle boom crane. The crane's safe working load at 13m outreach is 3t. The second crane, also from TTS Marine, is a telescopic crane with safe working load of 3t at 13m outreach.
Other equipment includes three capstans (10t each), six cargo securing winches and two tugger winches (10t and 15t).
Positioning, navigation and communication systems
Position and heading of the PSV are automatically maintained by Kongsberg's DP (dynamic positioning) class-2 control system. The DP system is guided by a Kongsberg Laser Mk 4.2 fan beam receiver, two Furuno GP150 DGPS receivers, two DP motion systems, and a Kongsberg C-Joy Constant joystick system.
"Position and heading of the PSV are automatically maintained by Kongsberg's DP (dynamic positioning) class 2 control system."
Navigation equipment includes a Simrad AP50 autopilot, a pair of wind sensors from Kongsberg Maritime, two radars from Furuno, a Furuno FE700 echo sounder, three Simrad GC80 gyrocompasses, a Skipper IR300 speed repeater, a Furuno VR3000 voyage data recorder (VDR), and a pair of Furuno GP150 GPS navigators. The vessel also makes use of ECDIS and speed log.
Communication systems onboard the vessel include Furuno navigational telex receiver, two Jotron Tron SART radar transponders, a Furuno DSC terminal, a Furuno universal automatic identification system (AIS), and a Furuno FS2570 SSB MF/HF radio.
In addition it is equipped with five portable radios from Motorola, a VHF radio telephone, three portable VHFs, a Furuno Felcom 15 InMarSat-C, a Zenitel sound reception system, a Vingtor sound system, and a Sevsat satellite communication system.
---
Related project
---
Havila Fortune is a Det Norske Veritas (DNV) classified DP-2 (dynamic positioning) platform supply vessel (PSV) owned by Partrederiet Havship of Norway and operated by its subsidiary Havila Shipping.
---
Propulsion and engines
Vestland Mira is outfitted with a diesel electric propulsion system delivered by Norwegian Electric Systems (NES). It is driven by four CAT 3512 main engines rated at 1,560kW each. There is also a Caterpillar emergency generator of 100kW capacity.
Propulsion is provided by twin Schottel propulsion thrusters, each of 1,600kW. There are three Brunvoll CPP side thrusters, all fitted forward and rated at 880kW each.