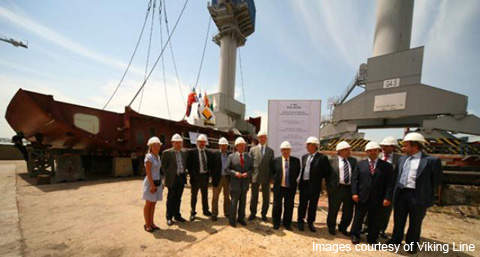 The keel laying ceremony attended by Viking Line staff and investors.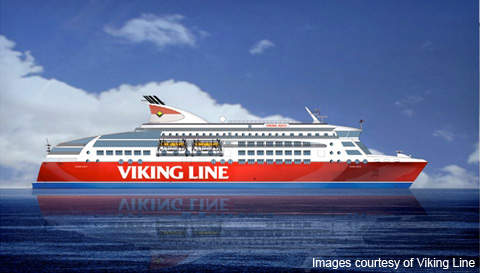 The Viking ADCC as it will look when completed.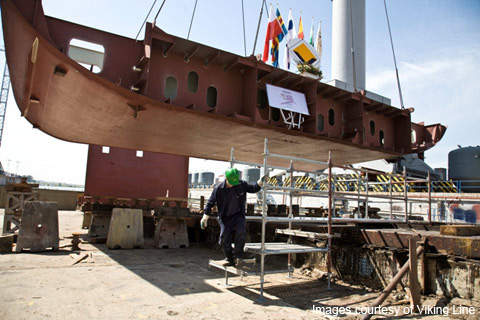 The keel section being laid at the Astilleros de Sevilla shipyard in Spain.
The Viking ADCC (All Seasons Day Cruising and Commuting) ferry is being constructed for Viking Line to operate on the Mariehamn – Kapellskär route between Finland and Sweden, replacing the older MS Rosella.
The new vessel – to be named in 2008 after a public competition – will be owned by Spanish investment bank Basalease SA and is being constructed by Astilleros de Sevilla at its shipyard in Seville, Spain.
The new ship, which was ordered in January 2007, had its keel laid on 6 May 2007 and is expected to be ready to begin operations in summer 2009. The ship will use catalytic exhaust gas cleaning on all main and auxiliary engines to minimise NOx and SOx emissions. Travelling at 22kt, the ship will reduce the crossing time on the route to two hours.
"Travelling at 22kt, the ship will reduce the crossing time on the route to two hours."
In addition, the vessel will run on low-sulphur fuel to minimise sulphur emissions. To comply with environmental regulations, all black, grey and bilge water will be pumped ashore while in port for recycling along with all sortable waste, including food waste.
Non-toxic paints will be used on the hull, which will be kept clean by periodic diver maintenance.
The Viking ADCC will be certified in compliance with ISO 14001 international standards for environmental management. The ferry will have a capacity of 1,500 passengers and 320 cars.
TECHNICAL
The new ROPAX ferry will have a gross registered tonnage of 16,500t, a length of 133m and a beam of 21.90m. The ship will be powered by Wartsila diesel engines with a combined power rating of 20,000kW. The Viking ADCC will also have separate car decks for freight and passenger cars.
ON-BOARD FACILITIES
The interior design of the ship was carried out by Tillberg Design while many of the facilities were suggested through a public competition run by Viking Line. There will be two restaurants (an a la carte cafe and a bistro buffet), a cafeteria, a children's play area, a dance bar and conference rooms for business use.
The upper car deck will have the ability to be configured as a flexible combi-deck space to host trade fairs and exhibitions. There will also be a business lounge and wireless internet throughout the ship.