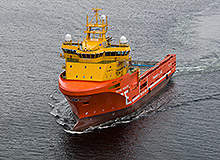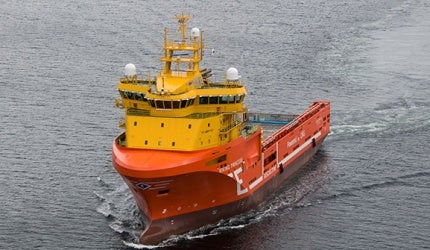 Viking Princess is a liquefied natural gas (LNG)-driven multipurpose offshore vessel owned by Eidesvik Supply and operated by Eidesvik. She was delivered in September 2012 and is the sister ship to Viking Prince, which started sailing in March 2012.
Norwegian shipbuilder Kleven Maritime won a $77.28m (NOK440m) contract by Eidesvik back in July 2010 to build the two sister ships. The keel of the second vessel, Viking Princess, was laid in October 2011 in Kleven Maritime's yard at Ulsteinvik, Ulstein, Norway. The vessel's hull was launched in April 2012.
Viking Princess was officially christened by Mette-Marit, the Crown Princess of Norway, on 14 September 2012 in Bergen, Hordaland, Norway.
Features of the Viking Princess platform supply vessel
Viking Princess was officially christened by Mette-Marit, the Crown Princess of Norway, on 14 September 2012 in Bergen, Hordaland, Norway.
The vessel is of VS 489 Gas PSV design developed by Wärtsilä Ship Design and is built to DNV class 1A1 ICE-C Supply Vessel, Standby Vessel(S), Oil Rec, Gas Fuelled, and other notations.
Prominent features of the vessel include fuel economy, low emissions, large cargo capacity, oil recovery equipment and capacity for standby. Winterisation and de-icing solutions make her suitable for operations in ice and cold environments.
The vessel's dual fuel engines allow her to operate on gas as well as heavy fuel oil (HFO) and marine diesel oil (MDO). It is only during LNG bunkering that the vessel uses diesel. The use of LNG will reduce NOx and CO2 emissions by 85% and 25% respectively.
Viking Princess has a gross tonnage of 5,014t and a dead weight of 5,800t. Her overall length, moulded breadth and summer draught are 89.6m, 21m and 7.6m respectively. Length between perpendiculars is 79.2m, while depth to main deck is 9.6m. Cargo deck area of the vessel is 1,050m2 and the height of the cargo rail is 4m.
Accommodation and facilities onboard the Viking Princess
The PSV can provide permanent accommodation for a total of 28 persons. It has four cabin states, 12 one-man cabins and six two-man cabins. All of them are provided with toilet and shower facilities.
Facilities on-board include a no-smokers room, smokers room, laundry and gymnasium. The vessel also has an office and a hospital.
Tank storage capacity and discharge rates
Storage capacities of tanks onboard the Viking Princess are 823m3 of fuel oil, 1,036m3 of fresh water, 1,781m3 of drill water/ballast, 1,392m3 of liquid mud, 210m3 of methanol, 300m3 of dry bulk, 1,667m3 of brine and 243m3 of base oil. The LNG tank can store 233m3.
---
Related project
---
Havila Fortune is a Det Norske Veritas classified DP-2 platform supply vessel owned by Partrederiet Havship of Norway and operated by its subsidiary Havila Shipping.
---
The discharge rate of fuel oil, fresh water, drill water/ballast and base oil is 150m3/hr per pump. Liquid mud and base oil can be discharged at the rate of 100m3/hr per pump, while methanol and special products can be discharged at the rate of 75m3/hr per pump.
Tank washing is done with hot and cold water. Tanks containing mud, brine and base oil are washed with chemical blended water. All types of liquid cargo on-board the vessel are handled by separate pumps and piping system.
Viking Princess deck equipment
Viking Princess is fitted with two Adria tugger winches and two Adria mooring winches. An Adria anchor / mooring winch is installed forward. There are also two harbour mobile cranes (HMCs), each of which can lift 5t at a 15m outreach.
Viking Princess manoeuvring, navigation and communication systems
The PSV is provided with an integrated manoeuvring, dynamic positioning (DP) and vessel management system. Kongsberg has supplied its K-POS DP-22 DP system and K-Master manoeuvring system for the vessel. Wärtsilä Automation supplied the vessel management system comprising cargo handling and alarm.
The PSV can provide permanent accommodation for a total of 28 persons.
Navigation solution includes three gyrocompasses and an autopilot from Anschutz, two marine radars (3cm and 10cm) with automatic radar plotting aid (ARPA) capability, an FA-150 automatic identification system (AIS), an electronic chart display and information system (ECDIS) and a FE-700 echo sounder. It also includes a DS-80 Doppler log and NX – 700B Navigational Telex (Navtex) from Furuno, a Taiyo VHF direction finder and Gill Ultrasonic wind sensor.
For communication, the vessel is supplied with Furuno, Motorola and Thon-made UHF/VHF stationary and portable radio telephones. These include MF/HF. FS-1570 radio plants, two FM-8800S VHF all-in-one marine VHF radio telephones, three FM-2721 VHF radio telephones, three GM-360 mobile radios, a Thon TR 20 portable radio phone, a GP340 VHF portable radio, and a GM380 stationary radio.
Other notable communication instruments include two Sea Tel 6009 VSAT antennae, two Furuno Felcom 15 InMarSat-Cs with GMDSS compatibility, a Tron 40 S and a Tron 45 SX emergency position indicating radio beacons (EPIRBs), and two Tron SART radar transponders.
Viking Princess machinery and propulsion
Viking Princess is equipped with Wärtsilä's gas electric propulsion system featuring the low loss voncept (LLC). Instead of four main engines, the vessel is outfitted with two large and two small dual-fuel engines. The larger ones are six-cylinder in-line 34DF engines, each rated at 2,610kW. The smaller ones are six-cylinder 20DF engines, each rated at 1,056kW. Each of them is driven by Alconza main generators (2 x 2,510kW and 2 x1,014kW).
Emergency generator sets include a Volvo Penta D12 engine of 339kW capacity and a Stamford generator of 375kVA.
Propulsion is provided by two Steerprop Sp 35 CRP azimuth propellers, each of 2,450kW. A set of two Brunvoll bow thrusters, each of 1,000kW, and an azimuth thruster of 880kW allow the vessel to manoeuvre smoothly.