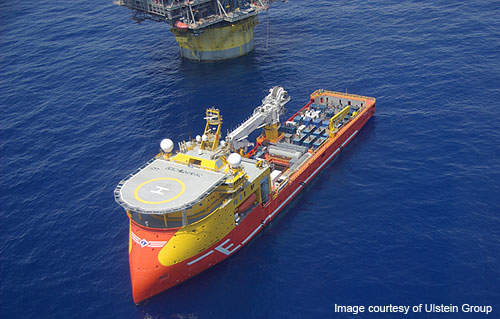 Viking Poseidon was delivered in January 2009.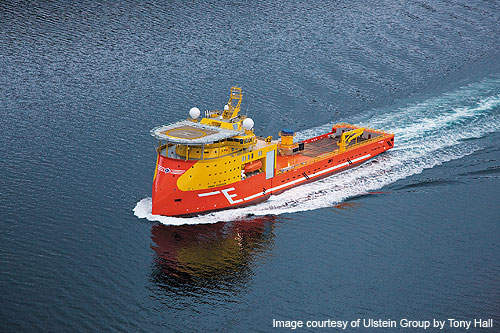 The Viking Poseidon offshore contruction vessel operates in the Gulf of Mexico to inspect and repair offshore installations.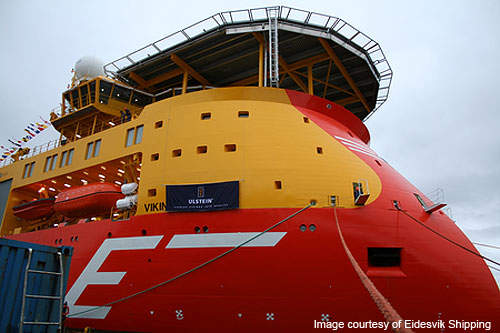 Viking Poseidon has an advanced Ulstein X-bow design.
The Viking Poseidon offshore construction vessel was delivered to Eidesvik Offshore in January 2009 by designer and builder Ulstein Verft. The vessel was chartered to Veolia ES Special Services under an eight-year contract worth more than NKr1bn. A loan of NKr608m was guaranteed by GIEK and Sparebank 1 SR-bank as a long-term facility to finance the vessel.
The vessel acts as a base for advanced remotely operated vehicles (ROVs), and has been placed in the Gulf of Mexico to inspect and repair offshore installations. In May 2010, the vessel attempted to stop the leakage from the Deepwater Horizon oil disaster site off the coast of Louisiana.
Viking Poseidon design and construction
The vessel was designed to execute subsea construction, equipment installation, inspection, maintenance and repair works. It has an advanced Ulstien X-bow design of type SX SX121. It also holds clean design certification from Det Norske Veritas.
Viking Poseidon, with a overall length of 130m, can accommodate 106 passengers. Its moulded breadth and depth to main deck are 25m and 10m respectively. Its maximum draught is 7.8m, while the design draught is 7m.
"The Viking Poseidon offshore contruction vessel can accommodate 106 passengers."
Deadweight without offshore crane of the vessel is 10,450t and deck load with offshore crane is 6,000t. The cargo deck area of the main deck is 1,500m³, while the cargo deck capacity dimensioning main deck is 10t/m³. International gross tonnage and net tonnage of the vessel are 11,782grt and 3,534nrt, respectively. Its designed maximum speed is 14.5kt.
The hull of the vessel has been built in such a way that it provides higher transit speeds in head and following seas.
Accommodation and facilities
The vessel provides spacious and fully arranged accommodation facilities and is capable of fulfilling customised needs of owners and offshore operators. It is equipped with an instrument to record the noise and vibration levels in the accommodation sections.
Viking Poseidon has been built with six state cabins, 46 one-bed cabins, 13 two-bed cabins and seven four-bed cabins. All cabins have been constructed with separate toilet and shower facilities. The vessel also has a hospital and sick bay. Facilities include a galley, scullery, mess with 60 seats, day rooms, smokers' day rooms, miscellaneous conference rooms and a trim / games room.
Diesel electric propulsion
Viking Poseidon uses a diesel electric power plant for its propulsion, and is equipped with two main azimuth thrusters, two retractable thrusters and two side tunnel thrusters for smooth manoeuvring. The vessel has an exhaust catalyst equipped with six main generator engines.
Four of the six engines are capable of producing 4×1,530kW power at 720rpm, while the remaining two can produce 2×1,530kW at 900rpm. With effective control of the vessel's frequency converter, two electric propulsion motors can generate maximum of 3,500ekW power each at 1,200rpm.
Booms and cranes
Viking Poseidon is equipped with a 10t knuckle boom shipboard / harbour crane that has an outreach capacity of 20m and dynamic factor of 1.5. It also has two folding cranes of 2,850kg at 10m outreach and 1,550kg at 14.8m outreach. The offshore pedestal crane includes an HMC-250T active heave compensated knuckle boom crane.
"Viking Poseidon assisted at the recent Deepwater Horizon oil disaster site."
The vessel's five main winches include a 200t safe working load (SWL) single-line winch with a net hook travel length of 3,000m, a single-line 40t SWL winch with maximum outreach capacity of 35m, a single-line 200t SWL winch with maximum outreach capacity of 11m, a single-line 100t SWL winch with maximum outreach capacity of 20m, and a double line 250t winch with maximum outreach capacity of 9m. The vessel also uses active heave compensated single-line 25t SWL two auxiliary winches. It is also fitted with two moon pools and a helideck.
Navigation and communications
Viking Poseidon uses two (10cm and 3cm) radars, equipped with automatic radar plotting aid (ARPA) function for safe navigation. Other navigational equipment includes a voyage data recording system (VDR), an electronic chart system, a magnetic and gyro compass, Doppler log system, wind sensors and an echo sounder. The vessel is also fitted with a navigational telex (NAVTEX) receiver used for printing navigational and meteorological warnings and forecasts information.
The vessel's communications system comprises: HF/MF Radio Plant acc GMDSS A3, VHF DSC radio,  VHF simplex radio, Inmarsat C and Fleet 77 satellite communications services. The vessel is also outfitted with a helicopter communication system, lifeboat radios system and radar transponders.