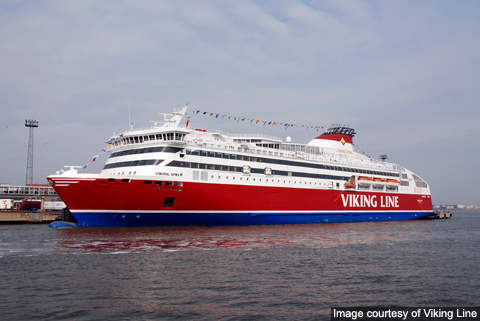 Viking XPRS entered service in April 2008.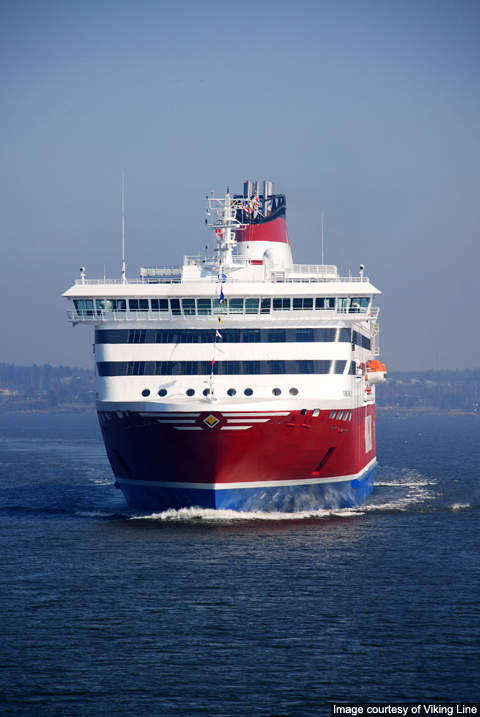 Viking XPRS approaching Helsinki.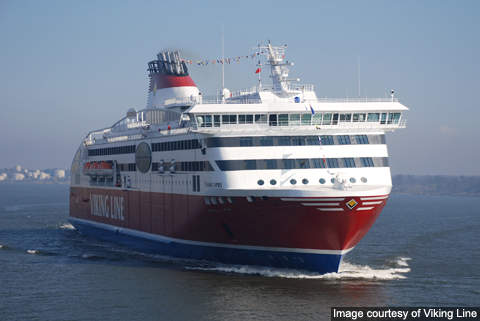 The service speed of the vessel is 25kt.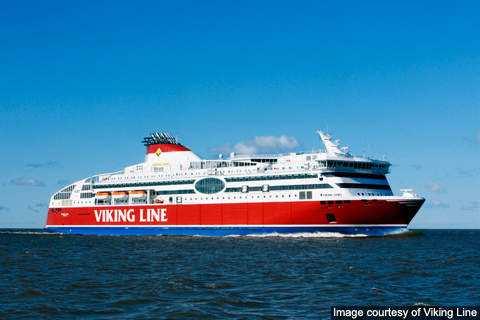 Viking XPRS operates between Helsinki, Finland and Tallinn, Estonia.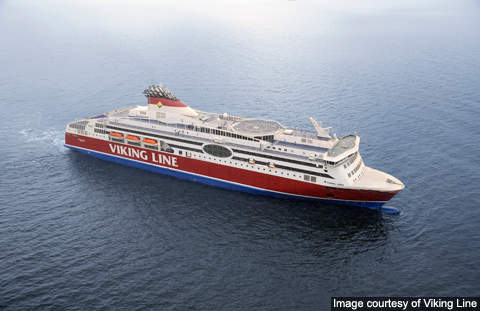 The 35,778 GRT vessel can accommodate a maximum of 2,500 passengers.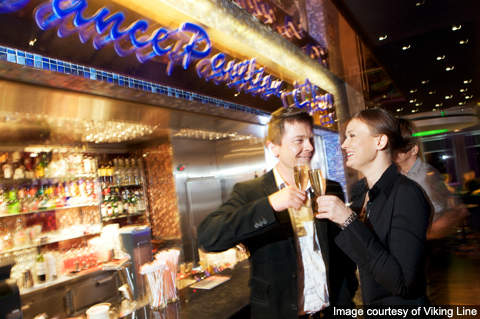 Dance pavilion is located on the sun deck next to the pub.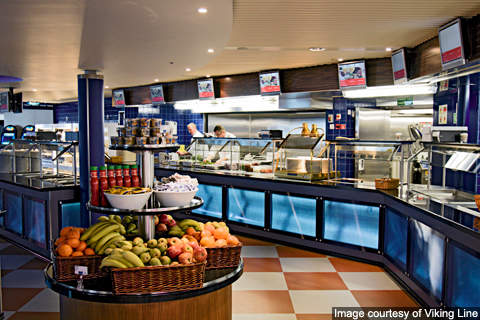 The Blue Deli restaurant.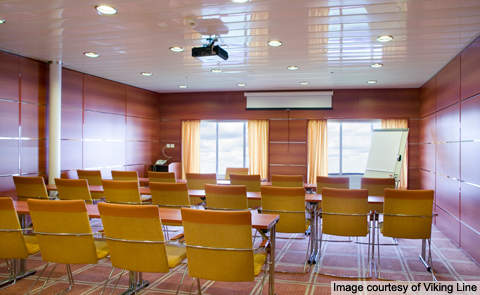 Viking XPRS conference room.
Viking XPRS is a high-speed passenger-car ferry built to operate between Helsinki, Finland and Tallinn, Estonia replacing Rosella which currently serves Mariehamn–Kapellskär route. Viking XPRS transported 1,466,000 passengers in the first year of its operation and a record 567,000 passengers during the three summer months of 2010.
The contract for the construction of the ferry was awarded to STX Europe (formerly Aker Yards) in November 2005. The ship was built at the contractor's shipyard in Helsinki at an investment of €130m. It was launched and christened in September 2007, and was delivered in April 2008.
KONE Marine had supplied KONE MonoSpace elevators. The ferry is equipped with a total of three passengers and three service elevators to facilitate a smooth flow of people.
"The contract for the construction of the ferry was awarded to STX Europe."
Viking XPRS design
Viking XPRS was designed with two separate vehicle decks, one for 1,000 lane metres of cargo and buses, and the other for 230 cars. The interiors were designed by Tillberg Design. The vessel won the ShipPax Award for 2009 in the Outstanding Exterior category during the 2009 Ferry Shipping conference in France.
With an overall length of 186.71m and a moulded breadth of 27.70m, the vessel can accommodate a maximum of 2,500 passengers. The length between perpendiculars is 170.13m and maximum absolute breadth is 28.20m. Moulded depth to main deck is 9.50m, while the moulded depth to the upper deck is 15.20m. The design draught is 6.55m and scantling draught is 6.75m.
The ferry has a gross tonnage of 35,778 GRT and deadweight at design draught is 4,372t. It has a service speed of 25kt.
Various environment friendly features were incorporated into the ship's design.
Catalytic cleansing systems of the main and auxiliary engines help in minimising nitrogen oxide emissions. The vessel emits less sulphur because of its capability to run on low-sulphur fuel.
A closed water system ensures that no wastewater is pumped overboard. The collected wastewater is pumped ashore. The ferry is fitted with Infrafon's Sonic Soot Cleaners. A total of four APM150 cleaners are fitted after the main engines, three APM70 cleaners after auxiliary engines and two APM70 cleaners after oil fired burners. These cleaners keep the boilers clean and to prevent soot fires.
The oil tanks are positioned above the double hull of the vessel to eliminate the risk of oil spill. Toxic paints were avoided to keep the hull free from marine growth.
The major noise-generating sources such as engines and fans are sound-proofed to achieve low noise threshold limits.
Viking XPRS Staterooms
A total of 732 passenger beds are provided in 238 passenger cabins of varying categories, ranging from luxury cabins to four-passenger cabins. All passenger cabins are located on deck six.
LYX, A4, A4R and A2P are the outside cabins, while B4, B4R, B2P, B2R and B2S are inside cabins. The HB3 inside cabin is reserved for people with physical disabilities.
Viking XPRS facilities
The ferry has several restaurants that serve from a variety of menus. There is also a modern conference department.
Deck eight is the restaurant deck. With seating capacity for over 400 people, Bistro Bella is the largest restaurant on board. It has a bar called Kippiz. The Blue Deli restaurant operates according to the free flow model, allowing the passengers to pick up the desired stuff from various stations. It also has a good selection of wines to offer. Small dishes such as baguettes, sandwiches and snacks are offered at the Red Rose Bar Café. It is also a place where the passengers can enjoy the panoramic sea view with a breakfast. The Viking's Inn offers many kinds of beer and small hot dishes. An adjacent outdoor cafe serves as a venue for various organised activities.
"Viking XPRS is powered by four Wärtsilä 8L46 diesel engines."
A new dance pavilion was added in April 2009. It is located on the sun deck next to the pub.
The Shopping World has an extensive range of products to offer including French wines, scents and cosmetics, sweets, jewellery, bags and accessories.
The on board conference facility is suitable for both larger and smaller parties. Located next to the information desk, the conference rooms are equipped with wireless internet connections and latest AV technology. A separate Business Lounge is available for business travellers who need more privacy.
Propulsion
Viking XPRS is powered by four Wärtsilä 8L46 diesel engines. Each of these engines can generate 10,000kW at 600 rpm.
Two Rolls Royce controllable pitch propellers (CPP) are fitted to achieve highest propulsive efficiency. Side thrusters include two 1,500kW bow and one 1,500kW stern thrusters.