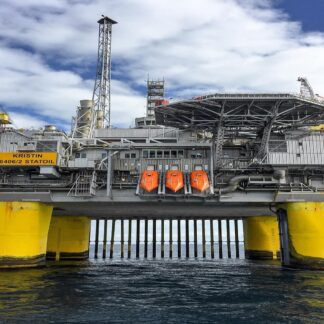 According to the Occupational Safety and Health Administration, vehicle accidents, being struck by or caught between equipment, fires, falls, and chemical exposures are just some of the hazards that workers face at oil rigs. In fact, the Census of Fatal Occupational Injuries declared that between 2013 and 2017, 489 oil and gas extraction workers lost their lives on the job.
Keeping workers safe is the key priority, and the industry continues to develop new and innovative oil rig safety equipment to manage hazardous offshore environments.
Oil rig safety systems
From loud, heavy equipment to hazardous elevated platforms, it is essential to continually monitor remote oil rig sites and provide reliable communication, hazard detection and alarm systems.
Flammable gases and spark-producing equipment can be a deadly combination, so oil rigs require rugged fire and gas detection systems with sensors and alarms, as well as integrated safety and emergency management systems, to ensure complete control and visibility.
Surveillance cameras such as closed-circuit television (CCTV) are used for machine monitoring as well as an anti-piracy deterrent. At oil rigs, they are used to monitor pumping and control rooms and to keep all areas of the platform secure.
Communication is always key, and oil rigs require rugged intercom and radio communication systems to keep in contact, as well as be alerted to any potential danger. Oil rigs also utilize technology for personnel tracking systems such as satellite-based location tracking with GPS for collision avoidance and tracking personnel to ensure that they do not enter danger zones or off-limit areas.
Offshore oil rig safety gear
Personal protection equipment at oil rigs needs to be rugged, reliable and durable. Oil rig hard hats, such as NLT cap lamps, can incorporate LED technology, as well as proximity and tracking tags.
Similar to mining and construction equipment, oil rig safety boots and safety clothing needs to be manufactured from rugged materials, providing reliable protection as well as comfort. Companies such Protective Industrial Products (PIP USA) offer an extensive range of custom-made safety solutions such as hearing protection, protective clothing, respiratory safety, warning beacons, welding protection, electrical safety and fall protection, as well as extensive eye, foot, hand and head protection.
Slips and falls are one of the main causes of injury at oil rig sites. Reliable fall protection is essential for keeping workers safe, and the industry offers a broad range of equipment, from high-quality harnesses and sturdy hooks to shock-absorbing lanyards.
This article was first published on Carroll Technologies