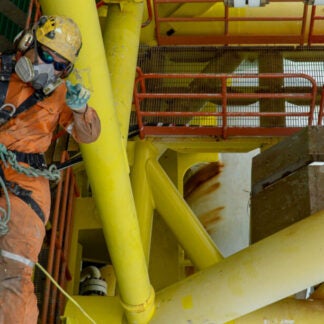 The Occupational Safety and Health Administration (OSHA) requires employers to provide suitable personal protection equipment (PPE), which includes reliable respiratory devices if workers are exposed to hazardous atmospheres.
From airborne contaminates to toxic gases, respirators used offshore need to be rugged and reliable. A number of important choices need to be made to ensure that workers are supplied with safety solutions that are ideally suited to their job.
Depending on where on an offshore platform a worker is situated, they may require an industrial full-face respirator or a half-mask respirator. Additionally, employers have a choice between a reusable respirator mask or a one-use disposable respirator.
What types of respirators are available offshore?
One type of respirator used on offshore platforms and oil rigs is the supplied-air respirator, sometimes referred to as a powered air respirator. For these devices, the respirator is connected to an external source of air, such as a portable cylinder. Clean air is supplied to the user via a high-pressure hose connected to a head/facepiece.
Air-purifying Respirators (APR), or unpowered respirators, remove airborne contaminants so that workers can breathe safely. Depending on what a worker is likely to be exposed to, they may be supplied with either a particle-filtering respirator (PFR) or a gas and vapor filtering respirator.
Self-contained breathing apparatus (SCBA) provide users with clean air when the atmosphere is deadly. SCBA respirators can also be classified as self-contained self-rescuer (SCSR) devices.
Types of SCBA respirators available include:
Where to buy respirators of the offshore oil and gas industry
Choosing the best quality respirators for each application can be a challenge, so many turn to safety experts who can ensure that the most suitable safety solutions are supplied at every step.
For respirators, Carroll Technologies provides solutions from MSA, experts in self-contained breathing apparatus, fixed gas and flame detection systems. The company's W65 Self-Rescuer Respirator is a one-time-use device that provides emergency respiratory protection. It is immediately ready for use after opening, so workers can stay safe even if they have limited warning time.
According to Carroll president Allen Haywood: "MSA has been a solid company for decades; we have a long-standing relationship with them. They provide not only W65 rescuers but all types of instrumentation, such as handheld spotters or monitors, which can check for an array of different gases."
This article was first published on Carroll Technologies