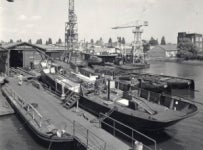 The company Cornet Groep has received the order from Scheepswerf Bocxe Delft Shipyard to completely blastclean and coat the sail logger VL92 Balder.
VL92 Balder, owned by the Museum Vlaardingen, is the only sail logger still sailing in the Netherlands. In order to preserve the almost 100-year-old vessel for future generations, it needs to be completely renovated, whereby the ship will be kept in its original state as much as possible.
The sail logger was built in 1912 and has been used as fishing boat and training ship.
It was purchased by the Scheepvaartmuseum in Amsterdam in 1976.
An extensive renovation followed, whereby the vessel was brought largely back to its original state. The ship has a riveted steel hull and a wooden deck. It is outfitted with specific fishery equipment.
The Museum Vlaardingen obtained ownership of the vessel in 2006.
"It is expected back in the museum by the end of 2014."
On 7 December 2013, the vessel moved to Scheepswerf Bocxe Delft Shipyard for an extensive renovation.
It is expected back in the museum by the end of 2014.
After completion of the project, the VL92 Balder will once again be fit for decades to show the history of Dutch sea fishery to a broad public.
The abrasive used for the surface preparation of the ship is Eurogrit aluminium silicaat straalmiddel (smeltslak straalgrit).
During the 1950s, Eurogrit was established in the Netherlands to introduce silica-free blastcleaning abrasives to replace sand.